If you care about your vehicle as much as you care about your bikes you ideally want to keep both safe and scratch free during transportation. An effective method of doing so is with a spare tire bike rack, which is mounted onto the spare tire of your vehicle. Now obviously this only works if you have a vehicle where the spare tire is fastened to the rear door, which is common for SUVs and other off-road vehicles.
The 5 Best Selling Spare Tire Bike Racks:
If your spare tire is stored in a spare tire well or in a cradle underneath the vehicle, you will have to look at other solutions. Fortunately, most folks that like heading out into the wilds with their mountain bikes prefer off-road vehicles to get there. So, if you do happen to have a spare tire attached to the back of your vehicle, check out our best spare tire bike racks:
First, on our list, we have the Allen Sports Deluxe 2-Bike Spare Tire Mounted Rack. This rack has 15-inch arms that can carry 2 bicycles of up to 70 pounds. This structure is designed to carry your bicycles high in order to ensure that they are far from the road and away from the hot exhaust.
This particular spare tire bike rack is also very versatile as it can fit on nearly all externally mounted spare tires, including those with over the tire third brake lights. For added security, the bike rack comes with individual tie-down cradles that help to further secure and protect your bicycles when you are on the road.
Another cool feature of this bike rack is the fact that the extra wide bottom foot supports do not press down on the rim, but rather on the actual tire which can ensure that no damage will be done to your rim.
Overall the spare tire bike rack is a strong and secure rack that is easy to set up and operate and it will offer you reliable support for your bicycles.
Available at: Amazon.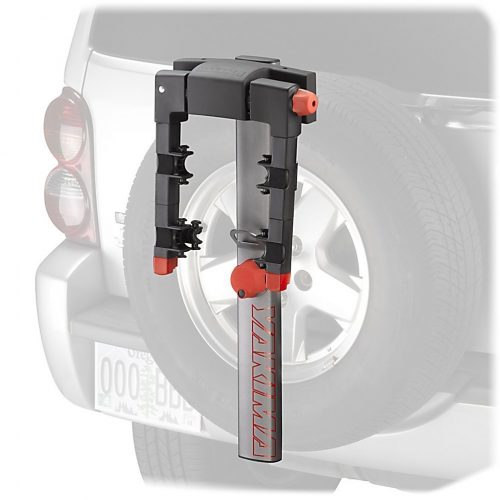 This Yakima spare tire bike rack was designed to attach directly to your spare tire's mounting bolts to ensure that the structure is secure and that your bicycles are safe when you go on the road. With a sturdy 60-inch locking cable, this bike rack has the ability to hold two bicycles at a time.
Thanks to the anti-sway cradles, your bikes will be kept secure without any risk of moving, wobbling or making contact with your car or one another while you are driving – even on the more unstable terrain.
As for security, this spare tire bike rack is SKS-lockable. You will also get 2 integrated bottle openers as part of the rack which is great for those days when you are driving your bikes out in the middle of nowhere and want to stop for a cold one.
Available at: Amazon.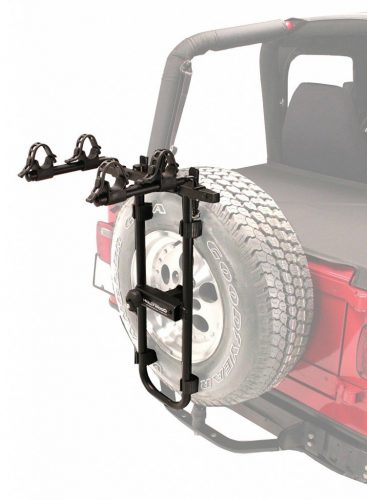 This bike rack is a very popular choice among spare tire bike racks and it is easy to see why. This is, first of all, a very simple and uncomplicated bike rack that is already pre-assembled and extremely easy to adjust. So there will be no need to struggle with tons of tiny parts that nobody knows where they fit.
This spare tire bike rack attaches to your spare tire mounting bolts with a simple and convenient universal adapter plate. The rack is fully adjustable and designed to fit the majority of spare tires that are up to 12-inches big. The bike support arms center for side mounted tires and for the times when your bike rack is not in use, it can fold out of your way.
This bike rack also places a lot of importance on the safety of your bicycles and therefore the cradles that are designed to carry two bicycles, are covered in soft rubber and come with integrated safety straps to ensure that your bikes are safely transported without getting damaged in the process. It also comes with a lock to secure the rack to your vehicle.
Available at: Amazon.
This spare tire bike rack is designed to fit almost all externally mounted spare tires and has the ability to hold up to 3 bicycles at a time. Their patented design is created to carry your bicycles high so that you wouldn't have to worry about your bikes being anywhere near the road and shooting pebbles, or  near the hot exhaust that could cause damage to your bikes.
This bike rack is very simple to set up and install and it weighs only ten pounds so you would not have to be physically strong to do it either. With the Allen Sports Deluxe 3-bike spare tire bike rack your bikes will be individually secured to keep them from bumping into your vehicle or bumping into one another.
Available at: Amazon.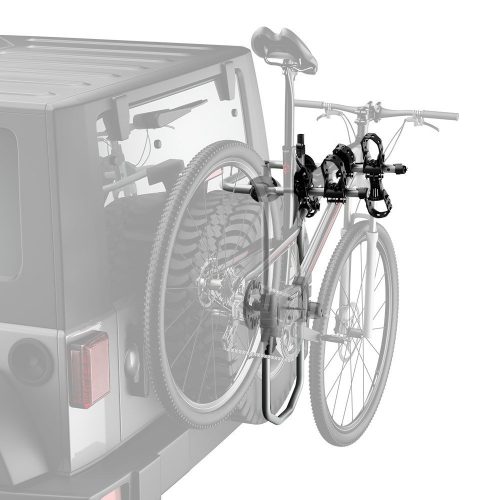 Lastly is our Thule bike rack which attaches to your spare tire and is designed to fit both regular tires and over-sized tires. You can secure up to 2 bikes on the Stay-Put Cradles with their anti-sway cages that will refrain your bikes from swaying back and forth and hitting your vehicle or one another, and causing damage.
The spare tire bike rack comes with an integrated locking cable and locking knob that allows you to secure your bikes to the bike rack and to secure the bike rack to your vehicle.  When the rack in not in use, you can simply fold the arms down so that it will look neat and be out of your way.
Available at: Amazon.
Fit
As far as transporting your bike, the spare tire bike rack is actually one of the easiest options to install. You'll find that most of these racks allow for centered and off-center mounting and should fit a wide range of tires. This means that even if your vehicle uses over-sized truck tires your bike rack should still fit.
Professional spare tire bike racks will come with a tool-free locking knob so you can attach the rack to your vehicle without any fuss or hunting around for the right tools.
Capacity
Don't worry if you do your biking with a partner as many of the racks has the capacity to carry two bikes or even three. If you do opt for a 2 bike rack make sure that it is equipped with some type of anti-sway cradle to eliminate bike-to-bike contact. This is especially important when going off-road as things inevitably get a bit bumpy.
Storage and Security
Of course you are not going to be driving around with bikes on the back of your vehicle at all times, so most spare tire bike racks fold down when not in use. If you do take your bike with you wherever you drive you'll definitely want to opt for a rack that has locking cables to lock the bike to the rack just in case someone with sticky fingers takes an unhealthy interest in your property.
If you think that these are a lot of features for a simple rack, you might be surprised to learn that some come with integrated bottle openers! You never know when you might find yourself thirsty after a ride and need to hydrate while fastening your bike to the rack.
Downsides
As great as a spare tire bike rack is there are a couple of downsides too.
Like I mentioned previously, you need a spare tire that is mounted to the rear door of your vehicle to actually use the rack in the first place.
Should you ever have the misfortune of ending up with a flat tire while transporting your bikes you have to take everything down in order to actually change the tire, which is a bit of a hassle.
Mounting two or more bikes to the back of a vehicle with a spare tire does place a bit more stress on the hinges. Depending on the type of vehicle you drive this may or may not be a problem, but I would suggest doing some research and finding out from others what their experiences are. I would suggest inspecting the hinges regularly for signs of wear and tear so that you don't end up with everything breaking off in the middle of traffic. Believe me, taking the time to do the inspections is much better in the long run than losing a rack, a few bikes and a spare tire on the freeway, let alone causing an accident for whoever is unfortunate enough to be driving behind you should this happen!
Since the bikes are mounted to the spare tire on the rear door it can also be tricky to open and close this door depending on the type of rack and amount of bikes you have on it. This is more of a minor inconvenience than a real issue, but it is still worth mentioning.
Oh, and those tool-free locking knobs I mentioned that are so convenient… unfortunately they are also very convenient for the criminally inclined so if you live in an area with a crime problem it is better not to leave your bike rack on the car when not in use.
Installation
Most spare tire bike racks are a breeze to install, but follow the instructions properly. You'll find that there are usually different tongues for different sized tires, so if you get this wrong the rack won't be as secure. This is not only dangerous for your equipment, but will also cause rattling while you drive your vehicle which is obviously undesirable. Incorrect installations can cause damage to the spare tire which is also something you want to avoid.
You'll find plenty of cheap spare tire bike racks on the market, but if you care about your bikes it is better to invest in something that is sturdy. It might be a steeper initial investment, but in the long run it is still cheaper than having to rebuy a new rack or ending up with damage to your bike. Of course, if all you do is transport your bike to the park every other weekend, you probably don't need a top of the line bike rack to get the job done. Anyone that is serious about cycling and regularly drive out to the country for some off-road biking will benefit from the more durable offerings.
If you have the type of vehicle that can handle a spare tire bike rack, it makes for a nice alternative to something more elaborate like a roof rack. It is also easier to attach and detach than a roof rack plus it frees up the roof for whatever else you need to take along on your cycling trips. If you are serious about your cycling a spare tire bike rack is a good investment that will see a lot of use so purchase wisely.