It has long become accepted that biking is a great way to stay in shape, both physically and mentally. Still, not everyone has the luck to have great scenery and kempt trails in their close proximity. So, what are you to do? Plan a bike trip and drive there, of course. Now, planning a bike trip is easy enough, since it's more or less like planning a camping trip, and who hasn't done that?
But, there is one thing many folks overlook, and that's how they're going to get their bikes there. By car is an obvious answer, but the problem is much more complex and nuanced than squeezing the bike inside the car or throwing it onto the roof and then strapping it with bungee cords. You need something to protect the frame from damage, and this something is a bike rack.
Roof mounted racks are ideal for sedans and hatchbacks with a low profile, whereas most other vehicles, from vans to SUVs will benefit more from a trunk mounted rack. RVs and motorhomes, as well as vans, may also profit from hitch and bumper mounted racks, and so can pickups. However, it's a shame not to use the truck bed if you already drive a pickup, so having a bike rack that mounts on your truck bed is a perfect choice.
Our Selection of the 6 Best Truck Bed Bike Racks:
Just so that you don't have to bother with wading through the depths of the internet, we prepared a list of the top six truck bed bike racks, with an added bonus at the end.
Thule is one of the major players in the bike rack niche, and bike industry overall, and Bed Rider XTR is definitely up to the game. The rack is made out of aluminum, with a telescopic bar at its core. In turn, the bar features soft rubber feet that hold onto the side rails of your pickup truck, which completely eliminates the need for drilling holes.
In other words, it's designed to go from bed rail to bed rail in the rear of your vehicle.Keep in mind, though, that the rack is not compatible with over-the-rail bed liners. Moreover, you also get 3 Thule One-key lock cylinders with your purchase, so that you can easily lock the bike to the carrier, and then the carrier itself to the truck. The maximum load is two bikes, or about 70 pounds, though you can mount additional bikes if you get the Thule locking bed-rider add-on block (sells separately).
While we're on the subject of bikes, it's important to note that this is a fork mount carrier, so you will need to take the front wheel off. Another important thing to note is that the rack is not compatible with either tandem bikes or recumbent bikes, but it will fit most bike types. Granted, you'll still need a thru axle adapter, which sells separately.
Available at: Amazon.com
The Heininger Automotive 2025 Advantage SportsRack BedRackis a great choice for families or medium groups due to its capacity – it can easily hold up to four bikes. More importantly, perhaps, the rack is a wheel mount, meaning it doesn't require taking the front wheel off. All you have to do is adjust the spacers to fit your bike snuggly (accommodates any wheel up to 28 inches), secure them using the complimentary 72-inch cable, and finish it off by securing the rear tire using the aptly named securing bar. If you've followed these simple instructions to the letter, you're good to go.
The rack itself assembles in no time and locks to the truck bed without using any tools or drilling any holes.Simply secure it to the inner walls of your truck bed using the adjustable rubber stabilizers, twisting them into place with wingnut type screws.Everything you need comes with the purchase. Moreover, the rack comes with a spacer that allows it to be compatible with a great variety of vehicles, as it can extend from 54.5″ to 66.5″ (without the spacer) and/or 60.5″ to 72.5″ (with the spacer). It's important to note, though, that the rack is not compatible with step-side pickups, so keep that in mind when shopping.
Available at: Amazon.com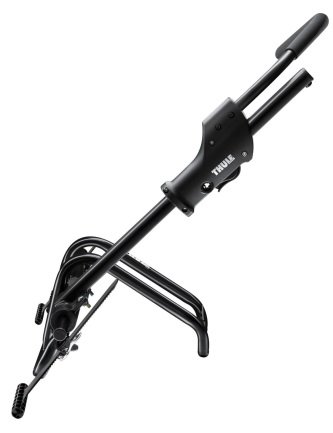 Much like we've grown accustomed to seeing from Thule, their 501 Insta-Gater Truck Bed Bike Rack (got to love their naming pattern) is a quality product, and with a price to match. Still, the rack does pay for itself in the long run, considering how much you save on bike maintenance. This is a single-bike carrier that can fit any bike weighing up to 50 pounds and sporting rims from 20 to 29 inches in diameter. Given it's a wheel mount model, you don't have to remove the front wheel, just make sure the tire on it is not wider than 3 inches and secure it using the Thule proprietary Quick-Load system.
There's no drilling or bolting required to mount it on your truck bed. All you need to do is place the carrier on your truck bed, making sure the rubber tabs are between the tailgate and the bed itself and close the tailgate. That's it. Still, if you want to deter the five-finger-discount folks, you might want to invest in a lockable tailgate. As for anti-theft features on the rack itself, there's a lock to secure the bike to the carrier, so you're safe on that side.
If you need to transport more than one bike, it's good to know that you can fit up to three Insta-Gaters on tailgates with at least 51 inches in width.
Available at: Amazon.com
The very succinctly named Pipeline Racks Truck Bed Bike Rack is a nice choice for anyone who has a pickup with the truck bed at least 50 inches wide at the cab, due to the dimensions of the rack itself. This may feel a bit restrictive, but the rack more than makes up for it with the degree of stability it brings to the table (or, rather, bed).Like with most truck bed bike racks, there's no drilling or bolting involved in securing it to the vehicle – the weight of the heavy-duty frame alone will take care of that. To secure it to the bed, use the straps and make sure they are fastened tight –and we mean tight. There's some assembly required prior to installation, but the whole process should take you well under an hour.
There's enough place for two bikes with this particular model. Depending on how and where you drive, you can expect anything from excellent to adequate performance. For most roads, it should be no problem, but you can expect some wobbling on bumpy or winding roads.It should accommodate any type of wheels as long as the tire width doesn't go under .75 or over 2.8 inches.
Available at: Amazon.com
For those looking to find something that will help them transport their bike(s) using a pickup without sacrificing cargo space, there's the Inno Velo Gripper Truck Bed Bike Rack. This rack is highly economical space-wise, as it mounts to your truck's bedside rail without any tools or holes involved.What you get are two mounts (for attaching to the vehicle)with ratcheting holders and a couple of D-rings (on each mount) if you decide to use the mounts for attaching tie-down straps.
In all honesty, this is not really a full rack as it's a pair (yes, the listed price is for a pair) of grippers. There's no need to get inside the truck to mount either them or the bike, and you can just as well mount them once and forget about them. Just make sure you tighten the top bolt from time to time, as they might loosen up due to vibrations.
Available at: Amazon.com
The Hollywood Racks T970 Fork Block is the master of versatility. Thanks to its simple and practical design, it can serve as an inside car rack, floor mount, wall mount, truck bed mount, whatever jingles your jollies. It's ridiculously easy to install, and even easier to adjust. Moreover, it comes pre-assembled, so all you need to do is fix it to whatever surface you like. Speaking of fixing, the whole setup is rather heavy duty, from the skewer, through the frame and to the bolts used to hold it down to whatever flat surface you have available.
Granted, it's fairly modest when it comes to capacity, as one piece holds a single bike, but then again, it's cheap as dirt, so you can have almost four times as many T970s for the price of a single high-end rack (which will have up to four mounts for as many bikes, at most). As far as mount type goes, the T970 grabs your bike by the fork (using a 9mm skewer), so you'll need to detach the front wheel.
Available at: Amazon.com