If you're a regular angler, then chances are that you have at least a small collection of fishing rods and gear. While many people see angling as a cool summer recreational activity, proper fishing rods are expensive. Investing in a quality fishing rod rack is the best practice to protect your rods against damage and keep everything organized.
On a side note, if you want to extend your organization and storage activities beyond just your fishing gear rather than your entire garage or workspace, garage storage racks for bikes or kayaks should be a good place to start.
Our Pick!
Rush Creek Creations 11 Fishing Rod Rack
My overall top choice for fishing rod racks is Rush Creek, without a doubt. They are a formidable name when it comes to fishing rod racks. They have a fantastic reputation for quality, build, practicality, and functionality, with affordability as another key factor. This wall-mounted fishing rod storage rack looks great and is extremely secure, it can be used as both a ceiling and wall-mounted storage rack, and it won't break the bank.
Rush Creek Creations' 11 Fishing Rod Storage Rack Is the Overall Top Choice
My overall top choice for fishing rod racks is Rush Creek, without a doubt. They are a formidable name when it comes to fishing rod racks. They have a fantastic reputation for quality and build, practical and functional, with affordability as another key factor. This wall-mounted fishing rod storage rack not only looks great, but it is extremely secure, can be used as both a ceiling and wall-mounted storage rack, and won't break the bank.
1. Rush Creek Creations 11 Fishing Rod Storage Rack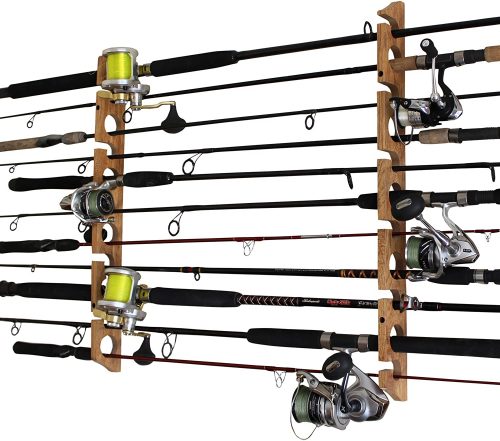 Material:
Engineered Wood
Item Dimensions:
27 x 2.75 x 1.65 Inches
Rush Creek Creations has nailed the balance between creating a fishing rod storage rack that performs well in usability and practicality and looks great. This rack has such a beautiful design with its wooden elements. Available in American Cherry or Wood Grain Laminate, Barn Wood, and Camouflage, it is a strong and durable storage rack, as well as stylish.
As mentioned, this rack is wall-mounted using four long screws into studs, so naturally, drilling is necessary.
My only concern is that the reels are very close to each other at full storage capacity. They come into contact and rub against the rod in the bracket underneath. This doesn't bother me, but this might be an issue for those with truly expensive rods and reels.
The Redneck Convent Fishing Pole Rack Offers the Best Value for Money
This very underrated fishing rod rack is very well-priced and a great way to keep your rods and reels organized and out of the way of damage. Overall this is a great piece of storage equipment and great value for money in terms of practicality. While it's not as good-looking as other wooden models, it's sturdy and affordable.
2. Redneck Convent Fishing Pole Rack
Material:
Plastic and metal
Item Dimensions:
17.5 x 10.1 x 4.2 Inches
Mounting Type:
Freestanding
This fishing rod storage rack from Rednect Convent has a universal fit and can accommodate up to 16 rods and combos. It stands at about 2.6 feet and has a 1.5-inch diameter for fishing poles. This storage rack is ideal if you want something to keep your rods upright, out of the way, and organized.
Its assembly is much sturdier than I expected. The two handles on each side of the rack make it easy to transport the rack to wherever you need it effortlessly.
It is made from plastic, but its construction is surprisingly durable. My first impression of this rack was that it might be inferior to similar products due to its plastic construction; however, it was quite solid and structured once fully assembled. The fact that it is made from plastic lends itself perfectly to being used in wet environments. Redneck products are known for their rugged construction and for being specifically made to cater to outdoor functionality.
I would not suggest using this rack to store your offshore saltwater standup rods. Although they do fit to a certain degree, the reels from these rods are a bit wider than freshwater rods and would, therefore, not fit as well.
But, for the Best Budget Option, Get the KastKing Patented V15 Vertical Fishing Rod Holder
If you're looking to save some pennies, then at $19.99, the Kasting V15 fishing rod holder is the perfect budget option. Although it has plastic construction, the rubber grips are great, and if you're limited on space, this rack only takes up 18 inches of wall space while being able to carry up to 15 fishing rods, so it's a fantastic space saver.
3. KastKing Patented V15 Fishing Rod Holder
Material:
Thermoplastic Polymer
Item Dimensions:
17.2 x 2.75 x 1.6 Inches
This innovative patented (U.S. Patent no. 7,237,685) fishing rod storage rack designed by KastKing can store up to 15 rod and reel combos while taking up less than 18 inches of wall space. This is quite impressive for those with limited floor and wall space.
It is designed to cover the grips that secure the rods in a polymer material for added security. The rack is made from amorphous polymer, which is quite durable and tough and has the added benefit of being impervious to rust. The V-grooves on this rack are tapered and can accommodate rod diameters of 0.5 inches without removing the reel. They are also co-injected with thermoplastic polymer not to damage the rods' finishing. It is also heat, impact, and chemical resistant, so it's safe to mount this rack outdoors.
Mounting the rack is very straightforward and is done in a matter of minutes. It has three mounting holes on either side and one in the center, so drilling will be required. These are around 16 inches, and the rack seems secure and evenly balanced once mounted.
If you're considering mounting the rack to a stone or mortar surface, I suggest using some sort of anchor, such as a proper piece of wood. When objects are often mounted to brick surfaces without a proper anchor point, the weight of the objects may pull down the rack from the wall completely.
Overall, the V15 fishing rod rack from KastKing stores rod and reel combos well, but I would not recommend storing extra heavy combos on it, such as deepsea or oversized catfishing combos. However, it's a fine option for storing fresh water and inshore fishing rods.
The Rack'Em Fishing Rod Rack Is the Best Ceiling-Mount Option
Rack'Em's overhead fishing rod rack is a great addition to any angler's collection. At first glance, it seems painfully ordinary, but once you start using it, you will soon realize that this is a great investment if you're looking to organize your fishing rods or looking for a safe and secure space to store them while taking them out with you on the boat. It's built to handle sun and salt exposure, so taking it with you on fishing expeditions is no problem.
4. Rack'Em Fishing Rod Rack
Material:
Engineered Wood
Item Dimensions:
Alloy Steel
This fantastic overhead fishing rod rack is made from heavy-duty alloy steel, making it perfect for indoor and outdoor use, as it's not affected by exposure to sun or salt. Its overhead-mounting versatility is highlighted by the ability to easily mount it to your boat, which is a design angle I really like.
Rack'Em made this fishing pole rack a universal fit, catering to most fishing rods' shapes, styles, and sizes. It can only store up to 12 rods, which isn't as much as some of the other racks mentioned, but as far as durability goes, this rack more than makes up for its lesser storage capacity.
The rod cradles on the rack are coated with rubberized plastic so as not to scratch the finishes of the fishing rods when stored.
Regarding mounting, it can be mounted directly to the studs, but as extra security, I would suggest considering proper anchors as well. Once installed, it hangs between 4 to 6 inches down from the ceiling. This rack can also be mounted to the wall; however, in my opinion, it works much better as an overhead-mounted rack as the weight of the fishing poles provides extra security and keeps them in their place.
Upon first impression, I didn't have high expectations due to the rack's simplistic design, but its sturdy design and functionality have proven quite the opposite. This one is my favorite as far as the ceiling-mounted fishing rod racks go.
While the Coldtuna Ultimate Rod Sitter Fishing Rod Rack Offers the Most Versatility
Another fishing pole rack with a lesser storage capacity, the ColdTuna Ultimate Rod Sitter fishing rod rack, makes up for its small capacity by being highly versatile in how it can be mounted. Mainly used as a wall-mounting rack, it can be positioned vertically or horizontally at any angle. However, it is also possible to use this rack as overhead storage. This is why this little rack is my favorite option when I'm looking at versatility.
5. ColdTuna Ultimate Rod Sitter Fishing Rod Rack
Item Dimensions:
24 x 1 x 3 Inches
Mounting Type:
Ceiling and Wall
This rack can store up to 10 fishing rods, a bit less than the average amount. This rack is probably better suited to beginner or seasonal anglers that don't have a large collection of fishing rods. Regarding rod compatibility, freshwater, saltwater, and flyfishing rods and reels all fit onto this rack without any issue. I would suggest that if you have shorter rods within your fishing pole collection, space them out between the other rods to ensure they fit properly.
I like that this rack's design because it allows for more racks to be added and placed in a linear formation, giving your storage space a neat and organized appearance.
As far as looks go, don't expect too much. The rack is made from a quarter-inch thick ABS plastic, a non-corrosion material that can be used in hot and cold climates. The rack itself feels solid in its construction, and the 90-degree bend at the top provides extra stability and allows it to be easily mounted to any flat surface. I wouldn't suggest that this rack be used for any heavy-duty use as I'm not too comfortable with the ability of the ABS plastic to withstand the pressure of heavy rods.
The interior edges where the rods are placed are smooth to prevent scratching the rods. However, the ColdTuna website does have felt lining that can be purchased separately and placed on the interior edges for added protection.
installation is very easy and takes less than 5 minutes. The rack's keeper cord is rather stretchy and does offer more than adequate security when holding the rods in place, even when mounted to mobile objects such as garage doors or a vehicle.
For a Cool Circular Design, Check Out the Round 16 Fishing Rod Rack
Regarding fishing rod racks design, the Rush Creek Creations 16 fishing rod rack is a great storage solution. Its circular design enables it to make enough space for 16 fishing rods with their reels attached while taking up a small portion of floor space and looking great. This circular design is a fantastic space-saving option for anglers with a large collection of rods.
6. RushCreek Creations Round Fishing Rod Rack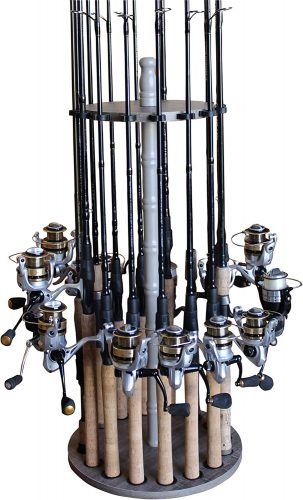 Material:
Engineered Wood
Item Dimensions:
13.3 x 13.3 x 30
Mounting Type:
Freestanding
This freestanding fishing rod rack can store up to 16 rods and reel combos up to a 13.5-inch diameter. Thinner rods may shift when placed in the rod holders, and the reels may also knock into each other. This rack is also not the best fit for saltwater rods as they tend to be thicker and taller than freshwater poles. It is seriously stable and sturdy since it's made with a beautifully crafted solid wooden center. However, it's still possible to move it around easily. The Barnwood grain laminate finish gives it a classic and clean-cut appearance.
Assembly is easy enough, with no need for additional tools. This fishing pole rack is best suited to store freshwater rods as it is more suited to those road diameters and fits them best. The rod clips adjust to most freshwater rod tapers and are covered in soft rubber to protect the rods from damage, while the baseplate has caps that capture any moisture that may be brought on from the fishing rods.
I wouldn't suggest that this fishing rod storage rack be used for outdoor storage because the base and top of the rack are made from laminate wood, so it would probably easily become sun-faded and warp in hot environments.
Overall this rack looks great. It works perfectly well, is sturdy and stable when fully loaded, and is water-resistant. For those looking for a great freestanding rack that can accommodate a larger amount of fishing rods, this design from Rush Creek Creations is the perfect solution.
For Organizing Your Tackle, Get the Rush Creek Creations Fishing Rod Tackle Cart
When organizing your tackle, every true angler knows the struggle. Fortunately, RushCreek Creations have provided a fantastic solution in the form of this tackle cart, and I must say, I am truly impressed. It is extremely well-made, quality, and practical. The cart's mobility, as well as its 12 fishing rod storage capacity and affordable price, makes this a top contender for fishing tackle and gear storage.
7. RushCreek Creations Fishing Rod Tackle Cart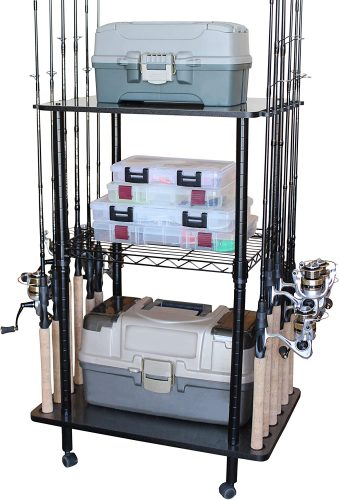 Item Dimensions:
13.3 x 13.3 x 30
Mounting Type:
Freestanding
First, I'd like to say that this cart is highly practical and functional regarding organization and storage. The top and bottom storage shelves are made from a woven carbon fiber material, which is durable and works perfectly with wet items and tools, making it very easy to clean. The middle shelf is a wired base that is adjustable to accommodate the size of your tackle or bat boxes.
I like that the steel framing of this cart is powder coated to minimize scratching. The 12 fishing rod handle guide slots on the cart's bottom shelf are waterproof, lessening the possibility of water damage over time. Another small detail I'm very thankful for is that the cart's plastic wheels have locking mechanisms to prevent the cart from moving around unintentionally. However, if you prefer not to have them on, the rack works perfectly without them.
The clips that secure the rods are soft, making them more adjustable for most tapers. However, I would only recommend using freshwater tapers, as anything else might be too large, and the reels might not fit properly if all 12 slots are used.
I like this storage cart. Its assembly was effortless and very sturdy even when fully loaded up with a bunch of rods and tackle boxes. I wouldn't recommend using this rack outdoors, though, as it's not made for rolling around on uneven terrain, but it is perfect for garage storage. I would've wanted perhaps three sides of the rack to store fishing rods, but rod storage spaces are sufficient. RushCreek has made a highly functional tackle cart, making organizing tackle and fishing gear easy to maintain.
The Kastking V10 Rod Rack Has a Great Line Spooling Station
Although this fishing rod rack from KastKing has a much more limited storage capacity in compression than the other storage racks previously mentioned, the one standout feature this rack has is its unique patent-pending line spooling tool. It ensures that your fishing rods are neatly organized and stored safely and provides a fantastic means of spooling your lines with little effort and without worrying about lines becoming twisted and entangled.
8. KastKing V10 Rod Rack with Line Spooling Station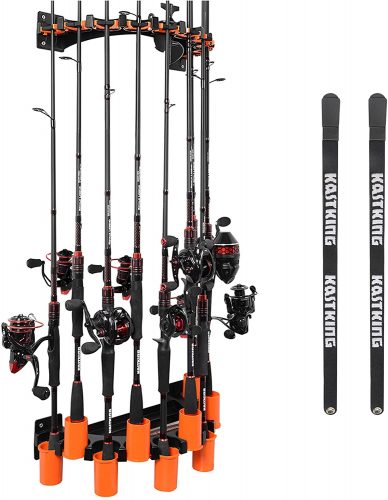 Item Dimensions:
17.72 x 10.2 x 4.09 Inches
This 10-rod fishing pole storage rack from KastKing has a unique patent-pending design and a line spooling station. This is great, as I can spool a fishing line on both spinning and casting reels without the lines getting twisted. To ensure the reel's line is tight enough, the line spooling tension bands included with this fishing rod rack are completely adjustable and work with almost all reels. This line spooling system works well with monofilament, fluorocarbon, and braided fishing lines.
This rack is mounted to the wall, and its compact design only takes up to 17 inches of space. I appreciate this rack's added shelf storage, which is perfect for storing your fishing pliers, line cutters, and other fishing tools.
The rack is made from ABS material which does not rust. Perfect for carrying fishing gear that may bring in moisture from time to time. The rack's unique curved design and adjustable cups ensure that various rod heights and fishing combos are catered to.
The line spooling station is very simple to use. The spooling tool can be mounted to the rod rack when you want to spool reels and then be removed and stored when it's not in use. The small and compact design of the spooling system makes it easy to store.
Initially, I wasn't sure about the rack's quality. Still, upon inspection, it seemed quite sturdy, solid, and secure once mounted on the wall—the added benefit of easily spooling your lines made using this rack much more enjoyable.
The Three Different Types of Fishing Rod Racks
Fishing rod racks can be divided into three storage types. These are mainly fishing rod wall racks, overhead or ceiling-mounted racks, or freestanding fishing rod storage racks. Depending on your storage capacity and needs, each type presents its own set of pros and cons.
Fishing Rod Wall Rack
As the name suggests, these racks, such as the Rush Creek Creations 11 fishing rod storage rack, are mounted to walls. This option is perfect if you have limited floor and unutilized wall space. The racks are usually bolted to the wall, which somewhat requires drilling. Depending on the weight of the rack and the fishing rods, it is important to consider whether drywall would withstand the weight of a fully-loaded fishing pole rack.
Ceiling-Mounted Fishing Rod Rack
Ceiling-mounted fishing rod storage racks are perfect for decluttering a small storage space. It keeps the rods safely stored out of harm's way by preventing them from being scratched or damaged by passers-by or other equipment possibly falling or bumping into them. Pay attention when mounting this rack to the ceiling. Poor attachment can lead to the rack falling, which you'd want to avoid.
With this type of fishing pole rack, you should keep in mind the space available between the rods and whatever is being stored underneath it. If you mount this rack to your garage's ceiling, there should be sufficient space between the rack and your vehicle to prevent the two from coming into contact and causing damage. Furthermore, consider the height and effort needed to load and unload your rods. The ColdTuna Ultimate Rod Sitter fishing rod storage rack is a great option.
Freestanding Fishing Rod Storage Rack
If you have floor space, a freestanding fishing rod storage rack is a great way to keep everything secure and organized. It doesn't require any drilling or bolting, and setup is easy with minimal effort. The great thing about these racks is that they're mobile and can easily be moved from one place to another. They also come in many different designs, from the normal rectangular rack design to a modern round design and a convenient corner design.
What to Look for When Choosing a Fishing Rod Rack – A Buyer's Guide
Fishing rod storage racks serve a very practical purpose. However, choosing one that suits your needs requires a few key considerations.
Storage Location
It is important to consider where you'd like to place your fishing pole rack. Depending on your available storage space, you must decide whether a wall-mounted, ceiling-mounted, or freestanding storage rack would work best for you.
Fishing Rod Capacity
The number of rods you want to store will also determine what rack you settle for. Some racks also cater specifically to small rods, while others are more apt to store large fishing rods.
Versatility
Some racks can be mounted on walls and ceilings, while others can be attached straight onto your boat. If this versatility is important, remember this key factor when deciding on a specific rack design.
Durability
Fishing rods are exposed to all kinds of environments, whether indoors or outdoors. They also tend to carry considerable weight at full storage capacity, so their construction should be durable enough to withstand these factors. Take into account the quality of the rack's design and construction and whether or not it is durable enough to withstand what is expected.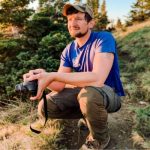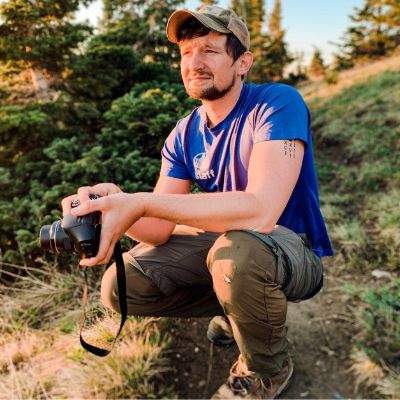 Timo is an outdoor enthusiast and gear specialist who is constantly exploring. As an avid hiker, he has completed the ADK 46ers, South Beyond 6000, GA4000, and the Colorado 14ers. He's ice climbed Mt. Hood, hiked up half a dozen mountains in the Alps, and spent three consecutive summers constructing a sustainable trail through the Colorado high country.