Best Chariot Bike Trailer
Instep Bike Trailer for Kids

Best Tandem Bike Trailer
Kazam WeeRide Co-Pilot Trailer
Best Pet Bike Trailer
Schwinn Rascal Bike Pet Trailer
Best Cargo Bike Trailer
Aosom Wanderer Cargo Trailer
Staying active and getting the family outdoors should be a top priority whenever the weather allows it. We understand how difficult it can be for parents to juggle pets, children, and even equipment transport whenever the great outdoors calls and the sun shines. One of the best ways to mix exercise with fresh air is cycling. If you are considering buying a bike trailer to help you do this, that's a great idea! You can make a more informed choice by doing your research before jumping in and making a purchase. This buying guide is here for you to do just that – help you during decision-making.
Our list of the best bike trailers on the market is here to narrow down your choice to the top 12 bike trailers available to buy today, no matter what special circumstances your family has – carrying pets or more than one child or cargo such as sports gear and groceries – you can be sure to find the perfect bike trailer for you in this article.
We've separated the bike trailers into 4 categories:
How Do I Know Which Bike Trailer is Best?
First, you're doing the right thing by researching the subject before buying your bike trailer. That's always a wise move and will help you not buy a product that is too small or incompatible with your current bike.
What is the Best Bike Trailer for a Child?
With so many bike trailers for kids on the market, and most of them priced to be incredibly budget-friendly, there's no need to look for a second-hand trailer. Previously owned bike trailers for children is a bad idea because you won't know if it comes with all the right equipment. Plus, you won't know what kind of wear and tear it has undergone.
Chariot Bike Trailers for Children
Chariot bike trailers are often multi-use, basically, a stroller that can double up as a trailer by attaching to the rear axle on your bike. You should consider the child's age, how many kids you have, what kind of weather you plan to go biking, and how often you plan to use it. You should also factor in what price you are happy to be paying.
If you have small children who can handle a biking holiday or mountain biking excursion in a chariot or a tandem, consider what kind of terrain you will be traveling over. If your bike trailer is to be used strictly for sidewalks, quiet suburban streets, and parks, then the lightweight, plastic rims on the InStep Take-2 will be completely adequate.
Alternatively, if you plan on introducing your kids to an active biking lifestyle early on, investing in one of the high-end bike trailer options, such as the Allen Sports Deluxe model, will be worth it. The two-seater option allows your family to grow or your little one to bring a friend along. When one child graduates to a tandem trailer, the smaller children can still get a lot of use from the chariot trailer.
Safety Considerations
Children under a year should not be placed in a chariot bike trailer
They should always be secured in the trailer using the harness
There should be room in the trailer for the child's helmet.
Never allow older kids who exceed the height and weight restrictions to play within the trailer.
It is unsafe if a child's legs protrude from the trailer's main cabin.
Here's our pick of the best chariot bike trailers for kids:
1. Instep Bike Trailer for Kids
The chariot-style InStep comes with pneumatic tires and molded rims for better mobility. A 5-point harness safety belt system ensures the Instep bike trailer can provide the protection your little ones need, no matter how bumpy the road gets. The 2-in-1 lightweight canopy has an insect screen and a weather shield.
The Instep bike trailer covers give kids a nice view of what is going on outside. It attaches using the snaps at the bike trailer frame's front, top, and back. The rear mesh cover gives protection against sudden winds or rain, and the clear plastic front cover rolls up when you don't need it. The good news is the equipment is very easy to assemble when it comes out of the box.
The package contains an Instep bike trailer coupler ready to pull one or two children under 40lb each. There's the option to buy a stroller wheel separately, which converts the In-Step into a 3-wheeled stroller. A trailer arm is included. However, there is no jogger kit option.
Here are some pointers on how to connect Instep bike trailers.
More Features
Where InStep excels is its roomy interior space. This is good news for any parent who can't get their toddler away from a fairy costume or lightsaber. The choice to upgrade the bike trailer to a stroller is there for any parent who also likes to walk in the park.
The InStep is budget-priced and offers good value for what it costs. It pulls smoothly for such a budget-friendly trailer, and the bike rack trailer hitch and foldaway make it easy to use and store. Ten mph is recommended to pull your kids along a sidewalk. This can seem a generous speed in relation to walking, but remember to keep an eye out when going down any inclines.
Conclusion
One of the best budget-friendly toddler bike trailers on the market.
Why should you buy the Instep Bike Trailer for Kids?
2. Allen Sports' Deluxe Steel Frame Child Trailer
The Allen Deluxe chariot bike trailer is highly recommended for any parent who prioritizes safety. This model suits families who enjoy the occasional casual bike ride and need a super-affordable bike trailer for kids. There's also an S2 version that can be converted into a snappy-looking stroller.
Regarding bike trailers, Allen Sports is well known for its affordable, high-quality designs, and the Deluxe package is no exception. The lightweight steel frame trailer has long-lasting, quick-release 20² steel wheels and a trailer arm that attaches quickly and easily to any adult bike frame.
The hammock-style bench seating is thickly padded. A cozy mesh door front cover stays in place with Velcro, and a transparent rain cover "windscreen" is a roll-up/roll-down permanent fixture. Cute finishing touches on the Allen bike trailer include two easy-to-access mesh cupholders and bright yellow or red color options.
More Features
Folding the Allen Sports bike trailer is a fairly simple process. It's also possible to assemble straight out of the box using the manual to teach you how to install a bike trailer. It connects using quick-release pins and is secured with locking loops and pins.
The tow arm hitches effortlessly into a socket attached to your bike's rear axle. The steel cylinder pushes through to the other side and is then firmly secured with a retaining pin below the bottom of the socket. Additional security is provided by a nylon strap wrapped around the bike frame as a backup.
It's little touches like the super-secure hitching system parents love about the Allen Sports bike trailer for kids. Any chariot bike trailer with thoughtful safety features and an excellent price-point will allow you always to hit the sidewalks in a carefree mode!
Conclusion
A solidly impressive performer with an incredibly low price tag. Value for money and safety all in one.
Why should you buy the Allen Sports' Deluxe Steel Frame Child Trailer?
InStep Double Tow Behind Quick n' EZ Bike Trailer
InStep's bike trailer stroller adds another dimension to your bike outing options. You can take up to two small kids for a ride along with this adorably colored double tow-behind trailer that conveniently transforms into a stroller or jogger when you need it to.
The Instep signature pneumatic tires and molded rim guarantee durable performance and a smooth ride on sidewalks. The 5-point harnesses protect your tiny riders in the stroller and tow modes. The quick-release wheel and easy-to-fold frame allow for effortless storage, assembly, and transport options.
The 2-in-1 canopy cover features a weather shield and bug screen to protect against any unexpected insect visitors. A manual helps with any assembly glitches and teaches you how to attach a bike trailer to the bicycle.
More Features
Instep has cornered the market in lightweight, affordable toddler and child bike trailers. Because the Quick n' EZ offers double and single-child seating capacity and converts into a stroller or jogger, it is the perfect choice for a new family with two small kids or twins.
The bike trailer hitch on the Quick n' EZ is easy to use, and the entire trailer and bike combination pulls very smoothly for such a super-affordable model. The interior height is generous if you need to consider a fast-growing or taller child. The trailer interior is also spacious and offers an accessible all-around view for those kids who won't be happy until they know what's happening outside!
Whether pushing the Quick n' EZ as a stroller or jogger or pulling it behind your adult bike, this model will give your toddler or small children a smooth and safe ride.
Conclusion
The InStep double tow-behind, jogger, and stroller is an accessible weight to pull for average distances and an accessible price for young families on the go.
Why should you buy the InStep Double Tow Behind Quick n' EZ Bike Trailer?
Tandem Bike Trailers
Allowing your child to get the hang of bike riding while attached to the rear of your bike is a brilliant idea. It introduces them to the biking lifestyle while allowing them to pedal or be towed.
There are standard tandem bike trailers for kids, such as the Weeride Copilot featured on this list. Then there are recumbent seats (more like armchairs) with wheels that allow your child to sit behind and not participate in the cycling process. Finally, two bars or ropes allow you to hitch a small child's bike to the back of your bike and pull it along.
Here's a 10 points cheat sheet to consider before buying a tandem bike trailer:
Type of trailer (see the three trailer types above)
Your child's age and riding capabilities
Whether the trailer is compatible with your adult bike
Wobbling and stability – very important for nervous children
Quick release for storing
Height adjustment
Gears or not – if you plan on going up inclines or attaching the trailer to a mountain bike
Does the tow arm fold?
How many children can it transport?
Comfort and safety
A tandem bike trailer is half a bike (the rear half) that attaches to the back of your adult bike, either mounted to the rear seat post or the rear rack. This trailer style is only for children who can sit without assistance on a traditional bike seat, with pedaling as optional.
The best ages for a tandem trailer are from 4 to 8 years. It's perfect for little ones who won't be happy being left behind if they don't have the endurance to keep up with their parent/s. If the model you buy isn't wobbly and rides stable, it will reinforce your child's biking skills and confidence levels.
Here's our pick of the best tandem bike trailers for kids:
Kazam WeeRide Co-Pilot Bike Trailer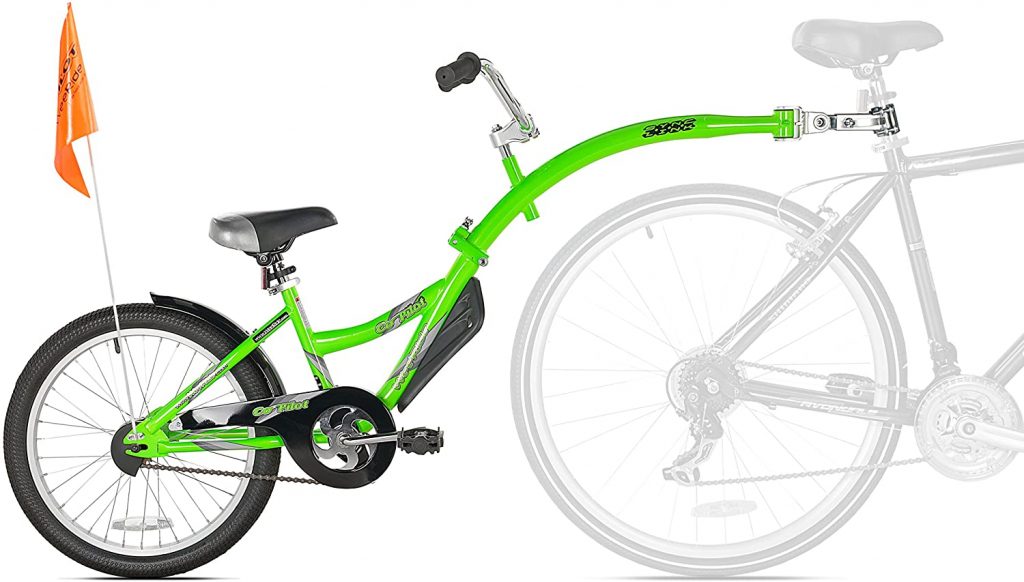 Of course, you'll see another WeeRide kid's bike trailer here. The company makes outstanding, safe tandems for small children, and the WeeRide Pro-Pilot model is no exception. Similar in design to the WeeRide Co-Pilot, the Pro-Pilot is made with an aluminum tandem frame to keep it lightweight and portable.
The Pro-Pilot also has in common with its predecessor that it attaches and releases quickly and easily from the adult bike post-hitch. The design has been made to replicate the features of a stand-alone 20² bike, and the Pro-Pilot has everything your child will need to learn how to ride a bike independently.
If your little one is too tired to pedal, there's a place to rest their feet without the danger of them interfering with the wheel spokes. The Pro-Pilot will fit perfectly if you own a 27²/700cc bicycle or 26² mountain bike. For its lightweight, this tandem bike trailer is still safe and durable up to its recommended 75lb weight limit.
More Features
If your family is serious about biking trails, cycling holidays, and getting around in the great outdoors with no one left behind, then the Pro-Pilot is for you. It's a comfortable, sturdy single-wheel bike trailer that could tempt even the most nervous child to clamber on. Once they get a sample of how fun it is to tag along, they can progress from interested observers to keen participants.
Because the attachment is flexible, the Pro-Pilot can fit bike models that ride lower to the ground. This should be noted by any parent who feels more comfortable placing their feet on the ground quickly without having to dismount from their adult bike first.
Conclusion
Arriving on your doorstep with a two-year guarantee, easy-to-assemble parts, and affordable price, the WeeRide Pro-Pilot will likely be passed down lovingly from the eldest to the youngest child as it helps them learn to ride independently. In this article, you can learn how to attach a bike trailer to a mountain bike.
Why should you buy the WeeRide CoPilot Bike Trailer?
Burley Piccolo Design Bike Trailer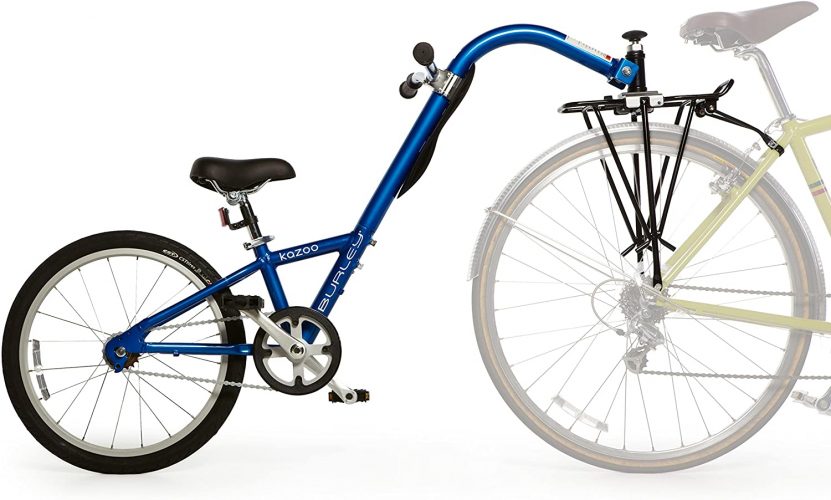 One of the best-geared tandem trailer bikes on the market, this Burley bike trailer is the ideal choice for any family who enjoys long bike rides, especially ones where the adult rider has to tackle elevations. Because of its outstanding fabrication and more complicated production level, the Piccolo sells at a higher price than other tandem bike trailers. In our opinion, however, the extra financial layout is worth it in the long run.
The Piccolo's unique feature is that it attaches to the adult bike using a rear rack. This is important for parents used to the more common seat-post-mounted hitches. The extra width at Piccolo's hitch means it always remains stable, which is worth considering if you have a nervous rider. You can easily learn how to attach a Burley bike trailer from the manual.
The other parts include the trailer cycle arm, handlebars, and pedals. They are all attached using standard household tools. You fix the Moose Rack (included) to the rear of the adult bike using the 4 screws at the recommended points on either side of the rear wheel. Check your bike has the points where the rack must be affixed before buying. Once the rack is on, the Piccolo can be attached to it securely and quickly.
More Features
With an undeniable five-star rating across the board, the Piccolo should make it onto any keen biking family's wish list – if they can afford it! It has two points of rack attachment for added security, and this feature – along with the gears – is perfect for cycling up inclines very happily.
You can also use your adult bike with the Moose Rack attached without the tandem in tow. It provides a nice spot to carry saddlebags or other cargo.
Conclusion
Pricey but worth it. If you hit the trails on your bike a lot, you should know the Piccolo rides smoother and more stable than most other tandems on the market. Attaching a bike trailer to a bike is easy after reading the manual.
Why should you buy the Burley Piccolo Design Bike Trailer?
Kazam WeeRide CoPilot Bike Trailer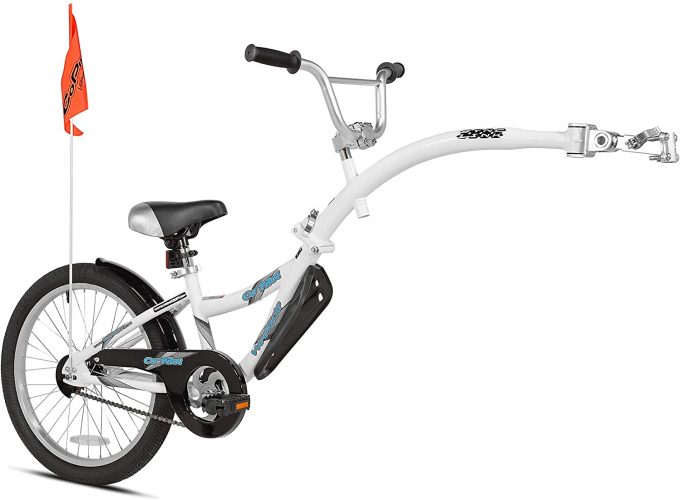 The WeeRideCoPilot bike trailer is an excellent example of a well-thought-out tandem design for little learner bike riders. The sturdy frame and soft, comfy saddle provide a firm base for any small child to feel comfortable. The mounting plate helps attach the tandem to the seat-post of an adult bike.
The 20″ tire wheel at the back of the tandem, adjustable handlebars, adjustable saddle height, and robust seat-post mounted hitch give your child a sense of control and safety. Not only will your little one feel like the coolest kid on the block, but this model will give any child the confidence to want to go it alone in the shortest possible time.
The assembly for the WeeRide Co-Pilot is pretty simple. It attaches easily to many – but not all – adult bikes. It arrives with the wheel already installed in the tandem bike frame. All you must do is lock the thick tow arm from its folded position and attach it (a bolt must be loosened to do this easily). Don't forget to have your child try it out before adjusting the pedals, front fender, handlebars, and seat-post.
More Features
As noted, the WeeRide Co-Pilot trailer bike has a thick, sturdy frame and a mega-comfortable seat. A little learner bike rider needs this when the family hits the bike trails for the day. Not only is this well-designed trail-a-bike thoughtfully constructed, but it also comes with an incredibly affordable price tag too – parents on a budget will be pleased to know.
Conclusion
Because of the adjustable handlebars and seat, the WeeRide is suitable for a child to grow up with, but the durable fabrication means it can also be passed down to the next lucky child who needs extra help on long rides. Smaller children can choose to pedal or they can keep their feet still and go along for the fresh air.
Why should you buy the Kazam WeeRide CoPilot Bike Trailer?
Dog Bike Trailers
There's no doubt that your pintsize pooch will have a happier life when you allow it to spend more time with you – including biking! Even though larger dogs might be perfectly content to run alongside your bike, there are other reasons why big dogs need bike trailers too. Traffic, cycling over long distances, and thorns or glass shards on the road are only some reasons why dog bike trailers make sense. If your pet loves the wide, open spaces but has recently suffered from an illness or injury, traveling on your bike trailer would lift your pet's spirits. They still get to inhale all those delicious smells that waft around!
If you have a senior dog, it should be able to enjoy spending its golden years by your side to live its life to the fullest. It might be more painful for them to get around, or they might be too slow to keep up anymore, even when you are walking. This is when the best solution is to buy a dog trailer for daily excursions.
The same can be said for puppies. It's great to get your exercise cycling to the nearest beach or forest and take the puppy along for the ride. You won't be bothered by all the leash training or having to provide treats as rewards, and the puppy gets to cavort to its heart's content when you reach your destination. It's the greener option too.
Other Things You Should Factor In:
Whether you're getting back into cycling or a seasoned biker, you need to know how much weight you can tow for your chosen distances. Every bike trailer has a different weight when it's empty and full of your fur baby. Check whether the trailer frame is steel, aluminum, or plastic. This is also a good indicator of how durable and strong the trailer will be.
If you are an occasional biker and not looking for a workout, choose a plastic frame if you're on a budget, don't need your trailer to last very long, and have a dog under 25lb in weight. An aluminum frame provides a lightweight trailer if your dog is small to medium. Steel frames are the heaviest but also very strong – perfect for bigger, heavier dogs.
The dog bike trailers on our list have been curated to include the best models for the price, dog size, and ease of maneuverability.
Schwinn Rascal Bike Pet Trailer for Small and Large Dogs
This high-quality, affordable pet bike trailer by Schwinn has several great features. It's easy to see the bright orange color, and the black trimming includes a matching tall orange safety flag. These two features combine to increase the Schwinn bike trailer's high visibility.
The entire outer layer of this dog bike trailer is machine washable. The safety leash attachment inside is adjustable so that there's no danger of your little pooch getting caught up when it moves around. The universal coupler attaches quickly and easily to a wide variety of bikes. The easy set-up and detachment from the coupler mean you can buy the Rascal pet trailer carrier today and be on the road with your pet in tow one hour after your package arrives.
The lightweight frame is sturdy while allowing for an additional 12lb of extra cargo to be placed on top of the pet carrier or inside the orange cabin with your small or medium-sized dog. A rear-positioned doggy door lets your pet exit and enter easily without feeling corralled or herded.
More Features
One of the best things about the Rascal is you can see right away the product has been produced by a seasoned bike company that understands everything there is to know about cycling. This might be a drawback for anyone looking for a trailer that can perform other multi-use functions. Schwinn has made a dog carrier trailer that doesn't double up as a stand-alone carrier or stroller.
The Rascal is the ideal way to safely take your fur baby with you on a bike ride. It stores away neatly and compacts into a nice compressed shape if you need to transport it. The rim material is lightweight aluminum, and you can inflate the tires using a standard bicycle pump.
The mesh covers provide Plenty of air circulation, giving a lovely view for your poochie as it sits inside.
Conclusion
Best choice for someone who wants to introduce their dog to biking.
Why should you buy the Schwinn Rascal Bike Pet Trailer?
PetSafe Solvit Hound About Pet Bicycle Trailer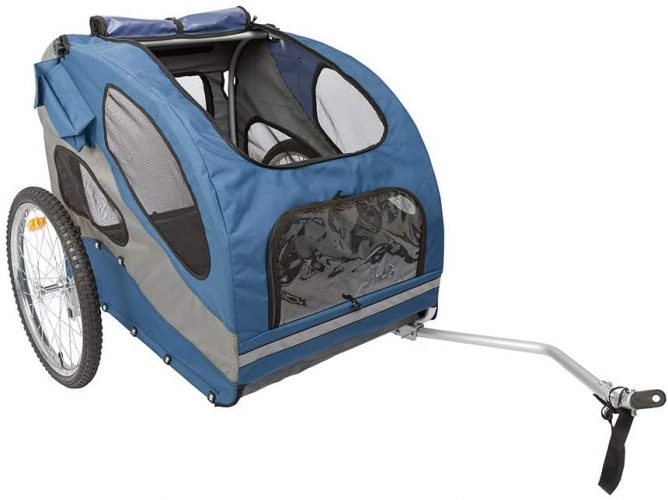 If you are hunting for a nifty dog trailer for bike and pet lifestyle enhancement, the PetSafe is a fantastic option. It's a high-quality product available at a very affordable price. This pet bike trailer is available in grey/navy for larger pets.
The large dimensions can comfortably house a 110lb dog when the PetSafeSolvit is used as a trailer. Using it as a stroller (yes, the PetSafe is multi-use) will support a 75lb large dog. If your dog is heavy instead of large, keep an eye on these recommended weight limits.
The front door feature comes with a mesh screen and a waterproof layer. The rear door also has a sunroof in addition to the mesh screen. The interior has a cushion and the adjustable safety leash guarantees a super-secure ride. The waterproof interior floorboard and sturdy aluminum frame also ensure smooth sailing along any surface in any weather.
More Features
Manufactured for quick and easy assembly straight out of the box, the PetSafe folds up nicely and is compact for better storage and transport options. The cabin dimensions are spacious enough for most large dog breeds. The 20² tires arrive pre-filled with air, and you will need a standard-use bicycle pump to inflate them again.
We love that PetSafe Customer Service can chat or email if you need assistance with your set-up. This is a better option than reading through an instruction manual every time!
PetSafe specializes in pet containment, transport, and safety, and it shows. This trailer for a dog or cat is cute enough for you to proudly cycle with it in tow while still providing your pet with a smooth and secure ride during all weather. If you are unsure how to attach a bike trailer to a bike, there is information to help you do it in this article.
Conclusion
Best choice for someone who wants to introduce their dog to biking.
Why should you buy the PetSafe Solvit Hound About Pet Bicycle Trailer?
Best Choice Products 2-in-1 Pet Trailer and Stroller
One of the best bike trailers that can convert into a stroller for dogs on the market, Best Choice Products' trailer/stroller for your precious pooch is lightweight yet still sturdy and heavy-duty. This is due to the steel frame, built to support up to 66 lbs. The canopy is made of durable weather and water-resistant polyester fabric. The mesh screens don't just keep out bugs but also offer your little tagalong a full-circle view of what's going on outside.
When in stroller mode, you can use a hand-lock braking system when it's time to stop. The full suspension system offers smooth riding with all the stability a dog could wish for. This stroller/trailer for dogs includes an adjustable handlebar length, a safety flag and reflectors for extra visibility, and a removable and washable interior cushion.
The package includes a universal bike hitch that attaches to the rear axle. The canopy exterior has functional pockets for storage. The trailer folds into a compact  9² width, and you can convert the 2-in-1 into a stroller without using tools.
More Features
The Best Choice Product 2-in-1's steel frame is lightweight and durable, whether set up as a stroller or trailer. It connects easily to most bikes, and the high-quality canopy materials will withstand considerable wear and tear over the years.
It includes some great safety features that should always be considered when using public access roads. The carrier features a bright red safety flag and reflectors. If you don't like stooping, there's no need to worry when choosing the 2-in-1 because the handlebar adjusts to different heights.
Conclusion
As a dog trailer for a bike, Best Choice truly is the best choice for your pet. If your idea of a great weekend is having the option of cycling or strolling, it's ideal.
Why should you buy the Best Choice Products 2-in-1 Pet Trailer and Stroller?
Cargo Bike Trailers
Here are some of the criteria you should remember when hunting for the best cargo bike trailer for you.
Single-wheeled cargo bike trailers are a great option for anyone who regularly rides in traffic as they are narrower.
Double-wheeled cargo bike trailers have more stability and maneuverability.
Wagons with four wheels for riders who have fragile cargo.
Criteria to look at before making your selection:
Price – There's no reason to break the bank before buying a bike trailer. If you want to carry groceries, you won't need to spend much on your trailer. Choose a few tasks you need your trailer to be able to perform, and check the ones online that offer the features you need.
Capacity – We have selected a range of cargo trailers, with the Aosom Elite II able to handle anything you can throw at it regarding weight categories! Remember that size, as well as weight, should be factored in. If you have long planks that need transporting, they may not weigh much but will need extra space. Choose a cargo trailer with sides that fold down or can be removed.
Easy to Tow – If you opt for a two-wheeler trailer, it will be easier to tow because it is more stable. Single-wheel trailers will need to be packed more carefully.
Smooth Ride – The last thing you need when you are busy towing a cargo is to look behind you all the time to check that the shaking hasn't loosened your stuff. Again, a two-wheeled trailer will offer you a smoother transport option.
Versatility – Before buying your trailer, ensure you know how to attach it to your bike and that your bike type is compatible with it. A good trailer always comes with clear instructions and any specialized tools you might need.
Aosom Wanderer Folding Bicycle Bike Cargo Storage Cart and Luggage Trailer
This great value bike trailer for cargo has a straightforward design that offers a high weight capacity of 110lb. If your bike and you are strong enough to tow heavier loads, this is a good choice.
The bike cargo trailer has a hardy steel frame and robust Polyethylene bottom. The lightweight trailer bottom can be folded into a compact, manageable size for easy transport and storage when the unit is not attached to your bike.
The sidewalls and bike cart end also fold away if your cargo is larger than the trailer floor size. The package includes a type B bike hitch kit for bicycle attachment, and the good news is that it's compatible with every bike style! The slim wheels are for low drag and high speed. When out on public roads, the rear view is taken care of by 4 reflectors.
More Features
The simple design and easy handling allow you to utilize the Aosom Wanderer on various surfaces and inclines. For the price, it is one cargo carrier for bikes that won't sit in storage for very many days of the year.
If you like to use your bike to get around but feel restricted by the lack of gear transport a bike on its offers you, you should give the Wanderer a tow and experience first-hand how it can expand your transport options.
Conclusion
With the best bike trailer hitch choice – the universal – the Aosom bike trailer is affordable and lightweight for keen bikers everywhere.
Why should you buy the Aosom Wanderer Bike Cargo Cart?
Schwinn Day Tripper Cargo Bike Trailer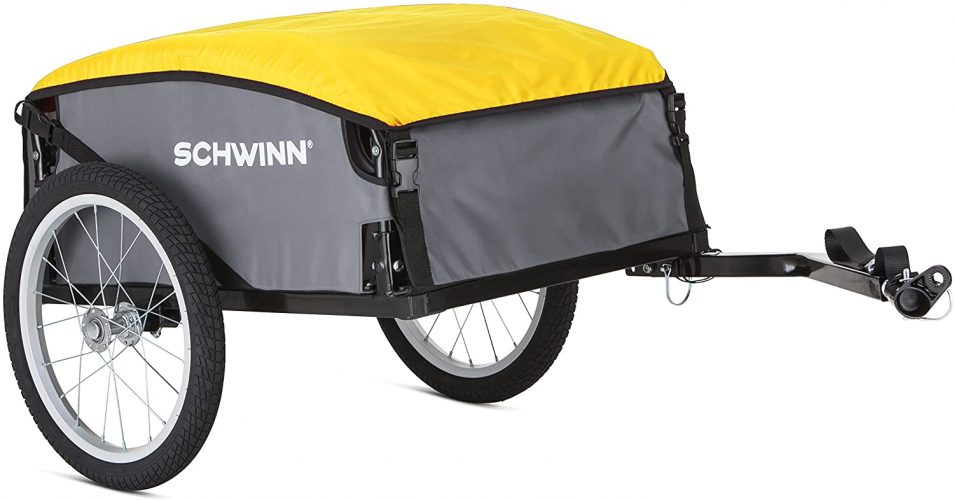 Streamlined and super-easy to tow, the Schwinn Day Tripper is perfect for towing smaller loads around. Even though its dimensions are compact, the 100lb weight limit still allows for a fair amount of gear to be towed! It's easy to assemble on delivery and comes together in a sturdy, ready-to-go unit.
The external D-ring attachment holes provide additional places to secure things, and the weather-resistant canopy cover can be flipped over your more water-sensitive equipment. The product folds down to be amazingly compact for easy storage, and the wheels pop right off without needing tools for their removal. Although the 16² tire design is not practical for off-road biking, it rides smoothly over hard surfaces such as sidewalks and tarmac.
More Features
For the price, the Day Tripper is the ideal nifty little bike trailer for cargo that comes in multiple color choices. If the small dimensions prove a challenge for some of your items, the built-in D-rings give additional transport options by allowing your gear to be attached externally to the trailer and canopy.
Going hand in hand with the cargo trailer's portability, it's convenient and lightweight. This is why it's a good selection for beginner cyclists and anyone who doesn't plan to build up their fitness levels to Olympic athlete standards.
Conclusion
Quick to assemble, disassemble, and tow, the Day Tripper is a winner for anyone on a budget.
Why should you buy the Schwinn Day Tripper Cargo Bike Trailer?
Aosom Elite II Bike Cargo / Luggage Trailer
The 54² storage space offered by the Aosom Elite II provides enough room to hold lots of equipment or other essential items. It doesn't only provide you with large amounts of storage space and weight options – the Aosom Elite II can also protect it from bad weather. It locks up to prevent theft, and the Mark II version featured here has additional enhanced durability features.
The removable cover is washable, and the solid metal bottom enables the Elite II to carry heavier loads, up to 180lb, compared to other bike trailer cargo carriers. It also has a simple storage system whereby you compact the trailer by folding it up and removing the wheels without using tools. When this handy bike accessory is unused, it stores away neatly and tidily. While the instruction manual could be a little more helpful for assembly, the Aosom Type A bike hitch makes it easy to attach the cart to your bike frame.
More Features
Because of the additional weight it can carry, the Elite II might not be suitable for beginner cyclists or anyone who likes to ride for fun. On sidewalks and tarmac, however, the Elite II rules! If you want to know how this newer version stacks up against the previous model, the Aosom Elite, it offers different colors and trimmings and carries much more weight.
The Aosom Elite II is a wonderful choice for biking enthusiasts, hikers, and campers who want to take their bike touring options to the next level while still keeping an eye on the budget. If you think you might ever need to tow heavy equipment or items in the future, for whatever reasons, opt for the Aosom Elite II.
Conclusion
Considered to be a hefty improvement on the capabilities of the Aosom Elite, the II version takes the cargo bike trailer for adults' conceptual thinking to the next level.
Why should you buy the Aosom Elite II Bike Cargo / Luggage Trailer?
How to Attach a Bike Trailer: A Complete Guide
Knowing how to attach a bike trailer is important if you pull a child, a pet, or cargo. Bike trailers fix very easily to the adult bike's seat post or rear axle. Once you have learned how to secure your trailer to the bike, they can never separate when the equipment is in motion.
You need a wrench set and a compatible adult bike to learn how to hook up a bike trailer:
There are 2 bike trailer attachment methods that are pretty common and often require some help or explanation. The first is attaching an Instep bike trailer; the second is the scenario where no specific coupler is available on the trailer head. We've put together s simple 6-Step Installation Cheat-Sheet for each of these below.
How to hook up an Instep Bike Trailer
Attaching an Instep bike trailer is easy once you know how to. Get the parts with the trailer and a wrench: Coupler plate, tab washer, and locking pin.
Make sure the strap is attached securely every time you use the trailer. This will give you additional peace of mind when you cycle up inclines with your precious cargo. Knowing how to install Instep bike trailers is a good skill to learn!
How to Attach a Bike Trailer Without a Coupler
Learn how to attach Schwinn bike trailers here. If someone asks you how to attach a Schwinn bike trailer, you'll be pleased to know that it doesn't take a lot of expensive tools or specialist knowledge.
The safety strap is an extra precautionary measure. The materials and locking device designs used to attach bike trailers are of the highest quality and undergo strict testing before being verified safe for production. However, never forget to use the safety strap. It's a great backup to have in place if the trailer has not been attached correctly.
Conclusion
Choosing the right bike trailer to carry your cargo, kids, or pets can differ between an exhilarating day outdoors and a frustratingly hard push and pull. With all the choices on this list, you will surely find the perfect one to suit your needs and budget. Suppose you carefully consider what key features are the most important to you and your family, such as how often you will be using your trailer, what sort of terrain you will be traveling, and the activities you hope to do. In that case, it makes the selection process much easier.
One of the most important factors to remember is that the high quality of the trailer will be linked to its price. The adage rings true: You get what you pay for. The Burley Piccolo will be your best choice if you are in the market for a high-quality family favorite that can be passed down to the next generation. If you value a fun product that is easy to use and comfortable to push and pull, then the Best Choice 2-in-1 Pet Trailer and Stroller will be ideal. These bike trailers are both excellent products and reasonably priced for what you get.
There's no need to stress if you're on a tight budget. The Take2 In-Step Bike Trailer for Kids is affordable and outperforms other bike trailers with the same price tag. This is useful to know if a birthday or holiday is coming and you want the best bike trailer at the best price. Budget-friendly bike trailers may have been manufactured with a few small sacrifices regarding extra features. However, they still maintain the rigorous safety standards a parent or pet owner demands from their equipment.
In the end, however, whichever bike trailer you choose, remember that they all get you out and about, on the move, and having an adventure outdoors!