The Bottom Line
The CyclingDeal Alloy Roof Bike Rack is an excellent option if you're looking to purchase a roof-based bike carrying system. It's robust, light, and easy to install. That means you can easily remove it and keep it in your garage or car boot when not in use.
At a Glance
There's no doubt that some of the best bike racks available are those that sit on top of your car. Yes, it can be hard to lift a heavy bike onto the roof, but, you don't block your view of the road behind or use your hitch when you could be towing a kayak trailer or something similar.  Of course, there is plenty of roof bike carrying options but the CyclingDeal Alloy car roof bike rack deserves a closer look. 
CyclingDeal is actually an Australian company that started as long ago as 2005. They pride themselves on offering the fastest possible service, including next-day delivery on 95% of orders. But, their real aim is to provide the most innovative products at the best possible prices, without the aid of a middleman.
Possitives About the CyclingDeal Alloy Rack
This is one rack you should seriously consider, just check out the list of good points:
The CyclingDeal alloy roof bike carrier rack is made from high-quality aluminum which means it is exceptionally strong and light. Aluminum alloy doesn't rust so the rack will last for years even if you knock it a few times. With many other racks knocking them will damage the paintwork and allow the metal to rust, that's not an issue with this one.
The fact that it's exceptionally light makes it much easier to lift on and off your roof. You'll need crossbars on your vehicle in order to add the CyclingDeal roof bike rack. However, once the crossbars are in the position you'll be surprised at just how easy this rack is to fit!
Simply remove the clamps from the rack and lift the rack into place so that it sits over your crossbars. Then, fasten the clamps back into place, tightening them to ensure the rack can' move on your vehicle. There is an oversized knob to make tightening easy.
The rack fits most crossbars, whether you have factory-fit ones, aerodynamic ones, or even square bars. The max fitness of the bars is 1.18" and your bars must be no further than 4'3" apart.  You're then ready to load your bike. 
To do this you'll need to pull the middle bar upwards, locking it into position. You can then lift your bike onto the roof. It's important to note that you don't need to remove the wheels. The bike sits straight into the tray provided and two straps wrap around the wheels, securing it instantly into place.
A third strap comes off the middle bar and wraps around your frame, helping to ensure the bike won't move during transit. All the straps are ratchet style and easy to click into place with one hand. They can also be removed effortlessly. 
You can then lift the second bike into place but you should be aware that it faces in the opposite direction from the first. This minimizes the distance between the bikes, helping to keep them steady and give you enough room for a second rack if you wish.
The trays on the CyclingDeal roof bike rack are wide enough to accommodate virtually any tire. Add to this the fact that the frame strap is adjustable and you have a rack that can handle virtually any size of bike.
Of course, you'll need to remember the weight limit of this rack, 66 pounds for two bikes. But, this is a real benefit if you own different types of bikes, it can normally be difficult to carry a fat bike and a road bike on the same rack.
These racks are slim enough that you can actually put two of them on the roof at the same time. You'll need to verify that your roof can handle the weight. Two bike racks including the weight of the bikes and the racks equate to 162 pounds if your car roof can't handle this weight don't tempt fate by using two racks!
The beauty of the way these racks are designed is that you can easily get to the bikes from each side of the car, the only challenge is lifting them onto the roof.  Don't forget that when you're not carrying bikes you can push the red button to fold the middle arm down, allowing you to leave the empty rack on your roof.
CyclingDeal is ready to stand by its products and offer a lifetime guarantee against defaults in the product. Of course, this doesn't cover normal wear and tear or misuse of the rack.
But, it is reassuring to know that the rack will be repaired or replaced if there is an issue. There aren't many other companies who offer this and provide first-class customer service to back up the warranty.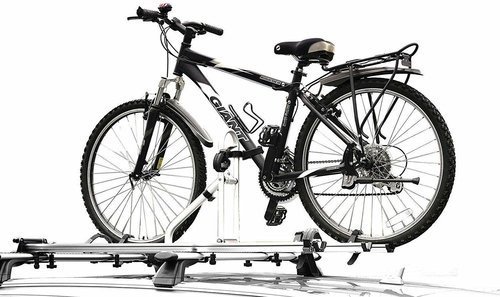 Concerns About the CyclingDeal Alloy Roof Rack
Of course, no rack is perfect and you should be aware of known issues:
You Need Crossbars
This isn't actually a fault with the CylingDeal but you do need to be aware that this rack fits onto crossbars on your roof. If you haven't already got crossbars then you're going to need to get some. That will add a significant cost to your purchase. 
While the rack itself comes at an attractive price, not having crossbars may be an issue for you. It's important to note that there are no locks included with this rack. The clamps from rack to crossbars are simple to tighten and loosen but offer no security if you leave the rack or the bikes on your vehicle.
In addition, there is no means of locking the bikes to the rack. You can purchase a cable lock to secure the bikes to the rack but you may find securing the rack to the crossbar a little trickier. This is important to be aware of as you don't want to leave your rack or your bike and rack attached to the car only to find out they've gone missing.
Again, this isn't a specific issue with the CyclingDeal roof bike rack option, but, it is something you should be aware of. You'll need to lift your bike or bikes onto the roof of the car. Depending on what type of bike you have this could be a challenging task, especially after a hard ride. It's worth lifting your bike up to the car roof level a couple of times to see how easy or hard it is. If you struggle a car roof bike rack may not be the best option for you.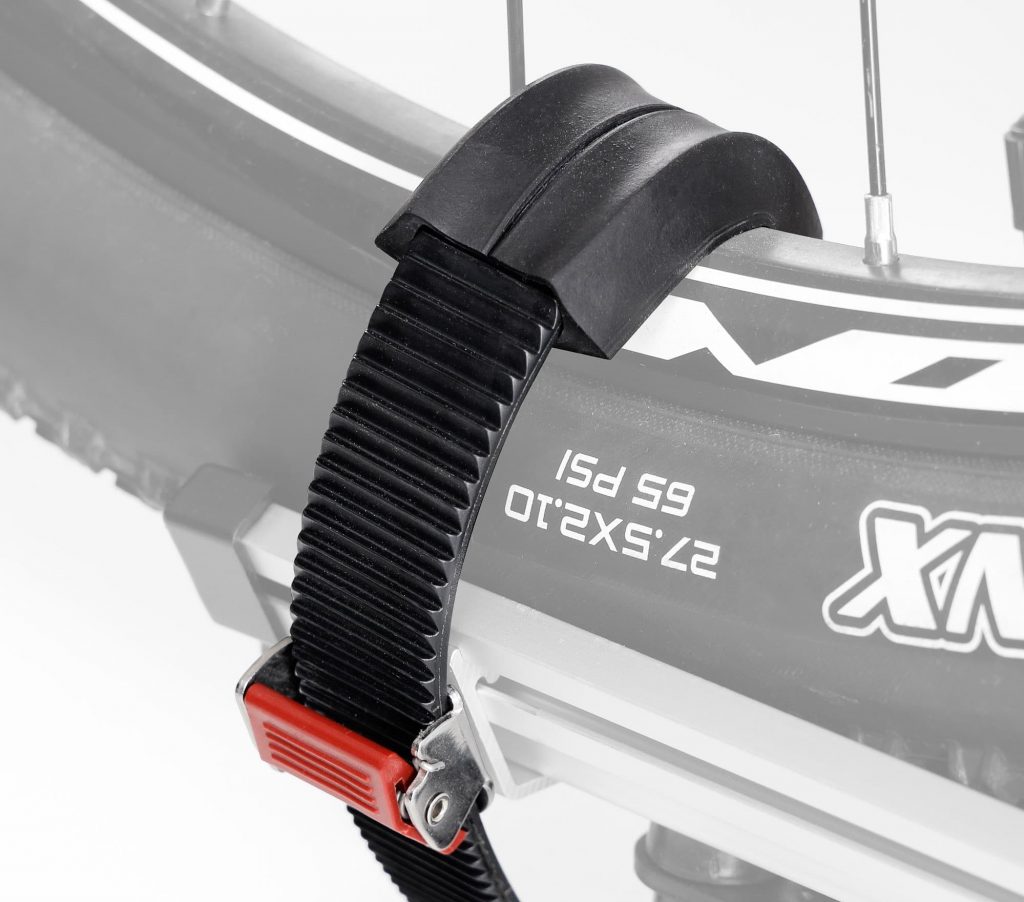 Final Thoughts
The CyclingDeal Alloy Roof Bike Rack is an excellent option if you're looking to purchase a roof-based bike carrying system. It's robust, light, and easy to install. That means you can easily remove it and keep it in your garage or car boot when not in use.
You can also design your own locking system and keep the rack on your vehicle. However, if you find the lack of a locking system inconvenient, or have to lift your bike up high, you'll need to consider a different option for carrying your bike.
If those things don't seem to be an issue then you'll find it hard to locate a better-suited rack to your vehicle at such an attractive price. It's time to go shopping and start getting out on your bike properly!