Tired of trying to figure out where to store your bicycles? If you only have one bike you can get away with leaning it against the wall or chaining it around a tree. It's easy to keep it neat if you only have one. The real problem only starts if you have more than one.
If you have more than one, why not try the smart option which is both stylish and practical? A bicycle storage stand allows you to store your bikes out of the way and in a neat manner.
If you're not sure which one to opt for, we recommend the Feedback Sports Velo Cache Vertical Bike storage stand. What's so special about this one you might ask? We'll explain that shortly and hopefully, you'll realize it'll make for an organized space, giving you the order you've been hoping for.
Three Main Reasons You Need a Bicycle Storage Stand
Wondering if buying a bicycle storage stand is really necessary? Maybe the following reasons answer this question.
Aesthetics
Believe it or not, this piece of equipment will make a world of difference to your living space. Nothing is more annoying than seeing your bikes lying haphazardly in your back yard. A bike storage stand will instantly transform your space for the better.
Create Room
Visuals aside, you'll be amazed at the space you can create by just storing your bikes on these stands. Because there's plenty of room you're left with corners or floor space to store your other items. Your chance of tripping over a bike as you move around is greatly reduced.
Security Purposes
Other than the above-mentioned reasons, buying a bike stand will definitely keep your mobile asset secure. Considering the amount you spent to buy your bike, surely it's worth ensuring it's safe & secure at all times?
Key Features
Attractive Design:
The first thing that impressed us about this stand is its attractive design. If you have an eye for sophisticated items then you'll definitely appreciate this stand which features a matte & naked frame finish. Worried this glossy look will be damaged if it's continuously exposed to the harsh weather elements? The soft rubber contact points are designed to protect the frame from such.
Adjustable
We love a versatile product because that means you're getting value for your money. By picking this stand you can store virtually any type of bike from a mountain to an electric bike. This is made possible by adjusting it to fit the bicycle you intend to store and the change goes quick.
3-leg design
Originally you can use it to store up to two bicycles. If you happen to have more than two you can make use of the optional leg& cradle arms. This way you can store up to four bikes. Impressive, right?
Frame Cradles
Because of these cradles, it can accommodate most bicycles with frame tube shapes.
Innovative Design
You'll find that some bike storage stands will need you to purchase additional hardware for extra support such as plastic coated hooks. Thankfully that's not the case with this stand which doesn't need any—It's quite self-sufficient.
Accommodates heavy bikes
Have a couple of heavy bikes you plan on storing? Picking the Sports Velo bike stand allows you to store even the heaviest of bikes. Here you're looking at anything between 40-160lb.
Color
These stands are available in either black or silver so pick your favorite depending on your preference. Hopefully, you can pick one that matches the color of your bike/s to keep your gear looking sleek.
What We Like
Longevity is the first advantage worth mentioning. Because of the anodized aluminum frame, it's designed to last and the long term clean finish also ensures this. Unlike some stands which are made with a combination of metal and plastic, this one contains 99% metal.
When compared to other similar brands on the market, it's quite affordable. You won't have to break the bank to own this durable product.
As mentioned earlier you can store up to four bikes if you pick this storage stand. And not just any bike; It's chic and robust frame allows you to store even your most expensive bike.
It's stable and secure.
Because it's a free-standing unit, you can create more open floor space by using this stand to store your bicycles.
This is a good looking piece. Its beautiful finish means you can also you use it as a display stand to show off your bicycles.
It can fit your larger bikes with ease because it has plenty of room. All you need to do is adjust the arms to suit the size. Adjusting it only takes a matter of seconds.
This space-saving stand will come in handy if you live in a small apartment or want to keep it in a small garage because it's designed to maximize space. You have the option of stacking them on top of each other. Simply make use of the upper and bottom levels
What We Don't Like
While the general consensus is this stand is easy to install, that's not always the case. A few users have reported facing difficulties during assembly. It also doesn't help that the instruction booklet isn't as detailed. Generally, it only requires a few moves to set up but it's something you'll perfect after a bit of practice.
While on the subject of installation, you'll find that the bolts are rather soft which makes it slightly difficult to use. However, it's certainly not a deal-breaker because you can purchase hard bolts from your local hardware store.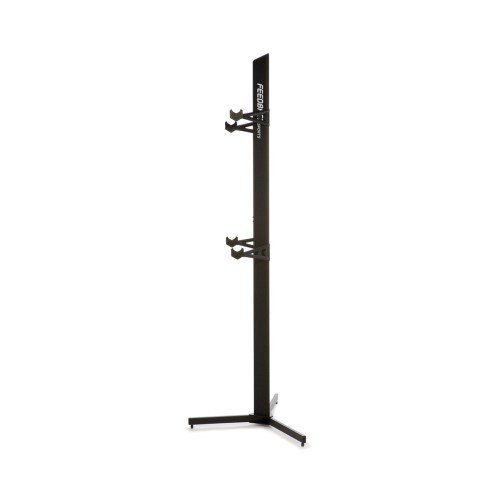 Conclusion
Could the Feedback Sports Velo Cache Vertical Bike Storage Stand be exactly what your bike—and storage space—needs? For the price, durability, and quality it's at the top of our lists.
Use it and see the difference it makes to your hobby and living space.