The Bottom Line
The SR1 is an easy-to-use bike rack that is perfect to use on SUV. For security reasons I've never left it on the car, but, it is very easy to store in my garage, slide over the spare wheel, tighten, load, and go. Of course, this isn't the only option. Check out this guide to the 10 best spare tire bike racks and you'll find some other great options. But, there is something special about the Hollywood SR1.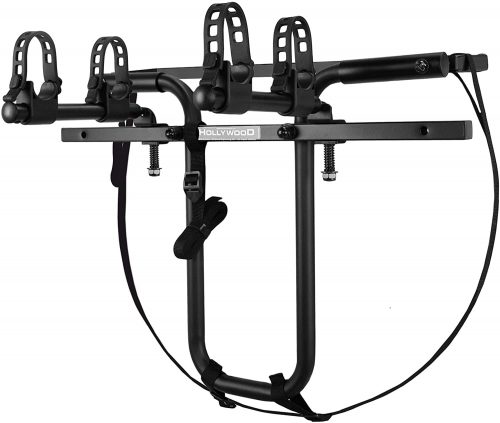 At a Glance
Spare Tire Width:
Maximum 12-inches
If you love biking but you have a vehicle with a spare tire strapped on the back then you're probably already aware of the issues surrounding most bike racks. The simple fact is that the average bike rack is not designed to accommodate the spare tire. Your spare tire will either prevent the rack from fitting properly, or it'll get in the way of 1 or 2 bikes loading. That's why I was so excited when I came across this stylish-looking Hollywood SR1 Strap-on spare tire rack.
It's not just an effective way of carrying 2 bikes, it actually looks good on the back of your vehicle. I'll be honest, I was tempted just to fit it for how it looked; it is that well designed. It just looks like its part of the original equipment.
Hollywood racks have been in existence for nearly 50 years, they were founded in 1973 in California and focused on making bike racks that were easy to use and needed no assembly. The result was impressive and has led to a company that continues to develop some of the best racks on the market. The fact that they have a great reputation is just a bonus!
Specs Of The Hollywood SR1
Here's a quick look at what the SR1 has to offer:
Hollywood SR1 Strap-On Spare Tire Rack simply slips over the top of your spare tire and straps into position, this holds it firm. It can be used on any spare tire up to 12" wide. If you want to go higher than this choose the larger tire kit, available from Hollywood.
Although this is an incredibly easy rack to fit and remove, there are still times when you'll want to leave it in situ. For example, when you're getting ready to hit the trail but are out the night before. Having the rack on makes loading the bike easier in the morning. But, in this instance, you will appreciate that the supporting arms can be folded in.
The result is a rack that barely increases the length of your vehicle, allowing you to drive confidently and comfortably, even when reversing;
The short arms have built-in cradles that will support two bikes for as long as you need them on. This is a reasonable amount for 2 bikes and should be enough to support your bikes. The rack has a weight of 10 pounds and measures 13" x 12" x 7".
Advantages of The SR1
This is a great rack, simply check out these advantages to confirm how good it is!
Quality
The Hollywood SR1 is made from powder-coated steel. This is why it is relatively heavy to lift into place. The advantage this offers is that it will last for many years. The rack is unlikely to suffer from corrosion unless you damage the powder coating. If this happens you should apply another coating to help ensure it remains protected.
The quality of the rack continues in the clamps, located on padded arms. The clamps have a rubber coating, and the straps that lock over the frame of your bike are rubber. In short, there is no reason for your bike to get damaged while you're driving.
The Spare Wheel Stays in Place
The rack fits over your spare wheel and straps into position. You don't need to remove the spare wheel or even the bolt holding the spare wheel in place. This actually makes it very simple if you do need the spare wheel while you're out.
Carries Any Bike
The Hollywood SR1 is designed to accommodate 35 pounds per bike and is an excellent choice even if you're carrying bikes that don't have a straight top bar. Simply pick up a top tube adaptor and slide it onto your bike before lifting it into the cradles.
You don't need to worry about wheel size, you simply need to be able to get the frame into the cradle and the strap to go around the frame.
Ease of Use
The first thing you'll note about the Hollywood SR1 is that it can be mounted on a central spare tire or one that is offset. The arms are adjustable to ensure the position of the bike is central, regardless of the position of the rack.
But that is not the only easy use feature. Fitting is incredibly simple, simply slide the rack over the top of your tire, as long as it's 12" or less. Then pull the strap around the wheel tight, securing the rack in place.
Fully Assembled
I've had a lot of different bike racks over the years and it can be incredibly frustrating excitedly opening the package only to be faced with several hours' worth of assembly.
It's even worse when you get three-quarters of the way through and discover you're missing a critical part.
That's not an issue with the Hollywood SR1. True to the company's principles they have developed a rack that arrives completely assembled. All you have to do is take a few minutes to attach it to your bike, and a few more to add your bike. I was impressed.
Concerns
As with every rack I reviewed, there are a few concerns that should be noted before you part with your hard-earned cash.
Security
Perhaps the most pressing issue is the fact that there is no security with this bike rack. The rack simply hooks over your spare wheel and straps into position, there is no locking mechanism supplied.
To be fair it is relatively difficult to create a locking system with this type of rack. If security is important you'll need to select a rack that bolts on through the spare wheel, allowing you to introduce a lock into the bolt.
It may be possible to wrap a chain through your spare wheel and around the rack, although this may mean removing the cover from your spare wheel.
For most occasions, it is advisable to assume security is not an option for this rack and bear this in mind when taking your bikes out.
Sizing
It s important to size your spare heel before purchasing the Hollywood SR1 Strap-On Spare Tire Rack. Despite the picture showing a big 4×4, this rack will not fit many spare wheels with hardcovers and some other 4x4s, you'll need the bigger rack. Check the size of your wheel and the compatibility of your rack before purchasing.
Rusting
Several users have commented on the rack starting to rust quickly, despite the powder coating. This is not an issue that I have experienced, however, I do remove the rack and keep it in my garage when not in use.
It's worth checking the powder coating and any potential rusting points when you first purchase the rack. With a little care, it should last years.
Final Thoughts
This is an easy to use bike rack. For security reasons I've never left it on the car, but, it is very easy to store in my garage, slide over the spare wheel, tighten, load and go.
I've got the Tyger Deluxe 4 for my other vehicle and love it, but this is definitely the right rack for my jeep. It looks good, is well made, and is easy to use. If you've got a spare wheel on the rear of your vehicle and need a bike rack, I'd recommend you check the size of your wheel and pick up this rack.