There are countless types of bike racks available for your home or garage: You can find racks that mount on your wall or ceiling, providing a very professional, and very much fixed storage solution for your bikes. There are a variety of free standing racks that are often quite stylish, that can provide a bit of a bicycle showroom look to your garage. And there are the curiously named "gravity racks," which are given their stability as a result of the weight of your bikes.
Click Here to See Our List of the Best Garage Bike Racks.
What Do You Need?
When choosing a rack, it's a good idea to think for a bit about what you really need or want. Where are you going to put the rack? How many bikes do you need to store? Do you want something that is a permanent installation or just something you can toss around from place to place – maybe even something you can easily bring along on a vacation?
Sometimes the simple choice is the best. You may not always need the top of the line, or the newest and flashiest, or a host of convenient features. And you may not want to be bothered with the installation process of a wall or ceiling rack or have a permanent or large fixture standing around. Also, you may not want the expense of the fancier racks.
But in this review, we will deal with the simple, straightforward, no frills variety of rack. Something to get the job done, stay out of the way – and not much more.
Let's Take a Look!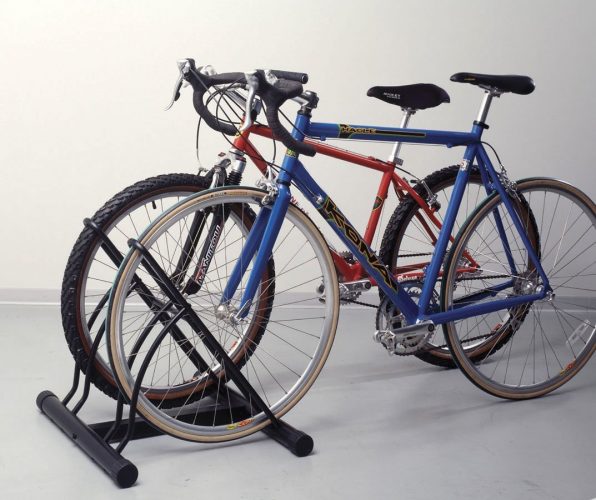 To fill the most basic bike storage needs, we have the Racor PBS-2R, a simple, well, bare-bones, two-bike floor stand. There is not much to know about how to use it. There are no moving parts. All you have to do is roll your front wheel into the slot, and there it is held by the frame and tubular support arms. This rack cradles your bikes tires, holding on to the tire at three points: in the front, underneath, and on the side for stability.That's it. Nothing else to see here.
The Racor stand offers a quick fix to that pile of kids' bikes lying on your garage floor, or bikes leaning against walls and scratching things up (or getting scratched up),or bikes flipping onto your car and ruining your paint job.
You'll need to do a little work to put the rack together—everything you need is included, as is normal for most of these products. And, of course, there is no installation necessary, put it on the floor and put it to work.There are two options for construction, which you can use to your space saving advantage: The stand can be assembled so that you can store two bikes in the same direction (side by side) or in opposite directions (facing one another). Choose whichever is best for your space.
Made from tubular steel with a durable epoxy finish, the rack has resin feet to protect your floors and provide some grip to keep the rack from moving when you load in bikes. Compact and light (a little over 12 lbs.) you can move the rack around easily – in the garage today on the porch for the weekend. When assembled the rack measures 22.5 in.high x 23 in. wide x 22 in. deep. It is important to note that the space between the two holding arms is roughly 2.5 in., so keep that in mind if your bike has fat tires.
Conclusion
We have noted a few user complains about construction. Some have reported that assembling the rack is a bit tricky. The company strongly recommends not fully tightening screws until the rack is completely assembled to make sure all parts are aligned properly. This may be the source of frustration for some people. Or rather, not following this advice might be the issue.
Another complaint is that the slots are too close together to allow storing larger bikes side by side. And like the Swagman, some complain that bikes with disc brakes are not going to fit in this rack – the brakes and derailleurs crash into the support arms. We have heard some very clever ideas to help with this latter problem. One of them is very simple and effective. Simply place a dowel rod, or short length of stiff rubber tubing across the top of the base tubing (the part that rests on the floor where your bicycle tire enters the stand). You can secure it with a hose clamp. Choose a size of wooden rod or tubing that raises the disc brakes above the support arm. A simple modification that can really make a difference.
At the Racor website, you can get this rack for $39.99. That seems a little steep to us. There are better choices at or near this price point.
But it's an easy storage solution. Very easy to handle and move around. Small and light. Good for lighter, smaller bikes. A good place to store a couple of old beaters. As much as we've been complaining about the simplicity and somewhat unexciting nature of the product, we should say that it actually afine-looking piece of work. Slick, clean, sleek and smart. And the price, while a bit on the steep side, is not too bad. And if this rack is just what you need to clear up the chaos in your garage, the cost could be well worth it.
Summary
Reviewer
Review Date
Reviewed Item
Racor PBS-2R Two-Bike Floor Bike Stand Review
Author Rating