Outdoor recreation has taken off over the past few decades and shows no signs of slowing down. A few disciplines, like rock climbing and biking, seem to accelerate in popularity far quicker than others. While some large vehicles can fit a bike or two inside, utilizing a bike rack is much easier. Bike racks alleviate space issues and grant you peace of mind.
Between hitch-mounted bike racks, roof-mounted bike racks, and truck-bed bike racks, there are many options to consider. Unfortunately, some models will be much worse than others since many bike rack options and manufacturers exist. Thankfully there are brands like Kuat, where solid construction and great options elevate their offerings above many competitors.
Our Pick!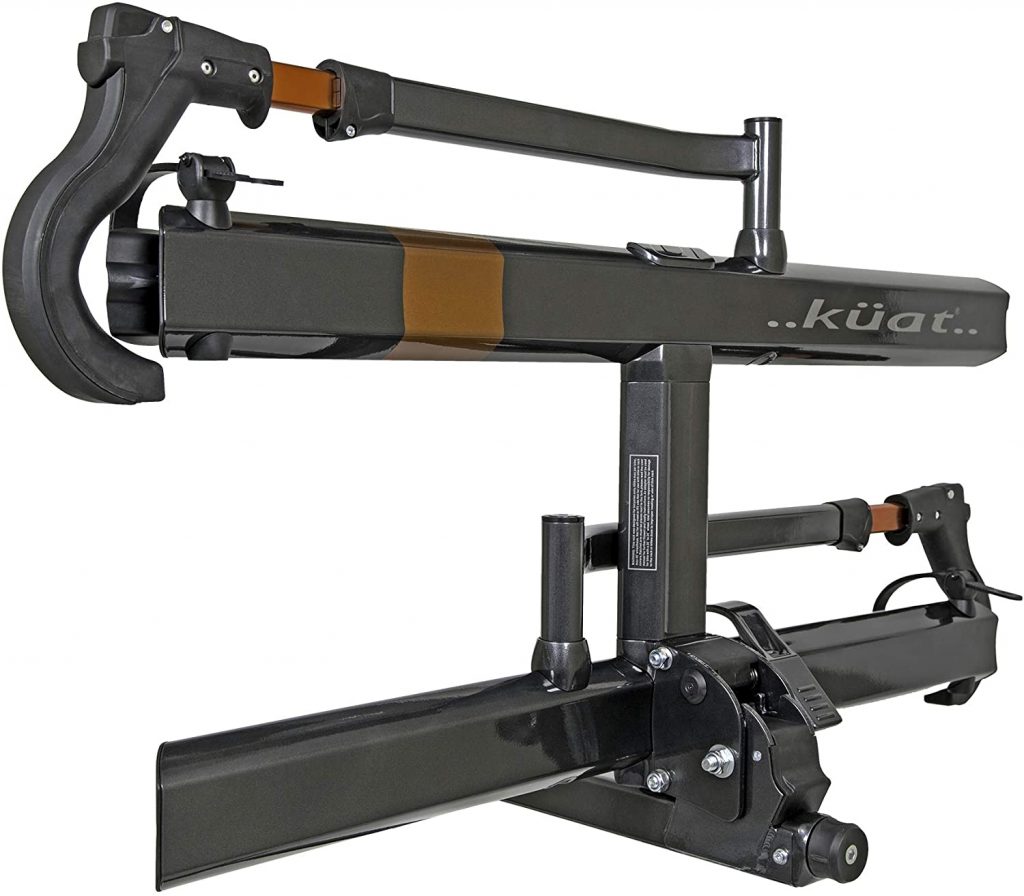 Kuat Sherpa 2.0 Bike Rack
While it's impossible to create a lightweight rack and remain sturdy enough to hold a bicycle while traveling at high speeds, this Kuat design comes close. The Kuat Sherpa 2.0 is made primarily from aluminum with a few strategic steel pieces to create a lighter setup than many competing brands while retaining the strength to lock everything down.
Our Winners
You Can't Go Wrong With the Kuat Sherpa 2.0 Bike Rack
The Kuat Sherpa 2.0 bike rack is the best overall bike rack available today and a stellar purchase for anyone looking to buy a 2-bike capacity rack to attach to their vehicle. It's got all the premium features you want, and the construction is solid. Attached and stored appropriately, this excellent Kuat bike rack will allow you to chase years' worth of biking objectives and adventures.
1. Kuat Sherpa 2.0 Bike Rack
Mounting Style:
Hitch tray
Dimensions:
45" X 15" X 12"
While it's impossible to create a lightweight rack and remain sturdy enough to hold a bicycle while traveling at high speeds, this Kuat design comes close. The Kuat Sherpa 2.0 is made primarily from aluminum with a few strategic steel pieces to create a lighter setup than many competing brands while retaining the strength to lock everything down.
Bike racks are inherently heavy, so a cumbersome setup will quickly detract from perceived value. Luckily, the Kuat Sherpa 2.0 Bike Rack can be set up in less than 15 minutes without fuss. The box has a great instruction manual; you can assemble it quickly before attaching it to your hitch. Remember that it does arrive disassembled, so you must assemble it before it can be used.
In addition to an easy assembly, using the Kuat Sherpa 2.0 rack is simple and intuitive. You can slide the contraption onto the hitch and use a hitch bolt to lock it. Then, tighten the contraption using additional tightening knobs to lock it all in. Once it's on, it's fastened and ready for bike weight. Just reverse the process and toss the rack into a trunk or garage to take it off.
Once the rack is set up, getting a bike on is super easy. There's a big extendable locking arm for the front wheel and a ratchet strap for the back. You can load and unload a bike within minutes. The rack can only accommodate two bikes. Hence, it's wonderful for any configuration between one and two people but may not be the most convenient for biking families or groups. It can only hold bikes up to a 47" wheelbase and 3" tires.
As part of the package, you also get a locking mechanism, which keeps the rack attached and safe and helps prevent road grime from getting on the rack itself. An integrated bike lock also comes with the model, which is key-operated (included) and has enough length to loop both bikes in. This is an excellent feature for crowded and unsupervised trailheads where bike theft may occur.
Even if a bike is fully loaded, you can tilt the rack down and away from the trunk. The allowed angle is enough to open your trunk while a bike is loaded on the rack. When no bikes are loaded, but you still want the rack attached, you can tilt it vertically, and it won't impact the bumper and stay put.
While this isn't the most expensive rack out there, it's certainly not cheap. Expect to pay a lot for a good bike rack with easy assembly, intuitive features, and sound construction.
Kuat 2-Bike Beta Rack Will Go Easy on Your Budget
This is our pick for the best budget Kuat bike rack. It still offers the superb design elements that come standard with a Kuat bike rack but also saves you hundreds of dollars on the overall cost. There are some notable feature omissions compared to Kuat's premium bike racks, but Kuat 2 Beta hits all the right notes for a budget model.
2. Kuat 2-Bike Beta Rack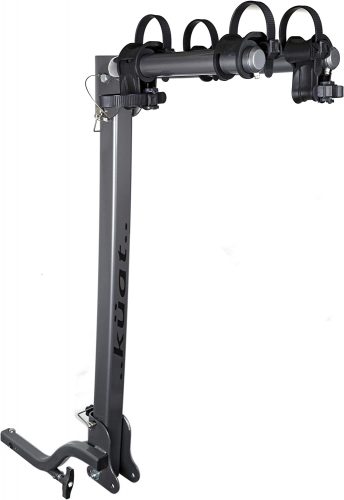 Mounting Style:
Hitch mount
Dimensions:
44" X 13" X 9"
At $270, this Kuat bike rack is markedly cheaper than all other bike racks on this list and a substantial amount of competitors. It's not just slightly cheaper; it's hundreds of dollars cheaper than the Kuat Sherpa 2.0 or NV 2.0 options, which is hard to overlook. The most weight that can be loaded onto this rack is two 40-pound bikes, which cover a decent variety of bikes, but e-bikes and heavier, specialized bikes won't fit into this category.
Because of its budget layout, security features are notably lacking. It's recommended that you buy a cable security lock at a minimum.
Coming in at less than 20 lbs., the comparably lightweight Beta Rack makes assembly and storage much more effortless. This is a bike rack you could easily set up and attach on your own. There's no required assembly of component pieces. Unbox it and attach it to the hitch.
You have three points of stability once the rack is on the hitch, your hitch pin, a turn knob to fasten the fore/aft movements, and an additional knob behind the vertical shaft, eliminating side-to-side movement. Between these three points, you can secure and stabilize the rack.
Two bikes can easily fit onto the rack, but the attachment points (via three rubber ratchet straps) go on the bike's frame. This means the wheels (the front wheel especially) can twist a bit. If you leave it as is, it could damage the wheel and the back of your car over time with repeated bumps. A simple solution is to buy a few extra straps and secure the wheels before hitting the road.
Fold the bike arm down to access the trunk by removing the pin. Then, unscrew the additional knob behind the bottom of the main vertical shaft and pull out the pin. This will allow the apparatus to tilt down. Unlike other models, keeping bikes attached to the rack when trying to tilt it down is not prudent or practical. Removing the bike before you can tilt to gain trunk access warrants an extra step but is the best method.
Kuat's Best 4-Bike Option Is the NV 2.0 Hitch Bike Rack
This is our pick for the best four-top bike rack. Emblematic of Kuats' unique and thoughtful designs, this Kuat 4 bike rack has the dependability of the 2-bike capacity racks with much more carrying power. While the overall price is quite hefty, we think you get what you pay for.
3. Kuat NV 2.0 Four Bike Hitch Rack
Mounting Style:
Hitch tray
Dimensions:
55.5" X 15" X 12"
The Kuat NV 2.0 can easily carry four bikes of different styles and varieties, a great bonus for families or friend groups looking to carpool. If traveling with two bikes, you can load up to 60 lbs. each. You can load up to 40 lbs. per bike if you're transporting four bikes. The total bike weight should be at or below 120 lbs.
If you're transporting smaller bikes, say for kids, with wheel rims under 24", you need to call Kuat to have them send you an adapter. Without one, the main arm that latches to the bike won't fit properly and could result in wobbling uneven loads, and strain on the rack or bike. 
The cable lock comes out of the end of the rack and can lock bikes in place for added security. It is key-operated, and the keys come with the package. Not only can you tilt the bike rack down to gain trunk access, but you can also tilt it up. This is especially useful when you aren't carrying bikes but don't want to disassemble the rack.
The tilt mechanism allows you to gain trunk access when all four bikes are loaded; to prevent the rack from careening down to the ground, it's best to have one person hit the lever while another person guides the contraction down and away from the trunk. One person can push the lever and lower the rack while loaded, but it would require much effort to keep gravity from sending over 100 lbs. of weight (rack + bikes) to the ground once the lever is depressed.
The Kuat NV 2.0 can be locked into place at various points and weigh 82 lbs. Once this rack is properly secured, it's not going anywhere. Its quality and durable build ensure that it will last for years. Just assemble it slowly and according to the manual to avoid unnecessary wear and tear of component pieces.
The weight is about standard for a rack this size, but 82 lbs. is heavy. Ensure you can handle this weight and grab a friend for a much quicker and less cumbersome installation.
Other Worthwhile Kuat Bike Rack Considerations
Kuat is synonymous with high-quality design and durability. The bike racks below are a perfect example. All a close second best to our top choices and worth consideration.
4. The Kuat NV 2.0 Add-on
Dimensions:
36″ x 16″ x 12″
A 4-bike rack is a valuable tool, but if you already own a Kuat 2-bike rack, you can buy an attachment and turn your existing configuration into one that can handle four bikes. This attachment piece does require a 2-bike rack to clip into and won't sit properly without one.
The add-on costs significantly less but requires the 2-bike rack to attach. Surprisingly, the overall cost is still less than the 4-bike rack.
4-Bike rack: $1447
2-bike rack + add-on: $1300
With easy assembly and attachment/detachment, you can quickly convert from 2 to 4 bike capacity. When properly connected, both pieces reflect Kuats's commitment to building durable, interchangeable, and dependable products.
With two pieces separately assembled, put together, and attached to the hitch, the chances for a less stable setup increase. When assembling, make sure all parts are securely fastened (double-check). Inspect all connection points closely before loading them with bike weight. Each piece has a security lock system, but two different types of keys could be an issue if you lose one.
5. Kuat Transfer V2 2-Bike Hitch Rack
Mounting Style:
Hitch mount
Dimensions:
31.5" X 30" X 6"
Not as cheap as the Kuat Beta, but hundreds less than the Kuat Sherpa 2.0. It's a great introductory bike rack model. Like other Kuat bike rack models, the tilt-up and down functions allow trunk access while bikes are locked in. The transfer V2 only weighs about 35 lbs., making it one of the lighter bike rack offerings, and it can support bikes in various situations. While the instructions are straightforward, it does require some time. Expect to spend 30-45 minutes putting it all together.
I highly recommend buying a bike or cable locks, as this product does not come with any.
While this model doesn't come with all the bells and whistles of premium entries, it performs well in many situations. This is an excellent buy if you're looking for a no-frills reliable starter kit that can successfully ferry your bikes from point A to B. Like other Kuat products, this rack can hold most bikes but doesn't support anything heavier than 40 lbs. This reduces usability for some e-bikes and the heaviest downhill bikes.
6. Kuat Racks NV 2.0 Bike Rack
Mounting Style:
Hitch mount, easy snap
Dimensions:
36" X 24" X 9"
This is another fantastic entry in the Kuat bike rack collection. The Kuat NV 2.0 is a revamped bike rack that performs admirably in many situations but especially shines in its ability to haul heavier bikes. For e-bike riders and those with bikes that tip the scales a little more than others, check out the Kuat NV 2.0 Bike Rack. It can accommodate Fat bikes but only with an additional kit purchase.
This rack can support two bikes up to 60 lbs. each with wheelbases up to 50". The extra 20 lbs. per bike can support most bikes. This model has an Integrated cable lock system, a hitch lock, and associated keys to open or close.
Like other Kuat models, you can tilt the rack up and down to gain trunk access while bikes are loaded and stow it vertically when you're not carrying bikes around. The bike rack is suitably hardy with its heavier weight ratings, alloy steel build, and versatile applications.
This rack is more expensive compared to the Kuat Sherpa 2.0. It can handle many different bikes, but the price is a clear consideration that may deter some people from this purchase.
Buyer's Guide
Before committing to a bike rack, you should consider various aspects of the setup. A little research beforehand can save you time, money, and hassle later.
Bike Carrying Capacity
Make sure you look at bike capacity before springing for a highly-rated setup. Luckily, Kuat makes add-ons that securely transform a 2-bike rack into a 4-bike rack, but it'll set you back a few hundred extra dollars. Kuat has crafted a reputation as a durable and competent bike rack maker. Still, it's up to you to ensure you get the right model and capacity to support your recreational endeavors.
Bike Weight Capacity
Most Kuat products offer up to 40 lb. weight limits per bike on their racks. The exception is the Kuat NV 2.0, which can handle two bikes up to 60 lbs. each. However, if you add the attachment to the Kuat NV 2.0, the bike weight for all four bikes goes back down to 40 lbs. Details like those are critical to ensure you can transport everything you want and keep it secure while driving to your destination. A maximum of 120-150 lbs. applies to all Kuat products listed in this review.
Tilting or Swing Away Feature
The best bike racks hold your gear and can tilt or swing out to grant trunk access. Some even have great fold-up features that help stow the contraption when bikes aren't on it, and you don't want to disassemble the rack from your car. Kuat has options that accomplish both of these things.
The Kuat Sherpa 2.0, Kuat NV 2.0, and add-on pieces can be combined to grant a generous tilt-up and tilt-down function. The Transfer V2 can also tilt down but has limited functionality apart from that and requires a few extra steps to achieve this. Consider each bike rack carefully before assuming it can tilt or sway in a method consistent with your expectations.
Wheel Size and Width Compatability
Regardless of the manufacturer, each bike rack has wheel size, compatibility maximums, and minimums. Kuat does a great job of trying to offer products that cover the vast majority of bike sizes, but they don't cover everything. For bike tires between 20 and 24", you'll likely have to buy an added kit and adapter to make it fit securely.
The same is true on the opposite end of the spectrum. Wheel width is another angle to consider. Kuat's can accommodate up to 5-inch wheels but also requires an extra Phat Bike Kit purchase to fit as intended. Knowing the dimensions and compatibility of your bikes is a critical buying component when considering which bike rack is best for you.
Vehicle Ground Clearance
Most four-wheel drive cars will have plenty of ground clearance and can easily accommodate a Kuat bike rack. However, problems can occur with lower-profile vehicles like sedans, convertibles, and some mini-vans. There are a few solutions; first, use the bike rack on paved roads to minimize bottoming out.
Secondly, use a hitch riser to increase the ground clearance. The more ground clearance, the better, but sometimes that isn't a solution. In that case, back out of steep driveways slowly and at an angle, avoid deeply rutted dirt roads, and slow down for speedbumps to keep the rack off the ground and the bikes in good shape.
Budget
Kuat bike racks are not the cheapest on the market but some of the best. There are a few ways to trim the overall cost. You could spring for the Beta Rack, our best budget option, or the Transfer V2 bike rack. In either scenario, you get a sturdy buy with fewer premium features than other models like the Kuat Sherpa 2.0 and NV 2.0.
In the budget categories, adding security locks and extra straps is advisable to keep the wheels from moving around. These after-market purchases are easy to find and shouldn't increase your overall cost to nearly what a more expensive variety would cost.
If you want the best version regardless of price, it's hard to find a lot of reasons not to get the Kuat Sherpa 2.0 and NV 2.0 with add-ons or the four bike capacity versions. These are well-made bike racks that fit most hitch systems. With Kuat, you may be paying more than you initially thought, but you get what you pay for in terms of bike security, durability, safety, and peace of mind.
The Most Popular Types of Bike Racks
With the variety of car designs present on today's roads, the bike rack industry had to adapt in a way that would provide bike racks to all cyclists, no matter what vehicle they have or the mounting style they prefer to transport their bikes.
Hitch Bike Rack
Hitch bike racks are very popular amongst frequent cyclists. These racks normally come in either a platform or hanging style. With hitch bike racks, knowing your car's tongue load capacity is important to prevent loading it too heavily.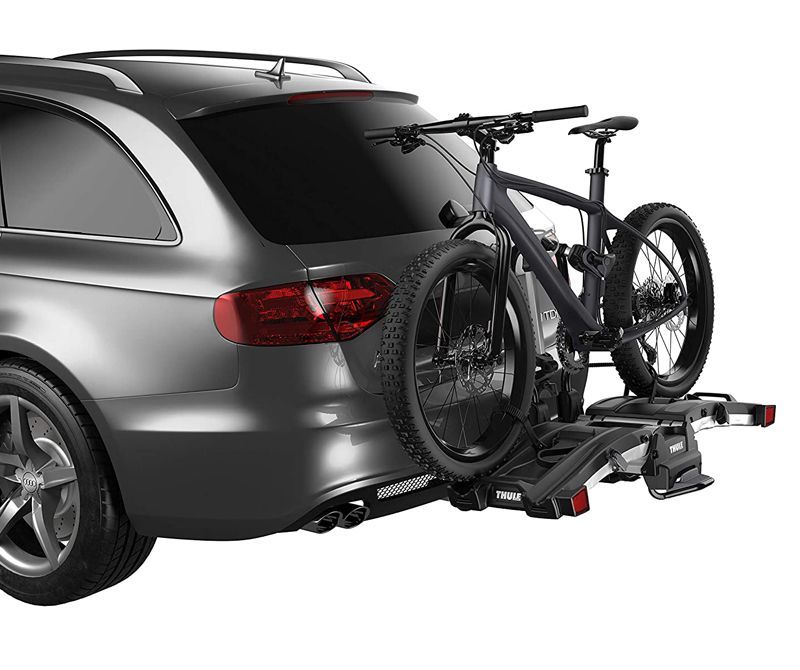 Truck Bed Bike Rack
For pickup truck drivers, these bike racks are a perfect choice. There are various styles when considering truck bed bike racks, such as bike pads or a bike rack placed in the truck bed, and hold your bike securely upright during transportation.
Roof-Mounted Bike Rack
Roof-mounted bike racks are popular amongst cyclists and outdoor enthusiasts due to their versatility. Many vehicles have factory-installed roof rails and crossbars, so you can easily create an entire rack system for your bikes.
Trunk-Mount Bike Rack
Trunk-mounted bike racks are often considered the most affordable bike rack option. These racks are designed to be placed onto the back of your car's trunk and secured by straps. Bikes are supported and secured by special arms and cradles.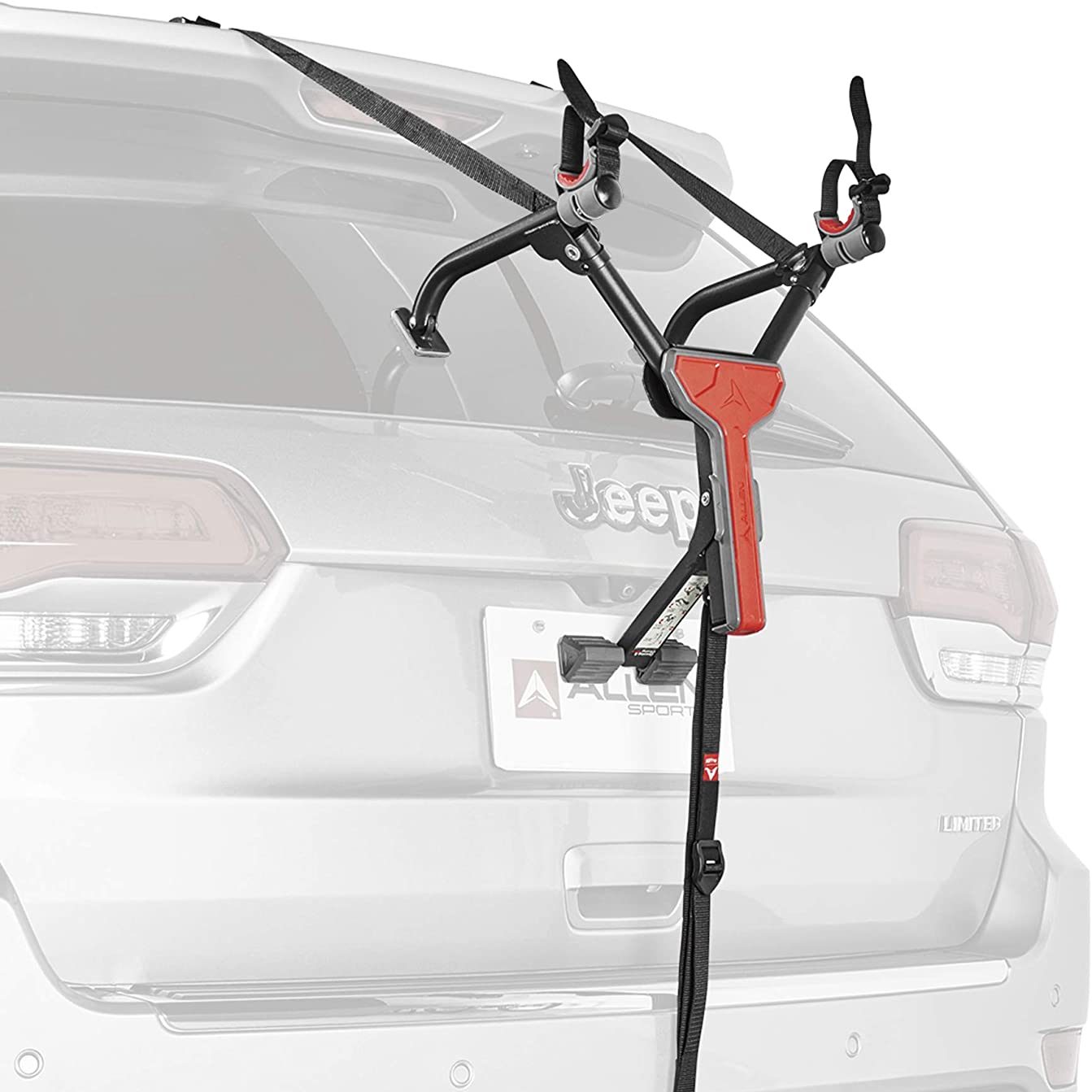 Frequently Asked Questions
Are Kuat Racks Worth It?
Yes. If you're in the market for a bike rack, Kuat should be at the top of your list. Kuat racks are feature-rich, premium products that carry various bikes and styles. The construction is also a highlight with durable materials and a thoughtful design. The company has developed a good reputation in the bike rack world and is worth a look if you're considering buying a rack that will perform for years.
Who Makes Kuat Bike Racks?
Kuat bike racks are made by Kuat, founded in 2008 with a simple desire to manufacture eas- to-use, lighter, and rust-resistant bike racks. The company turned a profit five years after starting and has exponentially increased its business. Kuat has a world headquarters in Springfield, Missouri, in the United States of America. Bike rack manufacturing takes place primarily in China and Taiwan. Finished products are shipped back to Springfield, Missouri, and housed in a warehouse until a customer orders one.
Do Kuat Racks Rust?
Rust and corrosion can occur with most bike racks, but it is also a fixable problem. Kuat bike racks are mostly made of aluminum, so rust is a smaller concern and doesn't always occur. Some Kuat models are made of steel and aluminum, which means that corrosion can happen only if the powder coating gets scraped off. If that occurs (more likely over time and after repeated use), apply some paint over the rack to keep rust and corrosion at bay.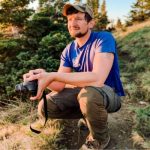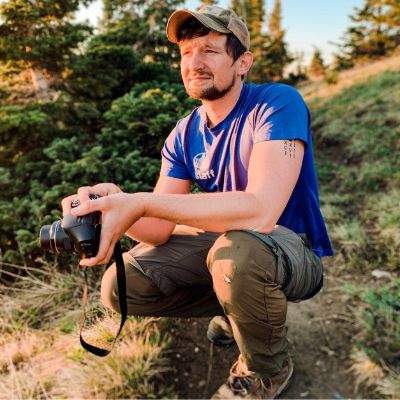 Timo is an outdoor enthusiast and gear specialist who is constantly exploring. As an avid hiker, he has completed the ADK 46ers, South Beyond 6000, GA4000, and the Colorado 14ers. He's ice climbed Mt. Hood, hiked up half a dozen mountains in the Alps, and spent three consecutive summers constructing a sustainable trail through the Colorado high country.