The Bottom Line
Have you ever tried to plan a holiday and take your bicycles along with you? Planning any trip with bikes is always a hassle. Bikes are bulky and awkward to transport. They don't fit in the trunk unless you own a truck. Often, bike racks scratch your car or damage your bike. Even just the weight of the bikes themselves can cause damage.
With the Thule Parkway Hitch Mount Rack, all of these problems are solved. It has all the advantages of being a hitch-mount rack, with many added features that make it a favorite for bike transportation.
At a Glance
Receiver Size:
2 inch Class IV
Hitch Mount Racks vs. Other Bike Racks
Various types of bike racks exist, each with its own pros and cons, from truck mounts to roof mounts. However, when it comes to hitch-mounts, the pros certainly outweigh the cons. So why should you buy a hitch mount?
Pros
Cons:
Benefits of Buying this Product
It's clear that a hitch mount bike rack is worthwhile. The real question is: What makes the Thule Parkway 4 a great product?
Durability
The Thule Parkway 4 boasts long-lasting steel construction. This means that not only will it resist breakage, but it is sturdy as well. Sway will not be a problem. Neither will noise. This rack keeps a firm hold on the bikes.
Affordability
Many bike racks on the market can often cost more than they're worth. The Thule Parkway Hitch Mount, on the other hand, delivers a remarkable product at low cost. This means there's no need to deplete funds just to make sure your bikes are secure on your next road trip.
Installation
This bike rack is incredibly easy to install. All you need is a hitch and a wrench. Furthermore, this rack is just as easy to remove. Within a few minutes, your car can transform from being bike-ready, to ready for everyday use.
Number of Bikes
The Thule Parkway 4 – 2″ can carry up to four bikes whereas other bike racks often only hold up to three bicycles. An added bonus is that this is done without adding too much extra weight to the car. Less weight means less likelihood of damage.
If you don't need to transport as many as four bikes, then Thule also has a two bike option to suit your needs.
Tilt Down Feature
One of the best advantages of the Thule Parkway Hitch Mount is that it has a tilt-down feature. This means the mount can be released in order to get to the hatch or trunk of your car. Access to the car is no longer barricaded just because the rack is installed.
Although it can't be tilted while the bikes are attached, this feature still adds convenience when transporting your bikes. It becomes very useful when you reach your destination and need to get your things out of the trunk.
Other Key Features
The Thule Parkway Hitch Mount has an abundance of benefits. Every aspect of the rack works together for ease and endurance. If you're not convinced, check out the following features:
Maximum Weight Capacity:
This rack can carry bikes up to 35lb, which means it's suitable for heavier bikes. As a whole, this product can carry up to 140lb.
Soft Rubber Cradles:
The soft rubber design not only keeps the bikes secure but protects them from any scratches or damage.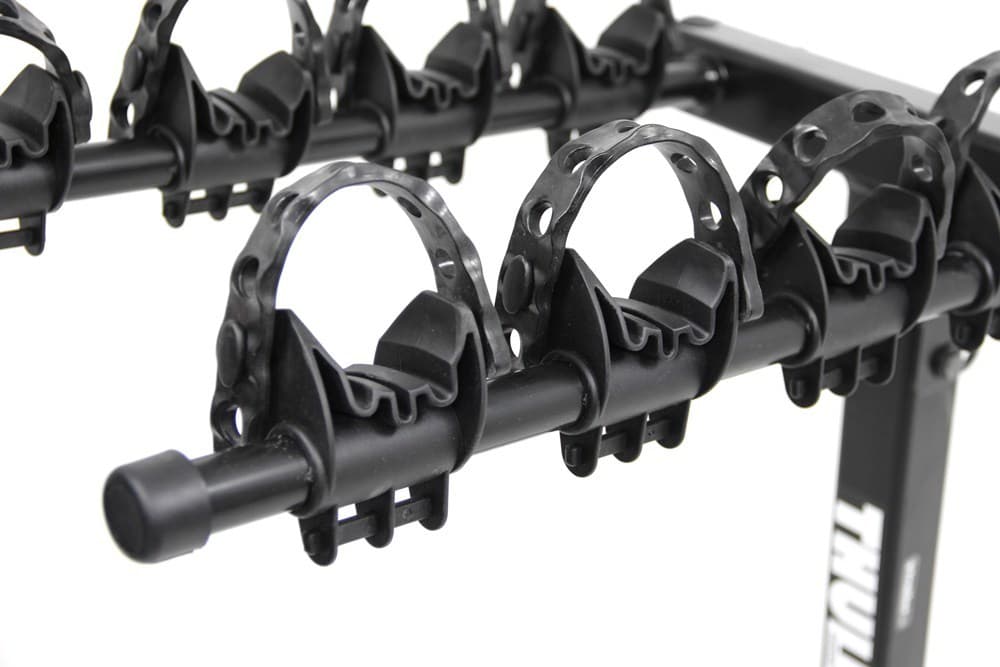 Snug-Tite Receiver Lock:
This item can be bought separately to further prevent the rack from swaying, as it holds the rack in place.
Bike Lock:
A Thule Cable Lock 538XT is available for purchase, which further secures the bikes to the rack.
Appearance:
This product is decorated with a powder paint finish, which gives the product a sleek, elegant finish. At the same time, the paint gives the product a protective layer, to prevent any harm from the natural elements. This way, your bike rack always remains appealing.
Disadvantages of the Thule Parkway
Although this product is one of the best on the market, it does have a few setbacks:
Conclusion
Transporting bikes has never been easier than with the Thule Parkway 4. It's everything a bike-lover needs, from durability to affordability. A road trip with a group of friends will never be aggravating again.
It makes you wonder, why don't you own one yet?