Are you looking for a trailer to carry your kayaks and perhaps your bikes or other gear? If so then you should consider the Yakima Rack and Roll trailer as featured in the best kayak trailer list.
This is an excellent product with the flexibility to become your everyday trailer as well as the best way to carry your sports equipment.
The attraction of a trailer is easy to understand. You can store your kayaks and other gear on the trailer inside your garage, then, when you want to go anywhere, all you have to do is hitch it up and drive off; no fuss!
But, is the Yakima rack and roll trailer the right one for your needs?
The Manufacturer
Yakima is as well known as Thule for creating vehicle accessories, specifically bike racks and kayak carriers.
The business was originally established in 1979 by two friends who personally encountered the issues of transporting kayaks and bikes.
The company had gone from strength to strength, becoming the official rack supplier to the Olympics in 1984 and inventing the Q tower in 1995, an integral piece of roof racking systems that are still used today.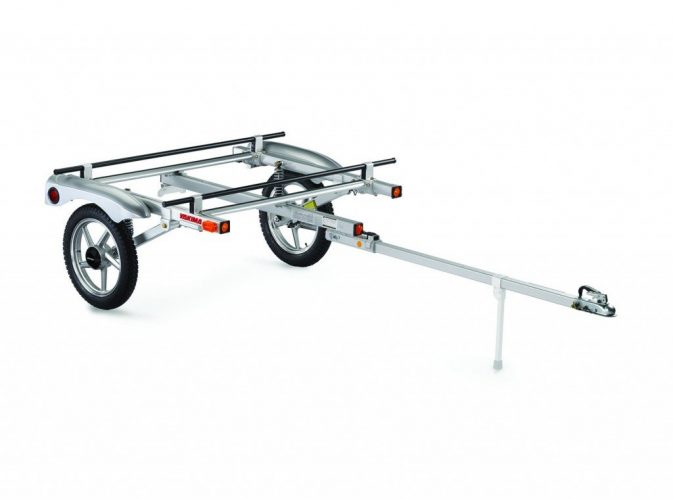 The Basics
The frame is made of galvanized steel in a traditional square shape. However, there is no standard axle, instead, the suspension arms drop off the frame, creating a V with the shock absorbers. This is a motorcycle style, dual shock system which actually gives as much as 4 inches of clearance.
In standard format, the trailer can handle a maximum weight of 250 pounds but the up-rated shocks will allow you to carry 350 pounds; that's enough to carry several kayaks or kayaks and bikes.
In fact, this trailer is relatively small, it's the size of the tongue, (the long bar that stretches from the square of the trailer to the hitch), that makes it capable of carrying kayaks as long as 17 feet. If your kayaks or even a boat is longer than this then you can get a tongue extension kit which will increase its capacity to 22 feet long kayaks/boats.
The trailer itself measures 11 feet long, 5 ½ feet wide and approximately 22inches tall. On top of the frame are two crossbars, which measure 6ft 6in; these hang past the wheels but give you plenty of space to store virtually anything; simply slide your kayak on the crossbars and secure it in place. There is also an option to upgrade the crossbars from 6ft 6 inches to 7ft 6 inches.
A nice touch is the built-in carrying handle just behind the receiver. This can be used to pick the trailer up and guide it to where you need it to be; without having to get a tongue wheel. IN fact, the carrying handle is also a good way of turning this trailer into a hand trailer, allowing you to move your kayaks a short distance without a vehicle.
Storage
This is where the real magic happens, the Yakima Rack and Roll trailer can go from the back of your vehicle to being hung on your wall in a matter of minutes. The tongue of this trailer can be slid under the mainframe, reducing the length from 11ft long to 6ft. You can then tip the trailer onto its rear end and store it against your wall, or even hook it to the wall.
The great thing about this is that it will fit into virtually any garage or shed. To facilitate this the wheels can be quickly removed and stored.
Loading Space
The crossbars on this trailer can be adjusted, creating a space of between 40" and 48" between them; depending on what you need. This is especially beneficial if you're hoping to add a bike rack system to the trailer.
The crossbars are also the ideal place to fasten cradles for your kayaks; you can realistically carry the following items:
5 kayaks on cradles
5 bikes
2 kayaks and 2 bikes
3 kayaks and 1 cargo box
1 canoe & 1 narrow cargo box.
But, what you'll find most attractive about this trailer is the low loading height. It makes it very easy to load any kayak or another piece of equipment onto the trailer. In many ways, it is just like a roof rack on wheels!
Security
The tongue of this trailer can be easily moved by releasing the lever in the middle of the trailer. However, this is a security risk which Yakima have overcome by adding a lock to the lever; this prevents anyone from messing with your trailer without your permission.
However, there is no locking hitch device and no means of locking the kayaks to the trailer; you'll need to purchase a locking cable and a hitch lock to ensure your trailer and foods are safe if you ever leave them.
Assembly
You can pay extra to have the Yakima Rack and Roll trailer delivered fully assembled. However, you'll find that assembling it yourself is straightforward, it arrives in 4 boxes and it's a good idea to check all the contents first.
Actually assembling the Yakima Rack and Roll should take you between 4-8 hours. The metal frame is corrosion resistant and you'll be pleased to find that the assembly instructions are well laid out, while the addition of a one year warranty from Yakima is certain to give you peace of mind.
Accessories
The real advantage of this trailer is that the crossbars are designed to accept virtually any roof rack style accessory. This means you can add kayak cradle mounts, bike racks, or even a cargo box; allowing you to carry virtually any item you need on this simple, but a functional trailer.
Conclusion
Overall the Yakima Rack and Roll trailer is a worthwhile investment because it can do so much and is so easy to store. However, you should be aware that the choice of nuts size is unusual. For example, the wheels are held in place with 21mm nuts while the spare wheel is secured by an 18mm nut. While this isn't a major issue it does mean you'll need to carry a selection of tools with you instead of just one.
However, other than this the majority of issues can be classed as minor; giving you years of use from the Yakima Rack and Road.