You will need supplies, whether it's a big family road trip, a solo trek, or an off-road adventure. Space may become an issue depending on the car you have, how many people you're transporting, and the amount of time you'll be out. In those cases, looking into roof rack baskets is best.
Roof baskets are usually considered a universal roof rack that can be attached to most crossbars and rails atop your car, significantly increasing your hauling capacity. Armed with a roof basket, cargo bags, and straps to cinch it all down, you can bring all the essentials and extras to make a trip worthwhile. Once you've settled on the idea, the question becomes, which basket is best?
Our Pick!
Arksen Universal Roof Rack Basket
This is our pick for the best overall roof basket. Right out of the gate, the price is reasonable, the size is large and can get larger with extensions, the set-up is straightforward, and the capacity is excellent.
For the Best Overall Roof Basket, Get the Arksen Universal Roof Rack Basket
This is our pick for the best overall roof basket. Right out of the gate, the price is reasonable, the size is large and can get larger with extensions, the set-up is straightforward, and the capacity is excellent.
1. Arksen Universal Roof Rack Basket
Dimensions:
64 x 39 x 6 Inches
Aside from its monstrous size, another great component is the basket height. With 6 inches of height, you can safely tuck more oversized items within the basket, making for a much safer cargo load.
Like most roof baskets, the ease of installation is a nice plus. It took me about 20 minutes to assemble, and I didn't need to look at the manual. The manual is included with the assembly for your convenience.
Coming in at less than $200, you save some money compared to the Thules and Yakimas. Be prepared to spend another $30-50 for the preventative maintenance you want to perform before sending the roof basket through the wringer. The total price point, therefore, goes up to roughly $230.
The rust risk is a common issue with roof baskets that don't cost $400+. Rust will usually occur at exposed connection points. When your rig is wet, rust-colored water can drip all over the roof of your car, discoloring a good portion of it. 
 To eliminate the rust issue, spend the extra dollars and do some preventative maintenance. This involves sanding the basket and spraying it with Bedliner, replacing the bolts with stainless steel versions, hosing down the tubes with silicone spray, and hitting the U bolts with silicone. Using Loctite to keep threaded fasteners and screws from getting loose over time is another excellent move.
As if 64 inches weren't long enough, you can extend the cargo basket to a surprising 84 inches. At its extended length, the apparatus will cover most (if not all) of your car's roof surface. The sheer size of the basket makes it a desirable product, no matter what you plan on hauling. Speaking of moving things, the 150-pound capacity allows you to bring various items.
By itself, this roof basket doesn't cause excessive wind drag, but if you load it up awkwardly, you can seriously reduce gas mileage and your vehicle's overall top speed. Pack smart and organize your cargo inside the basket.
The Best Budget Roof Basket Is the Maxxhaul 70115
If you're on a tight budget, the MaxxHaul 70115 is a fantastic buy. The roof rack installs easily are dirt cheap compared to its peers, carry the same hauling capacity as many other models, and are made from sturdy alloy. The MaxxHaul 70115 Roof Rack is our best budget roof basket carrier award winner.
2. Maxxhaul 70115 Roof Rack Basket
Dimensions:
46 x 35.8 x 4.5 Inches
There's an assumption that cheap options and more expensive versions of products aren't made. This may be true for other products, but compared to the other options listed here, the material wasn't a problem for the MaxxHaul. Twenty-five pounds isn't light, but it's a bit lighter than our overall best and well within range for the lion's share of its competitors. Ultimately, this option comes out weighing much less than the average.
The MaxxHaul's dimensions are slightly smaller than similar roof baskets. There is a viable option for purchase, but that bumps the price to $187 and would remove its best budget distinction. The basket still provides a decent amount of room and should accommodate most cargo hauls.
For $125, you're getting a lot. The rack is incredibly cost-efficient; even with some preventative maintenance, you'll spend substantially less than similar options. You'll notice a running theme here, but preventative maintenance is vital. First, ensure you put all the rubber bits across all connection points to help keep moisture out. Then, run over the tube connections and U-bolts with silicone spray. You can also use Loctite on any screws to prevent loosening over time and a Bedliner on the rest of the basket. Replacing rusted bolts with stainless steel versions is also helpful.
Similar to other models, the installation is a breeze. I had this one up and running inside of 15 minutes. The directions are simple to follow, but if this is your first time installing one, take a little longer to make sure you're doing everything in the correct order.
Unfortunately, even empty, there's an increase in overall noise when you drive with this roof basket. It's not enough to break concentration or disrupt conversations inside the vehicle, but there is a noticeable increase in volume after installing the basket.
7BLACKSMITHS Has the Best Hauling Capacity
Look no further if your biggest concern is how much weight you can stack into a car roof basket. The 7Blacksmiths Black Roof Rack Cargo Basket Carrier Rack is the burliest entry on our list and the clear winner for our best hauling capacity award.
3. 7Blacksmiths Roof Rack Basket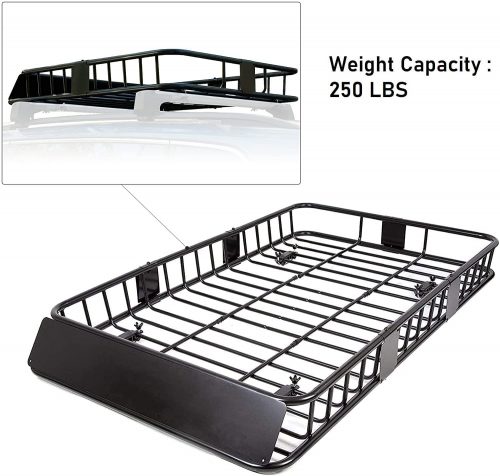 Dimensions:
43 x 39 x 6 Inches (more with extensions)
The standout feature of this model for me is the massive hauling capacity. At 250 lbs., this basket can handle 100 pounds more than similar options, opening up potential cargo possibilities. Well-built and rugged, the 7Blacksmiths Black Roof Rack Cargo Basket Carrier Rack is another good choice for less expensive roof baskets. Once locked on, the basket won't budge and can easily handle the elements.
0-250 pounds is a significant weight range, and the basket acts differently under different loads. If you're near the top of the weight range, be aware that the metal tubes can bend under sustained pressure.
Well-built and rugged, the 7Blacksmiths Black Roof Rack Cargo Basket Carrier Rack is another good choice for less expensive roof baskets. Once locked on, the basket won't budge and can easily handle the elements. Like our overall winner, the 6-inch basket height is a clear positive, allowing you to snuggly fit multiple items inside the dimensions of the roof basket. When things are stored inside the basket, you have a much lower risk of items coming loose or adding to wind resistance.
Clear instructions help you get the basket mounted correctly and quickly. Because of its sturdy build and impressive hauling capacity, the basket's weight is a bit heftier than the MaxxHaul. Make sure you have some friends around to help you hoist it up.
Once again, sealing everything up is in your best interest because a small connection point between tubes can invite water in. Once the water and rust spill onto your car, it could stain the roof. Focus on silicone sprays, bed liners, Loctite for screws, and replacing bolts with stainless steel. Use heat shrink tubing or some plastic sealant to make the connection. If you don't, the open tubes will rust and lose shape.
Tyger Auto Cargo Basket Is Another Great Heavy-Duty Alternative
Starting our round of the best of the rest, Tygers Heavy Duty Roof Mounted Cargo Basket Rack impresses with its excellent customer service, warranty, and tall basket height. For the price, I wish it would extend out to a larger size and haul a little more weight, but overall, it's a solid roof basket option.
4. Tyger Auto Cargo Basket
Dimensions:
47.2 x 36.6 x 5.9 Inches
At 5.9 inches, the basket height is up with the best and holds your cargo well. As long as the stuff you're hauling is lined up well inside the basket and cinched down, the likelihood of it flying out of the basket is exceedingly low. The construction of the basket is an obvious highlight. When this thing is locked onto your roof rails, it'll stay.
The rampant complaints about rusting on many roof rack models have spurred some changes with Tyger's delivery. You now get rubber gasket bands that slide easily over the joints to keep water out. It isn't a 100% solved problem, but the fact that the company seems to have heard complaints and responded swiftly to them is, again, a very encouraging sign.
When driving between 70-80 mph, the wind drags, and the noise becomes more apparent. It isn't enough to interrupt a conversation or distract a driver, but certainly noticeable. The wind drags at high speeds and takes 5-7 mph off your most fuel-efficient mode, making it frustrating to keep on if you aren't using it. To save gas mileage and reduce noise, the best thing to do is take the basket off in-between trips. Granted, this time commitment can be frustrating, but it will save energy and reduce overall noise.
Like many models, the effortless installation helps speed everything up. You're looking at maybe 20 minutes of install time in and out. When installing the wind fairing on the front of the basket, don't tighten the screws. With too much pressure, the whole fairing can crack. Set the screws to a good place, and then go over everything with Loctite to keep everything in place.
Also, Consider the Curt 18115 Universal Roof Rack Basket
This decent roof rack option fits nicely on most cars and comes with the opportunity to extend the basket for an added price. The Curt 18115 does have some rust issues, and the universal fit designation is a little more optimistic than reality calls for. The low cost, however, makes it an attractive buy.
5. Curt 18115 Universal Roof Rack Basket
Dimensions:
41.4 x 37 x 4 Inches
The roof rack basket is a decent medium size in its standard form but can be extended with companion pieces offered by CURT. While not the tallest side height, a solid 4 inches will keep most things tucked in tightly within the basket. As always, secure it before testing the basket at higher speeds.
The suggested hauling capacity depends on what kind of car you have (check your manual for hauling information), but for larger SUVs, 200 pounds and over should be fine. I had mine loaded at 210 pounds and traveled a few hundred miles without issue.
For a standard $145 and often on sale, the actual cost of the basket is nearly as cheap as our best budget buy. You'll want to have some additional items in your garage or purchase to make the product bomb-proof, but it'll cost you less out the door than many other items on this list.
While the cargo basket can easily fit on most roofs, with the extension, the basket may droop over the front or impact shark fin antennas at the rear of the roof. Make sure to take some measurements before committing to the extended version. While the basket can be extended, you must purchase additional equipment. The new extended length also exposes some areas that are prone to rust.
While the cargo basket can easily fit on most roofs, with the extension, the basket may droop over the front or impact shark fin antennas at the rear of the roof. Make sure to take some measurements before committing to the extended version.
Even fastened down, some of the bolt ends are revealed inside the basket, meaning if you aren't super careful, they can rip your cargo bags or carriers. The solution is to lift bags straight up and down (complicated if they are heavy) or replace the bolt knobs with a smaller nut and cut off the end of the bolt. Then, slip an acorn nut over the back to eliminate sharp edges that can catch on to things.
Leader Accessories Has a Great Upgraded Roof Basket Rack
This large car roof basket can handle cargo and haul about 150 pounds. The dimensions and construction are positive, but I expected a little more hauling capacity or a larger size for the price.
6. Leader Accessories Upgraded Roof Rack Basket
Dimensions:
64 x 39 x 5 Inches
With 64 inches of length, this bad boy can haul just about anything. The size is excellent for backcountry gear, camping gear, or transporting bags for a vacation. 5 Inche side rails are set firmly in the top echelon of basket heights compared to other models and should hold onto your things well. Remember that the sides bow out, and the wind fairing bends in, so the dimensions may be a little less if you have rigid suitcases or bags that don't fit into the spaces created.
For the size of the basket, I expected it to be able to handle a little more weight. 150 lbs. is adequate for most uses, but it lags behind other models in hauling capacity, namely the Tyger offering and the 7BLACKSMITSHS car roof basket.
Made with the same alloy steel as many other entries on this list, the construction of the Leader Accessories Upgraded Roof Rack can handle up to its capacity with few issues.
With an average of 20-50 dollars more expensive than similar options, there are better options if you're gunning for the best bang for your buck. Keep in mind, as well, that if you don't have the gear to perform light preventative maintenance, go ahead and add another $30 to the overall cost. Replace fasteners with stainless steel bolts, go over joints with silicone spray, and use Loctite on the screws you don't want to be ejected from your basket if it bounces too much.
Joint connections and screw holes tend to line up nicely. It may take a little longer to line the whole apparatus up, but a few extra minutes setting it won't take away from a very straightforward installation process.
Ego Bike Universal Roof Rack Basket Is Also a Great Large Hauling Option
The hauling capacity is a big positive, up with the best, and the sturdy design means the basket can take some abuse. The dimensions are small, but the basket height is the best in class.
7. Ego Bike Universal Roof Rack Basket
Dimensions:
40.16 x 25.6 x 6.5 Inches
The 64-inch length is a highlight and can accommodate many things on a standard or larger roof. 6.5 inches is a great and supportive height for this car roof basket. When adequately situated, none of your items should be able to pop outside the basket walls. That added height gives you peace of mind on longer trips. 
Like most other options made from alloy steel, the rack can handle some abuse. That being said, don't overload or slam the basket continuously, or things will begin to loosen up.
For $150, this is a good deal and one of the more affordable yet reliable options. As with other inexpensive options, some preventative maintenance can fix some downsides.
Rust prevention with silicone spray, tighten and seal screws with Loctite, sand and repaint the basket. Also, replace all the fasteners with stainless steel options. Unfortunately, mine arrived with less than a satisfactory paint job and some slight bends in the tubing. Nothing a little maintenance couldn't fix, but it was underwhelming from a product presentation standpoint.
Pros and Cons of Roof Baskets
All car roof baskets are designed to alleviate space issues. They are generally built similarly and have similar pros and cons across brands.
Pros
The biggest benefit is a ton of added space to hold the gear you don't want to clutter inside your car.
Usually, the installation is straightforward, and the mounting shouldn't be an issue if you have roof rails.
Cons
One of the most significant negatives associated with roof baskets is that your cargo is on the roof of your car and therefore exposed to the elements.
Cargo can occasionally tumble out at high speeds or if it isn't tied down correctly.
Awkwardly or tall loads can also do a number on your gas mileage by increasing air resistance.
Remember, what's being sold is the roof basket. If you have roof rails, the basket will attach easily, but you'll want straps at a minimum to tie things down. Many roof basket companies sell additional nets and straps to secure loads, but you must make additional purchases before the basket accepts cargo.
Please Note
Please note that most items below are incompatible without roof rails or crossbars.
General Safety and Maintenance Information
Since these are not small items and need to be installed on the roof of your car, there are safety issues to consider.
When installing a roof basket, it's best to have someone help. The helper can scout for problems, like loose footing or injury risk, or help position the basket. Most safety concerns during the installation process can be alleviated with purposeful action.
Don't rush; install the basket correctly, and check your progress after every step, so you don't have to keep messing with it. Constantly adjusting roof baskets will increase stress on the component pieces and make the apparatus less sturdy over time.
Light preventative maintenance is also highly recommended to make the most of your purchase. This point is discussed often in each entry below. Once that's complete, the baskets will last years and be able to transport hundreds of pounds for hundreds of miles.
Choosing a Roof Top Basket – A Buyer's Guide
A lot goes into researching and finding the perfect car roof basket. Let's look at some simple steps before settling on a purchase and what to do when your basket arrives.
Size
Dimensions of the roof basket and your car. Before buying, ensure the basket can attach to your rails or crossbars and has solid mounting hardware.
Materials
Look at the materials the basket is made of. Steel is sturdy, stable, and well-built, although many steel alloys provide reliable support.
Installation
Read the installation guide carefully before mounting the roof rack. It's frustrating to mount a basket and reverse the process to correct an error. Go slow and read all the steps multiple times.
Budget
Know what you're paying for. Top-line models are costly. If you want to get something at half the price of the leading brand, understand that you'll need to do some preventative maintenance.
Warranties
Check warranties and replacement policies for whatever company you choose to buy from.
Product Awards Explained – How We Chose Our List
What's a product comparison without some awards? All the roof baskets below are rated on various factors and undergo hundreds of miles of testing to dive into their full capabilities. After comparing pros and cons, awards were given for the best overall, best budget, and best hauling capacity. 
While some well-known brands are missing (Yakima, Thule, etc.), the reason is usually tied to price. All the products on our list are reliable and have an entrance price point of nearly half what some other brands charge. Spending a prohibitive amount of money on a roof basket is not in the cards for most of us. 
Frequently Asked Questions
How Do I Prevent Rust?
Rust is an unfortunate but relatively common problem for roof baskets. Make sure all joints are sealed, recoat any poor paint jobs, replace fasteners with stainless steel options, and if tubes don't line up, use rubber gaskets to connect and keep water out of the tubes.
Is There Any Way to Avoid Theft?
Not really. The roof baskets don't have a way to lock onto your car that a skilled thief can't undo. However, regularly taking off the basket and storing it in a locked room is helpful. It's also a good practice not to expose cargo in your roof basket for prolonged periods.
How Do I Prevent Fuel Efficiency Issues?
Because a roof basket attaches to the roof of your car, wind resistance increases, so you may see a noticeable drop in fuel efficiency when used. A great way to prevent this from happening all the time is to take the device off your car when you aren't using it. Most baskets have simple and easy installation processes that can be reversed without draining too much time and effort.
Can I Put a Roof Basket on My Car Without Roof Rails?
No. Unfortunately, the roof basket is most sturdy when securely attached to roof rails. Without them, the whole apparatus will slide, leaving marks all over the top of your car, and at high speeds, may rip from the roof. For your safety, your passenger's safety, and the safety of other drivers on the road, attach all roof baskets to roof rails unless otherwise specified by the manufacturer.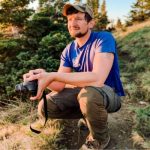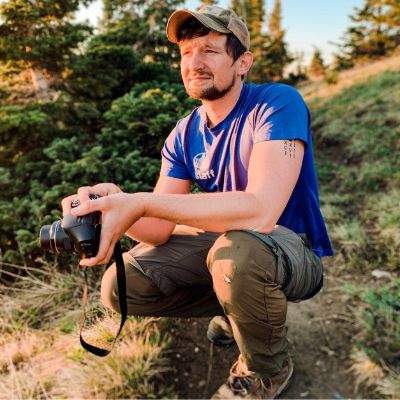 Timo is an outdoor enthusiast and gear specialist who is constantly exploring. As an avid hiker, he has completed the ADK 46ers, South Beyond 6000, GA4000, and the Colorado 14ers. He's ice climbed Mt. Hood, hiked up half a dozen mountains in the Alps, and spent three consecutive summers constructing a sustainable trail through the Colorado high country.