The Bottom Line
Much like other hitch mounted bike racks, the KAC K2 Overdrive Sport hitch mounted bike rack has undoubtedly overcome the challenges of transporting heavy bikes. KAC has focused on keeping the design simple and super practical while eliminating those well-known hitch-mounted bike rack transportation problems, particularly the dreaded wobble.
At a Glance
Load Capacity:
60 Lbs Per Bike
With KAC, their products are designed by the cyclist for the cyclist. With the variation in size, weight, and types of bikes today, the KAC team tries to find much-needed solutions to our bike transportation problems. The KAC K2 Overdrive Sport hitch mounted bike rack is designed to carry a wide range of bikes in the simplest way possible.
So, What Does KAC Bring To The Table?
KAC offers a range of bike racks that all vary ever so slightly. Some versions support a single bike up to four cycles in this rack style. This bike rack's sibling, the K2-RT, uses a ratchet adjustment system on the frame hooks instead of the K2s turn knob system. Otherwise, these two bike platform-style racks are almost identical to each other.
Then KAC has a range of more commonly known hanging style bike racks and other accessories. The weakness of these hanging-style bike racks is that they can't carry as much weight. Typically, they can only take 30 pounds per bike, and if you have an E-bike, which is heavy, you would have been a little restricted until now.
A Closer Look At The KAC K2 Overdrive Sport Hitch Mounted Bike Rack.
This hitch bike rack has a carrying capacity of two cycles, weighing no more than 60 pounds each, and a tire width of 5 inches. It holds the bikes upright, tray-style, and the rack is secured to the hitch with a lockable hitch pin. The KAC K2 Overdrive Sport hitch mounted bike rack fits a standard 2″ hitch and has a patented anti-wobble system, so you don't have to worry about any bounce or rattling. It comes with a spare key for the locks.
The bike rack is made from heavy-duty, powder-coated steel, so it's the real deal in terms of strength and durability.
Unfortunately, it's not compatible with RVs, and if you have a bike with a low frame (step-through or y-frame), you'll have to purchase an adapter.
What I liked.
There's a lot to like about the K2 Overdrive Sport Hitch Mounted Bike Rack. KAC has worked hard to develop a product that fills gaps in the market.
The main gap in the bike rack market is the weight capacity of bike racks, which poses limitations on E-bike owners. Most traditional bike racks can only take a maximum of 30 pounds; however, this rack has double the weight-bearing capacity, and it's such a simple, versatile design. For example, you don't have to remove the front wheel as you might do for a roof rack system, and you could put two different bikes on it because it's suitable for a wide range of bikes. 
It is very bulky, but you can fold it upright when you're off cycling for the day to keep it safe and out of the way. I was skeptical about this adjustable frame hook but combined with the safety strap, it is very secure. And it's lockable – hallelujah!
Not only do the frame hooks lock into place, but a lockable hitch pin secures the entire rack. This means when you're out riding for the day, someone can't steal your valuable bike rack off the back of your car. This does not eliminate the potential for theft. However, a solid-looking locking system will likely slow down any would-be thief.
Also, see these helpful tips on avoiding bike theft from a bike rack or elsewhere. The tilt function is a well-thought-out feature of this bike rack. It means you can load up the bikes, secure them and then still have access to the trunk of the car. We've all been there, getting in some extra yoga practice in an attempt to reach into the back without taking off the bike rack. At the risk of sounding slightly negative, the important thing to mention about the tilt function is – don't forget the weight you have loaded on there. If you have two heavy bikes loaded, you'll need some extra muscles to push them back into position.
On a final positive note, the materials are the real deal. A solid powder-coated steel rack feels robust, durable, and not at all cheap quality. It's unlikely you'll require a degree in engineering to construct it because it comes partially assembled out of the box. So, it would be fair to say it shouldn't be too challenging to put together.
And, What I Disliked About The K2 Overdrive Sport.
Despite all its good features, I can't help but dislike how bulky the rack appears. It hangs a long way out the back of the car with just two bikes. I really couldn't imagine the four-bike model.
There's also one other problem which you would not think to consider. Depending on the shape of your car's rear window and the length of your handlebars, you may find the handlebar's first bike on the rack is uncomfortably close to the back window. This shouldn't be a problem; it's just an observation to consider. It may not be an issue for everyone, but this is a problem that you won't realize you have until you've already bought the rack.
The wheel platforms are designed to be universal, and with a fat bike tire, they will be a snug fit, but if you have a road bike, they're not going to feel as secure in there. KAC has included wheel straps, similar to the safety strap over the bikes, to ensure the wheels stay put, and I highly recommend using them.
I have just one other minor complaint relating to the padding on the frame hooks. The padding is disappointingly poor quality, considering the quality of the other components. The provided padding breaks down far too fast, and you absolutely must have padding over your bike's paintwork. It's not a problem to improvise with your padding material, but you really shouldn't have to.
Comparing The K2 Overdrive To The Vibrelli V70 Bike Rack.
Both bike racks can carry E-bikes and fat bikes, and both racks are compatible with a 2″ hitch, however, neither can be used with RVs.
However, the Vibrelli rack can support 5 pounds more per bike, and the frame weighs slightly less. The standout difference, though, is the dimensions of the rack. The K2 Overdrive Sport hitch mounted bike rack is much larger due to the platform wheel tray system.
The Vibrelli rack uses a more compact wheel cradle, which also seems to be more secure, and it also has a helpful foot pedal release to enable the tilt function.
When it comes to warranty, though, you could say the KAC K2 Overdrive Sport hitch mounted bike rack offers a better deal with a limited lifetime warranty as opposed to a ten-year warranty on offer with the Vibrelli rack.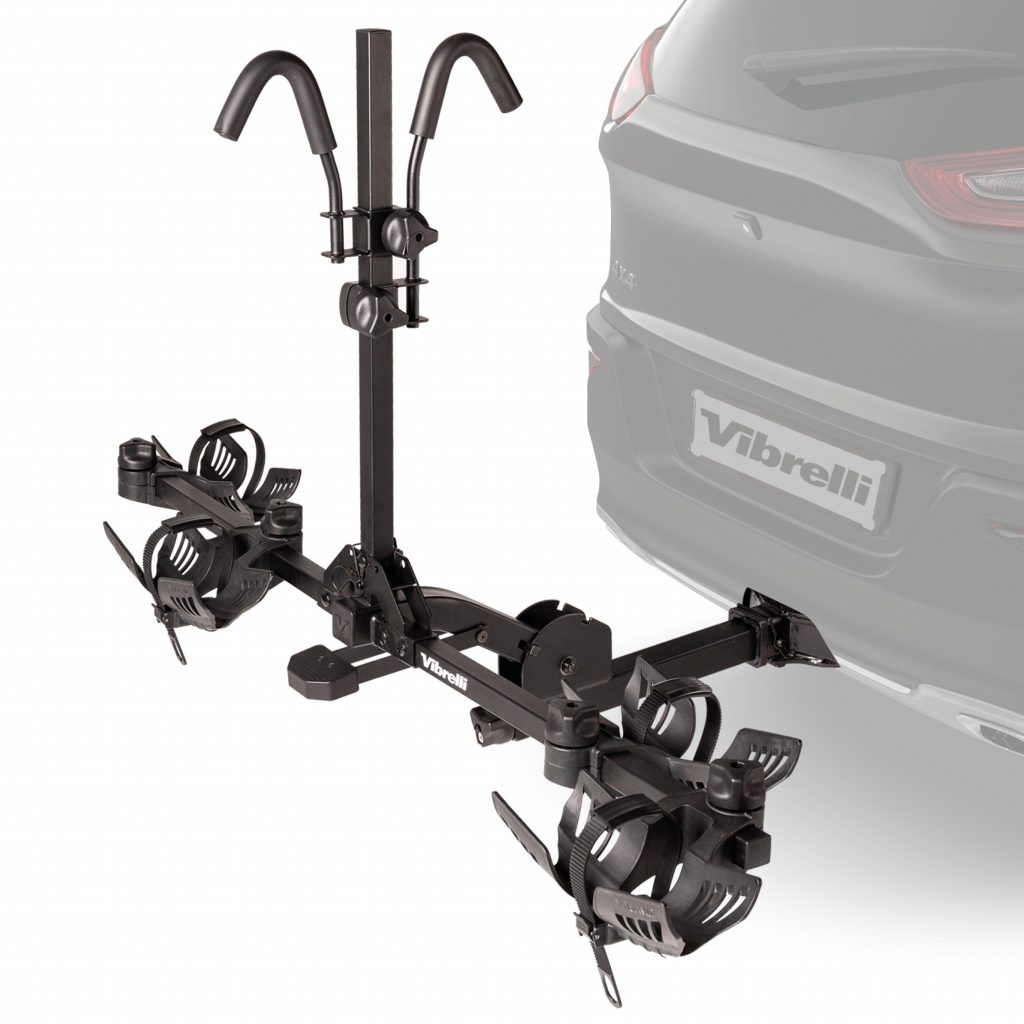 | KAC K2 Overdrive | Features | Vibrelli |
| --- | --- | --- |
| 120 lbs | Capacity | 130 lbs |
| 44.8 lbs | Weight | 44.4 lbs |
| 36.89in x 61in x 38.11in | Dimensions | 29.5in x 22in x 11.5in |
| 2 inch | Receiver Size | 2 inch |
| No | Fold Up Feature | Yes |
| Yes | Anti-Rattle Incl. | No |
What's In The Box?
Should You Get The K2 Overdrive Sport?
The KAC K2 Overdrive Sport hitch mounted bike rack is a well-thought-out bike rack design. KAC has done well to develop something suitable for the wide variety of bikes available on the market today, in particular heavy E-bikes. It's really simple to use and has convenience-inspired perks like the tilt function.
There are no significant flaws with the design, just that some things could be better. It is heavy, but that is simply the tradeoff you get for a bike rack that can handle the additional weight. It seems to be true to the manufacturer's word in terms of the stability and durability of the design.
However, the bulkiness is where it loses points for us. It hits the mark for being versatile and easy to use in every other aspect. If the size doesn't scare you off and you want a bike rack that is durable, stable, and easy to load up and go, then this will be great for you.