Editor's Note – This list of the best kayak racks for trucks was updated on March 1, 2023, to add newly listed products and improve content relevance and usefulness.
The major drawback of owning a kayak is its difficulty transporting it, particularly on a truck bed. Sturdy, non-inflatable models are long, bulky, and difficult to handle, making it challenging to attach them securely to your truck without the right equipment.
Kayak racks for passenger cars and SUVs are pretty simple to install, but those for trucks differ. Fortunately, there are other models and options to consider, which can make getting your kayak ready for the water much less stressful.
Our Pick!
MaxxHaul 70231 Truck Bed Extender
The MaxxHaul 70231 hitch rack looks like your average kayak rack, but it extends from 24 to 49 inches, making it suitable for even the largest sea kayaks combined with your truck bed. It can hold up to 300 pounds, has impressive hitch rack capacity, and is roomy enough to fit two heavy fishing kayaks.
Rackmaven may earn a small commission should you purchase a product through one of our affiliate links.
The MaxxHaul 70231 Kayak Rack Gets the Best Overall Vote
The MaxxHaul 70231 is an exceptional truck kayak rack designed to be strong and capable of holding up to 300 lbs. Its adjustable design extends from 24″ to 49″ long enough to fit even the biggest sea kayaks. This hitch rack is perfect for carrying two heavy fishing kayaks with ease. Its impressive design and features make it the best overall truck kayak rack.
1. MaxxHaul 70231 Bed Extender
Dimensions:
37 x 19 x 3 inches
This MaxxHaul 70231 Kayak Rack has been crafted with safety and convenience at its core. Its alloy steel rust-resistant finish makes it an excellent option for outdoor use. The crossbars are adjustable between 28″ and 48″ and are designed to fit in trucks with a 2-inch hitch receiver. The rack can be extended up to 46″ and has a ground clearance of 15″ to 23″. Additionally, the ends of the bars are fitted with large bumpers to prevent anything from slipping off, but unfortunately, these bumpers are not removable or adjustable like other models.
The MaxxHaul 70231 Kayak Rack is perfect for taking your kayak on any adventure. Its flexible cradle design fits most boat sizes and shapes, and adjustable straps ensure a secure fit. Plus, with four quick-release clevis pins, assembly and disassembly are quick and easy. When unused, the rack's side arms can be folded flat, converting it into a portable working area. And with an easy installation process and a weight capacity of 375 lbs., you won't have to worry about your kayak coming loose.
This kayak rack has been equipped with a red flag and reflective tape, providing additional safety and visibility.
If the rack is not being used, I suggest removing it because the only concern is that the hitch is shaky. However, this is no longer an issue once something is loaded on it.
Thanks to its versatility, the 70231 MaxxHaul kayak rack is ideal for our truck bed. It can be adjusted horizontally and vertically and can be used to transport more than just kayaks.
The Truck Bed Hitch Extender by Goplus Is the Best Budget Option
At an incredibly reasonable price, this kayak rack has a remarkable carrying capacity of 750 pounds, making it one of the most cost-effective solutions for transporting a kayak with a pickup truck. Not to mention, it is also the simplest to use. For these reasons, it is undoubtedly the best choice for those on a budget.
The GoPlus Kayak Rack is ideal for outdoor use due to its heavy-duty steel construction and black powder-coated finish. The vertical posts on each side of the crossbar ensure any load stays securely centered. With its impressive capacity of 750 lbs, this rack is perfect for tying down kayaks. Additionally, it allows for horizontal and vertical adjustments, making it suitable for carrying longer and larger items.
Assembly is required for this process and installation. However, it is a simple task that requires minimal effort. The GoPlus has a hitch extender that fits into a 2″ square hitch receiver; however, an adapter can reduce the rack size to 1¼-inch to fit into smaller hitch receivers.
The rack has reflective tape on the front and sides for increased visibility during nighttime. Additionally, like the MaxxHaul, it has a red flag attached to it for improved safety and visibility.
This rack is unsuitable for hauling heavy-duty loads over long distances as the extender has a relatively loose fit. I would only use it for transporting kayaks and canoes, as it is constructed to be a solid and durable kayak rack.
The GoPlus kayak rack is ideal for pickup truck drivers looking for a kayak transport solution. It is easy to install, highly versatile, and has a great price point of $75.99, making it an ideal option for cost-conscious people.
If You Want Something Heavy-Weight, Get the TMS Utility Kayak Rack
The TMS model is the top-rated choice for truck bed racks due to its heavy-duty steel construction and ability to hold up to 800 pounds. Installation is relatively simple, and the price point is reasonable. The 1.5-inch vertical and crossbar pieces are strong steel, making it the number one pick for the best heavy-weight truck kayak rack.

The TMS adjustable truck rack set has two adjustable racks that fit any truck bed width between five and seven feet. With a 30″ height above the bed rails, it is suitable for hauling large kayaks or other cargo items. The solid and sturdy steel frame can support up to 800 lbs. each, allowing you to move more than just a couple of kayaks. Each vertical section of the rack has a small post at the top of the crossbar that helps keep items such as ladders or lumber from sliding off. Additionally, hooks on the sides of each vertical piece offer even more attachment points for bungees and rope for extra tie-downs.
TMS also produces a rack version without the goal post verticals, which is easier to lift your kayak onto since it doesn't require extra height clearance. However, it is less valuable when carrying items that aren't tied down, such as lumber or pipe. The verticals are invaluable if something comes loose from the tie-downs.
The assembly process for the rack is not complicated; all the necessary hardware is included. To install the rack onto the truck bed, you may need to drill two holes into the truck's side rails to secure the rack.
The only downside to this rack is its bulkiness; the whole set weighs fifty pounds and takes up a lot of storage space if not attached permanently. Additionally, it requires drilling holes in your bed rails, which is a problem with any truck bed rack. To avoid drilling, I suggest using pickup camper clamps. The base plates of the rack have drain holes, which helps prevent rust due to water pooling. However, the vertical bars of the rack does not have drain holes, which can result in rust formation after long-term exposure to rain or snow. To prevent this, I suggest drilling holes in the vertical bars.
I was pleasantly surprised by the adjustability of this rack. It is perfect for transporting kayaks over long distances and is built to last. Loading kayaks without an extra person is difficult, but this rack is worth the price, given its quality and functionality. Overall, this rack is an excellent value for money.
Vantech Universal Offers the Best Option for a Truck Topper Rack
We highly recommend Vantech's M1000 as the best truck topper kayak rack. It stands out from the rest of its class, being well-designed, inexpensive, and incredibly lightweight.
The Vantech crossbars, constructed from robust and thick steel, boast a quality finish and a capacity of 500 lbs across their 60″ width. Sitting just over five inches above the topper, they provide plenty of room for accessories or seats attached to the kayak's deck. At just 14 lbs, the crossbars are the lightest kayak rack available on this list. Unfortunately, they lack bumpers which are usually helpful in securing a load and preventing slipping around. To install the crossbars, a ladder and extra hands are necessary.
Unfortunately, the only way to mount the two sets of aluminum crossbars on your truck bed topper is by drilling eight holes – which is not as easy as it was with the kayak racks previously mentioned. Two people were needed to bolt and tighten the nuts properly. The difficulty was that the rounded head of the bolt was on the outside of the canopy while the individuals were on the inside, making it difficult to tighten the bolts without them turning.
For those seeking a lot of capacity and flexibility for attaching loads, the M1000 is an excellent and reliable choice. Its lack of bumpers allows for more usable space than most topper racks, and its cost is low for an aluminum rack of such outstanding quality.
Additionally, We Have Some Other Honorable Kayak Racks for Truck to Consider
When transporting your kayak, the APX25 from AA Racks is the perfect choice for those who demand the best. Constructed from lightweight aluminum, it's 20% lighter than other steel models, which weigh around 50-60 lbs, but the APX25 weighs only 42 lbs. The aluminum frame is more corrosion-resistant than steel, and the rack is powder-coated for added resilience. Despite being lightweight, it can support a whopping 800 lbs.
Optional Upgrades
The APX25 further adds to its versatility with additional functional upgrades.
For an over-cab-style truck rack with sidebars, look at the AA Racks model P-APX25-E.
If you're interested in truck back window guards, the P-APX2-WG(3) aluminum window guards are a perfect consideration. They're fully adjustable and made from high-quality aluminum.
A load-assist roller is also a beneficial addition when loading kayaks, and the P-APX25-WG(3) is the perfect upgrade to complete this truck bed kayak rack.
These additions are optional but provide excellent benefits, especially if you want maximum front-to-back clearance while safely transporting your kayaks.
The APX25 rack has eight heavy-duty aluminum C-clamps that allow it to be securely attached to the side of the truck bed without drilling any holes. This makes it suitable for various truck beds and ensures a solid and firm fit.
I recognize that the APX25 is a well-constructed truck rack; thus, its price tag reflects its quality. However, paying double the price of steel counterparts is too expensive for many consumers. If you are not planning to use the rack as often or require its 800lbs weight capacity, I suggest a more cost-effective option that still offers value for money.
The AA Racks APX25 is an excellent choice if you're looking for a practical and versatile rack for your pickup. The adjustable tie-downs make it perfect for transporting ladders, lumber, kayaks, and canoes without a j-bar. Once installed, its sturdy design ensures that it can handle long hauls. At $397, it may seem like a steep price, but I believe the quality and versatility make it worth the money, even without the extra add-ons.
The MaxxHaul 70423 truck rack is an attractive choice for those seeking a more economical alternative to the AA APX25. Built with lightweight aluminum, it is an excellent option for those needing to attach and frequently remove the rack from their vehicle. It has bumpers on the verticals to keep cargo from shifting, but they slightly reduce the length of the crossbars by a few inches on either side.
The rack bars are made with rugged aluminum, and the base brackets are made from solid steel and powder-coated for extra protection. The crossbar is designed to fit most truck beds, extending to 70″ long and with uprights that measure 26″ in height.
This rack is a breeze to install onto your truck bed – no drilling is necessary. However, drilling allows the rack to be more secure and permanent. I like that this rack requires some assembly, yet the process is surprisingly simple.
The MaxxHaul has a weight capacity of 400 pounds, which is half the amount the AA APX25 and the TMS can hold. Being made of aluminum, it is not as strong as the AA truck rack and cannot handle heavy loads. Even though two kayaks or canoes usually don't exceed 200 pounds, the lower capacity of the MaxxHaul may still be a problem when hauling other items.
To correctly install this rack, it is necessary to have a truck bed without cleats, railings, or liners. Additionally, you must be able to access the sides of your truck bed, requiring all liners and railings to be removed.
If you take the rack on and off every season, the lightweight aluminum might be worth the extra cost. However, its lower carrying capacity and moderately high price tag make it a product suitable for a specific purpose.
Extra Accessories to Consider
Y-Autopart Mounting Clamps

One of the most challenging parts of installing a kayak roof rack for a truck is drilling holes into the bed. This can create unsightly gaps when the rack is not attached, allowing moisture to seep in and corrode the truck's body. Additionally, there is always the chance that you could measure incorrectly and need to drill more holes. To avoid this problem, consider using clamps as an alternate solution.
Y-Autoparts' cap clamp design clamps are perfect for attaching toppers to truck beds and securing kayak racks quickly and effectively. These clamps boast larger jaws than standard C-clamps and the added benefit of powder-coating to provide years of lasting durability.
Clamps are great for your kayak transportation needs; they are much easier to install and take off than bolts, saving time and energy. Furthermore, they will not cause any damage to your truck, so you won't have to worry about decreasing its resale value.
Reasons to Buy The Y-Autopart Mounting Clamps
Ratchet Tie Down Straps
The right rack is essential when transporting a kayak, but without the proper tie-downs, it's not enough. Ratchet straps are the perfect solution, as they are rated to 500 lbs, more than enough for even the heaviest fishing kayaks that won't weigh more than 150 lbs. Furthermore, their extra strength will be helpful when driving at high speeds, ensuring your kayak stays securely attached to the rack.
The ratcheting mechanism ensures a secure fit against your boat's hull, although you must be attentive not to overtighten it, as it can easily damage the plastic. The straps are 15 ft. long, so two are likely enough to secure two boats (although the package contains four). The S-hooks, covered in rubber, enable you to attach the straps to your truck bed, hitch, or any other attachment point. The rubber coating also prevents the straps from stripping the paint off your vehicle, even at high speeds. Additionally, two bungee cords are included in the package, perfect for securing light items such as cockpit covers.
Reasons to Buy The Y-Autopart Mounting Clamps
Three Types of Kayak Racks for Trucks
If you want to mount a kayak on your truck, you have a few options! Variety is the spice of life, and depending on your truck's construction and preferences, there are three types of kayak racks for trucks out there. Each has pros and cons, so weigh them carefully before deciding.
Truck Topper
Toppers are a great option if you're a camper or need to keep your gear safe from the weather. However, having a topper attached to your truck can prevent you from being able to install a kayak rack – the bed is already taken up. Luckily, some companies make crossbar systems that attach to the topper and allow you to keep it on while transporting your kayak. Getting the kayak onto the topper may be challenging, but it is achievable with the help of a friend or lift-assist system.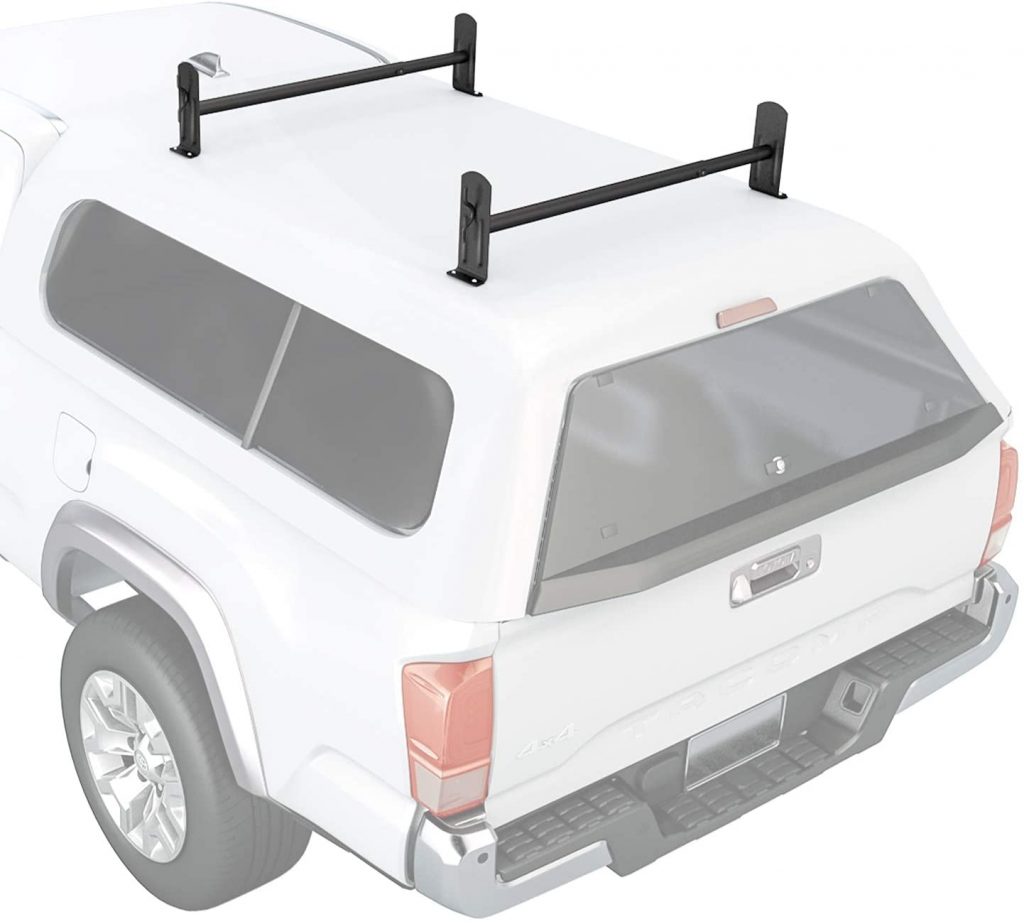 Truck Bed Racks
Truck bed racks are the way to go if you're a paddler looking for a reliable, long-term boat transportation solution. They are easy to install, as they bolt into the bed rails and can stay there year-round. Plus, they're great for carrying large items, such as dimensional lumber, fencing, and long pipes.
Truck Hitch Racks
If you're looking for an easy way to transport your kayak, tossing it into the bed of your truck is a great option. If it's a playboat, a type of whitewater kayak, it should fit snugly in the bed, and you won't need to attach a hazard flag. However, if you're dealing with a touring boat, which is usually longer, you'll need to use a truck hitch rack to provide extra support. Hitch racks are generally the most suitable choice for pickups with tonneau covers, as the brackets used with bed racks can obstruct the inside of the rails where the tonneau cover is located. If your boat has a very low profile, it may be able to fit underneath the cover, but most of the time, you will need to roll it up first.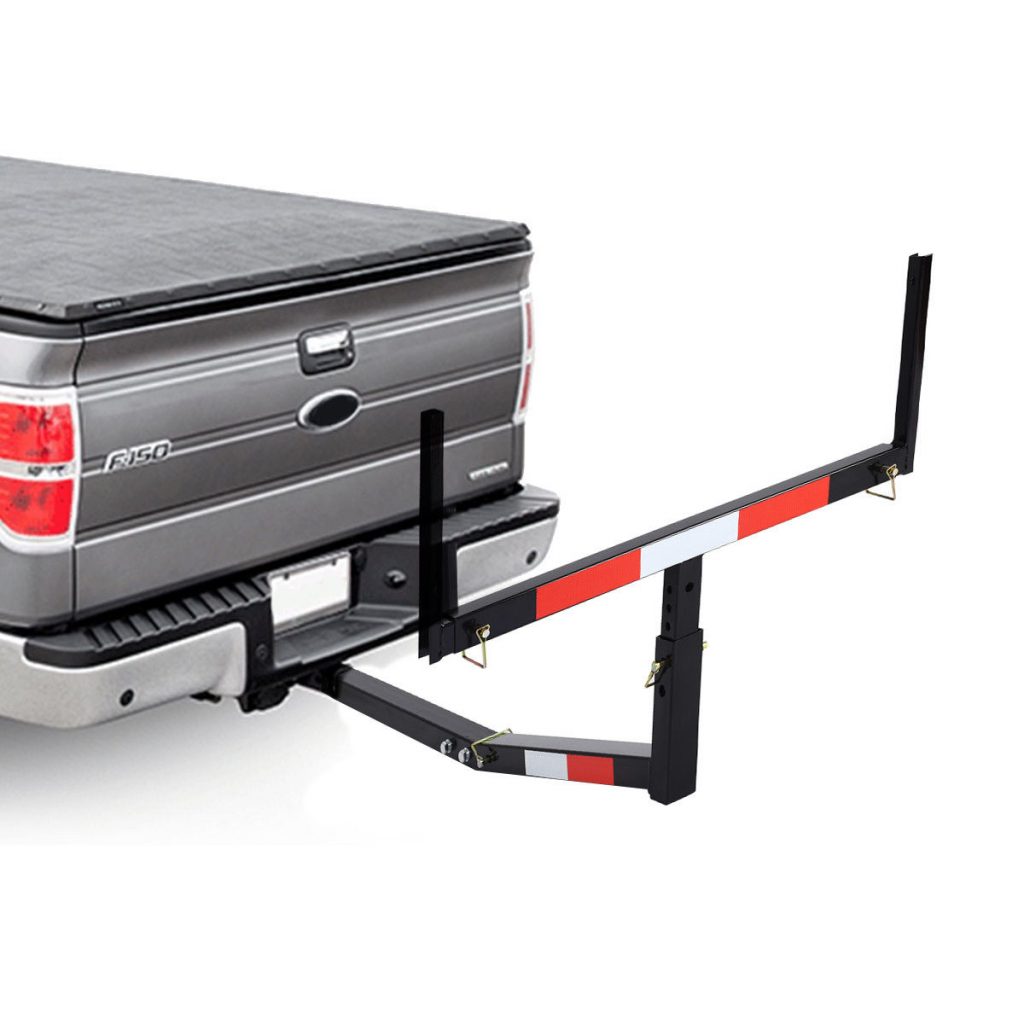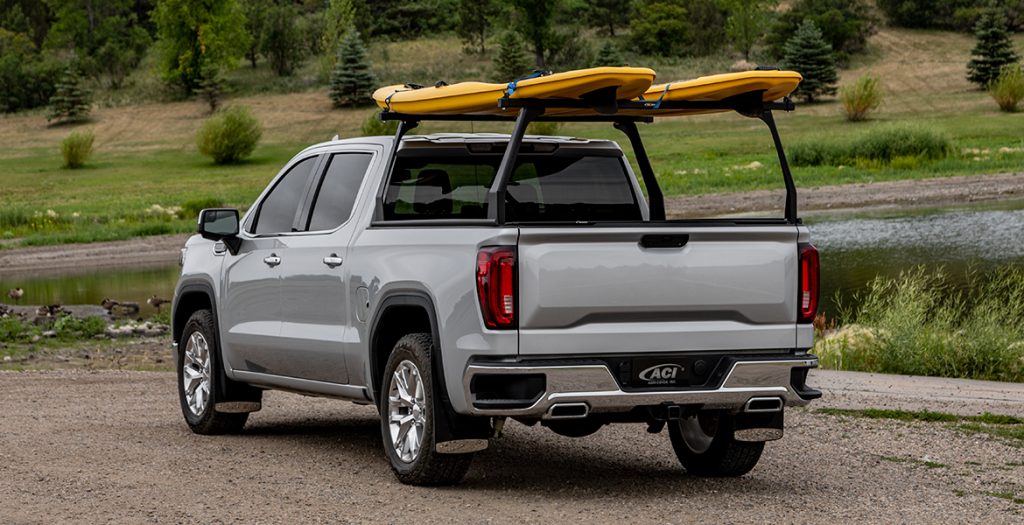 What to Look for When Buying a Kayak Rack for Your Truck Bed – A Buyer's Guide
Kayaking is a great way to explore the outdoors, but it cannot be easy to transport your kayaks to the water without the right equipment. A kayak rack for truck beds is an essential tool for any kayaker, making it easy to load your kayaks onto your truck and safely transport them to the water.
When buying a kayak rack for your truck bed, there are a few key considerations to remember.
Weight Capacity
The weight capacity of your kayak rack is an important factor to consider, as it will determine how much weight it can safely hold. Most kayak racks are rated for up to 200 lbs, but it's important to check the weight capacity of your specific rack before purchasing.
Security
Kayak racks are designed to keep your kayaks securely in place while you're driving. Look for a rack that has a secure locking system to ensure your kayaks won't come loose while you're on the road.
Ease of Installation
Installing a kayak rack can be time-consuming, so you'll want to look for a rack that is easy to install and remove. Ensure it fits securely in your truck bed and includes all the necessary hardware.
Accessories
Some kayak racks come with additional accessories, such as stabilizing bars or supports, which can help keep your kayaks in place during transport. If you're looking for extra security, look for a rack with these features.
Price
As with any purchase, the price of the kayak rack is an important factor to consider. Compare different models and brands to find the one that offers the features you need at a price that fits your budget.

Considering these key considerations, you can find the perfect kayak rack for your truck bed. With the right rack, you can transport your kayaks safely and securely and have more time to enjoy the outdoors.
An Alternative Option – A DIY Kayak Rack for Your Truck
If you've been shopping for a kayak rack for your truck, you probably know that they don't come cheaply. To save money, some paddlers choose to make their rack. This requires patience, some knowledge of tools, and a good plan, but it can save you a lot of money compared to buying a pre-made rack. Additionally, you can customize it for your vehicle.
If you don't want to do it yourself and truck bed racks don't fit your needs, then the reliable option of a kayak trailer is always available.
Building a Kayak Rack for Your Truck

Building your kayak rack out of wood is an excellent option if you're a DIY-minded paddler looking to save money. All the parts you need can be found at your local hardware store, and it will likely be cheaper than buying a metal pipe rack. To construct it, you'll need a circular saw to cut the wood and a drill to secure it with screws.
Homemade Kayak Racks for Trucks
Constructing a kayak rack for your truck isn't overly complex as there is a straightforward design for a truck bed rack, which only consists of three components.
The uprights are the vertical pieces located in the corners of the truck bed. They can be fastened into the bed, slid into pockets along the bed rails (if present), or wedged in place with the other components.
You should provide padding for the crossbars that your kayak rests on. This will protect the boat and create friction to keep it from moving around unnecessarily.
To ensure the rack's stability while driving, adding diagonal cross pieces to the sides and ends of the uprights and crossbars is necessary. This will prevent the box from shaking and make it more secure.
It is recommended to secure the rack frame and the boat on top with tie-downs to prevent any movement, even though the weight of the frame and the kayak should be sufficient.
Frequently Asked Questions
How Can I Prevent My Truck From Getting Scratched?
To avoid damaging your vehicle's paint, rack systems should keep your boat a few inches away from it when it's tied down. However, loading the boat onto the rack can be tricky and best done with a friend to help, one standing inside the truck bed and the other sliding it up the back rack. An easier solution for solo loading is to use a hitch rack, which doesn't require lifting the boat above your head.
Can I Transport a Kayak on a Rack While Pulling a Trailer?
The feasibility of this scenario is dependent on several variables. Firstly, check if the trailer is shorter than your vehicle. If it is, you should have no problem mounting your kayak on a bed or topper rack, as the boat's hull should be higher than the roofline. However, if you intend to pull a tall camp trailer, ensure the kayak does not stretch past the truck's rear bumper. Unless you have a long sea kayak, the boat should be secure on the cab and bed, with nothing sticking out beyond the bumper.
What Are the State Laws Regarding Kayak Transportation?
Before proceeding with your DIY plans, it is essential to verify that your design complies with the laws of your state. Although each state has different regulations and laws, many universal rules are standard across all states, such as how a load must be carried. It is essential to familiarize yourself with these laws before beginning.
●  It is common sense that your kayak should not extend more than three feet beyond your vehicle's front bumper. This is to ensure that you do not cause any damage to the car in front of you.
●  If the load extends more than four feet past the rear bumper, a red flag must be attached to it so that it will be easily visible to other motorists. When driving at night, a red light must be attached to the end of the boat for visibility.
●  When installing a kayak rack on your vehicle, ensure it does not extend more than a few inches past the sides. Building a rack a foot or more in length past the doors can cause your vehicle to handle unpredictably and is a hazard to other cars on the road.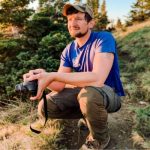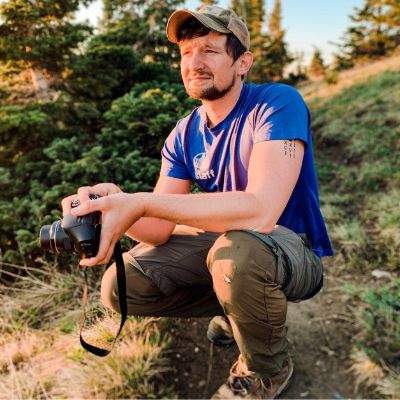 Timo is an outdoor enthusiast and gear specialist who is constantly exploring. As an avid hiker, he has completed the ADK 46ers, South Beyond 6000, GA4000, and the Colorado 14ers. He's ice climbed Mt. Hood, hiked up half a dozen mountains in the Alps, and spent three consecutive summers constructing a sustainable trail through the Colorado high country.