Editor's Note – This list of the best kayak storage racks was updated on February 8, 2023, to add newly listed products and improve content relevance and usefulness.
Getting kayaks to and from the water and finding the best kayak storage rack to safely and adequately secure your kayak is usually the main concern for kayakers. A kayak roof rack, kayak cart, or handy kayak trailer will solve mobility and transportation issues.
However, when it comes to storing your kayak, it's essential to invest in a kayak storage system that works for you and offers sufficient protection to your kayak. The best kayak storage rack for your specific needs will depend on various conditions you will need to consider, such as available space, the type of storage you prefer, and the number of kayaks to be stored.
Our Pick!
Suspenz EZ Kayak Rack
The Suspenz EZ rack is a sturdy wall-mounted rack consisting of 2 heavy-duty powder-coated brackets and reinforced nylon straps. This kayak storage rack makes for an excellent indoor or outdoor storage option. Able to support up to 100 pounds and to be remarkably well-priced, this is the best all-rounder for your kayak storage needs.
Our Winners
Rackmaven may earn a small commission should you purchase a product through one of our affiliate links.
The Best Overall Kayak Storage Rack Goes to the Suspenz EZ Kayak Rack
When looking for a high-quality, all-rounder kayak storage rack, the Suspenz EZ ticks all the boxes. This kayak wall-mount rack is made from high-quality materials that protect your kayak and has a loading capacity of 100 pounds, is powder-coated for indoor and outdoor use, and offers excellent value at an affordable price.
1. Suspenz EZ Kayak Rack
The Suspenz EZ rack is a wall-mounted rack with two heavy-duty brackets and straps. The mounts are made from powder-coated steel. They are available in yellow or black. This makes it excellent for indoor or outdoor use. The straps that secure the kayak are made from reinforced nylon. The Suspenz EZ rack is strong enough to support up to 100 pounds but offers excellent foam protection to ensure your kayak is not scratched.
It's worth noting that the rack bolts to the wall and extend out by 21 inches. You can mount it high enough in your garage that the kayak will not hinder your everyday use. Of course, when positioning it, you'll need to consider the weight of your kayak and lift it on and off this kayak storage rack.
It's a great budget option and easy to set up and use.
2. RAD Sportz Kayak Hoist
The RAD Sportz 1003 kayak storage rack is designed to attach to your ceiling, giving you a solid support system with a built-in hoist. This makes it exceptionally easy to put your kayak in the mount and hoist it up out of the way. The rack accommodates up to 125 pounds. It utilizes nylon straps and rubber-coated hooks, giving it strength while preventing your kayak from getting damaged.
It has a self-locking mechanism; the hoist cannot accidentally release your kayak, injure you, or damage your boat.
Mounting is easy. The mount is screwed directly to a joist or a piece of 2×4 which you can mount on the ceiling. Lower the cradles to the ground, place your kayak on them, and attach the strap to itself, then hoist the kayak up out of the way. The rack may only take one kayak, but you can always fit several to your ceiling.
3. Harken Garage Storage Ceiling Hoist
This ceiling-mounted option comes in several formats, depending on what you need. In short, you'll need to decide how high your ceiling is and purchase the kayak storage rack that matches; the range covers ceilings from 10 feet to 16 feet, supporting weights of between 45 pounds and 145 pounds. A clever part of the Harken design is that it doesn't matter how the weight is distributed on your kayak. It will use its patented design to lift and lower the weight evenly.
The ropes are double-braided to ensure longevity, and the cleats are self-locking to prevent accidental release. The whole process can be completed with one rope, making it easy to do by yourself.
4. Malone J-Dock Hybrid Kayak Garage Storage Rack
This rack is wall-mounted and supports two kayaks. Of course, you can also use them to store something else, such as a skinny cargo box and a kayak.
The mounts are stylish and made from powder-coated steel, which makes them perfect for inside or outside use. They are corrosion-resistant and have a limited lifetime warranty. The mounts support the sides of your kayaks, and the 12ft nylon cam buckle straps hold them securely. It can handle 150 pounds, yet each mount weighs just 6. It comes with everything you need to get it mounted.
5. Suspenz Universal Boat Stand
The second offering from Suspenz is a freestanding kayak rack which can also be taken with you when you're out and about. You will need space for this rack as it sits on the floor.
The frame is aluminum and powder-coated yellow, and the fastenings are all steel, ensuring the rack is strong. In effect, it is two folding stands. One can be positioned at each end of the kayak, providing enough support for any kayak up to 100 pounds.
The top part of each stand has a nylon strap for strength and to support the kayak. The frame also has foam padding to ensure your kayak is not damaged. It stands 17″ tall and is surprisingly stable, regardless of the uneven ground. It can easily be folded and carried in the mesh bag supplied with the stand. This will allow you to look after your kayak at home, by the water, or even on vacation.
6. FlexiMounts Overhead Garage Storage Rack
This is a stylish and surprisingly functional way to store your kayak. The Fleximount bolts to your ceiling, creating a cradle for your kayak. It measures 96″ x 36″ and has a height of 40″. You can even choose to have it in black or white.
The base of this ceiling-mounted kayak storage rack is a mesh made from rolled steel. This gives it strength and ensures it can hold loads up to 550 pounds! The step-by-step instructions will have this kayak storage rack fitted in no time! The idea is to slide your kayaks into the rack, stacking them carefully on top of each other.
However, thanks to the strength of its construction, you could also hang kayaks or other items from the underside of the rack with the appropriate straps.
You must consider how easy it will be to slide the kayaks into position.
7. Malone Auto Kayak Storage Rack
This offering from Malone is freestanding and can handle six kayaks. It is made from powder-coated steel and can be used inside or outside.
The kayaks are supported in standard J racks bolted to the frame. These can be adjusted to the position that suits you best. They are covered in foam to ensure your kayak is well protected when it sits in the cradle. Eight frame levers are included, allowing you to decide the perfect placement for each one and your kayaks. This ensures it is capable of accommodating virtually any type of kayak.
It can support up to 500 pounds. It's also worth noting that you can purchase a caster wheel separately, enabling you to move your kayaks around effortlessly. You can't make loading much more accessible.
8. RAD Sportz 1004 Kayak Hoist Lift
The 1004 RAD kayak hoist is similar to the 1003, which also appears on this best kayak storage rack list. It mounts to your ceiling joist or a piece of 2×4 attached and can handle up to 125 pounds of kayaks.
You can mount it to any ceiling up to 12 feet high, lower the straps to the floor, slide your kayak into position, and secure them. Then, it would be best to hoist it up and out of the way. The built-in safety locks will stop your kayak from dropping accidentally.
9. Extreme Max Kayak Hoist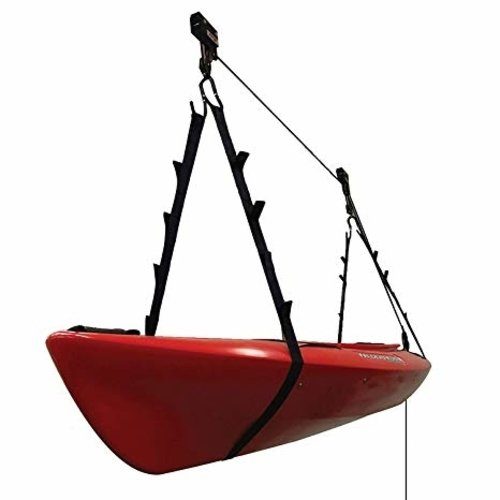 The final offering on this list comes from Extreme Max; it is ceiling-mounted and can be used for either kayak or bike storage. You'll find all the mounting brackets you need to secure it to your ceiling.
The powder-coated steel construction can handle 120 pounds and includes two 94″ wide webbing saddle straps. These wrap around the kayak, securing it safely before you hoist it into position.

It incorporates a self-locking mechanism to ensure your kayak cannot drop back to the floor without your assistance. With some planning, you can hoist them into position directly from your truck or the roof of your car!
The Three Types of Kayak Racks
Generally, there are three types of kayak racks. Each type has its pros and cons. However, choosing between the three depends on your preference and storage capacity. This guide on kayak storage ideas should be an informative read for more detail on adequately taking care when storing your kayak.
1. Freestanding Kayak Storage Racks
Freestanding kayak racks are typically the first choice for storage solutions. This is often because they don't need to be drilled into a wall or ceiling and quickly move from one place to another. This makes them super adaptable because they are not bound to one specific spot, but at the same time, they take up a decent amount of floor space. Therefore, these kayak racks won't work for someone with limited space.
Freestanding kayak racks can be used for indoor and outdoor storage. However, cover your kayaks adequately if you choose to place them outside. A waterproof kayak cover should be another investment in this case.
2. Wall-Mounted Kayak Storage Racks
As the name indicates, these kayak racks are mounted to a wall. They are generally easy to install and can be placed on the interior or exterior walls. The main benefit of these storage racks is that they do not take up unnecessary floor space but instead use unutilized wall space.
However, depending on how high these mounts are placed, it can be rather tricky to lad a kayak onto the rack, especially if the kayak is large, heavy, or the person loading it is short.
3. Ceiling-Mounted Kayak Storage Racks
The main benefit of this kayak storage rack is that it uses overhead space, which is usually not used, making it incredibly space-efficient.
Although these racks are handy for kayakers with limited storage space, they require more effort to install and can be challenging to load and unload the kayak. A pulley or ceiling hoist system will be helpful for ceiling-mounted kayak racks.
The Ultimate Buyer's Guide
With many available kayak storage options, there are a few things to remember before choosing and purchasing a specific kayak storage rack.
Available Storage Space
This requires some strategic planning.
Firstly, it is essential to determine whether you will store your kayaks indoors or outdoors. Outdoor storage has less spacial resistance but requires more effort to protect your kayak against environmental elements. Indoor storage racks take up a lot of space. Therefore, finding the most suitable area to place the storage racks is essential.
Outdoor storage usually works well with freestanding or wall-mounted kayak racks. Kayaking storage racks such as ceiling-mounted, wall-mounted, and pulley systems are perfect for indoor storage, as they save floor space and use unutilized wall and ceiling space.
Number of Kayaks
The number of kayaks you need to store also impacts your choice of kayak storage rack. Usually, freestanding and wall-mounted racks are the best options to consider when storing multiple kayaks.
Budget
The price of kayak storage racks can vary significantly. Determining how much you can afford to spend on a rack will narrow your options.
Size
The average length of a recreational kayak is between 6 to 12 feet, while a high-performance kayak can be as long as 18 feet.
The length of your kayak isn't a top determinant for selecting a kayak rack. However, if you have more than one kayak, you need to know the largest one's size, especially the width.
Brand Reputation and Integrity
Consider the kayak brand's reputation and integrity when deciding on a kayak storage rack. Cheaper unknown brands may provide low-quality or knockoff products. Kayaks are expensive, long-term investments; therefore, ensuring that the storage units used are strong, sturdy, and of good quality is essential.
Maximum Weight
With wall and ceiling-mounted storage racks, it is crucial to ensure that the weight of your kayaks does not exceed the maximum weight requirement of the storage rack itself.
Ensure that the storage racks are drilled and installed into the ceiling or wall properly so that they won't be ripped out of the drywall and have your kayaks fall to the floor.
Assembly Requirements
If you're not confident with your handiness skills or using tools, installing a more complex storage system probably isn't the best choice. Ceiling-mounted and pulley systems usually require a bit more expertise when being installed. A more user-friendly alternative will be wall-mounted or freestanding storage racks.
Essential Things to Do Before Storing Your Kayak
Getting your kayak ready for storage doesn't require much effort, but there are a few key things to do before loading it onto its storage rack. These are important as they help to protect your kayak from possible damage occurring during storage.
Clean Your Kayak Before Storing It
Before storing your kayak, clean it with fresh water to remove mud, dirt, grime, or saltwater. Pay special attention to cleaning the essential parts of your kayak, such as the rudder, paddles, and other small parts of the boat. Always dry your kayak off properly before storing it.
Make Sure That Weight Is Evenly Distributed
When storing a kayak over a long period, uneven weight distribution can cause the kayak's hull to become warped. Additional effort can be made to avoid this by occasionally rotating the kayak.
Prepare for Winter Storage
Always inspect the kayak for any cracks, scratches, missing hardware, or damage. Clean the kayak with lukewarm water and soap. Removing and cleaning the scupper plugs and valves is also essential. For additional protection, apply a coat of 303 Protectant. This will help to protect the kayak from UV damage.
Always open the drain plug to allow adequate ventilation and prevent condensation. Ensure that all hatches are covered and properly fastened.
Frequently Asked Questions
Can You Store a Kayak Upside Down?
Yes, wherever possible, absolutely store your kayak upside down. This helps avoid dents and prevents the hull from warping and deforming.
Can I Store a Kayak Upright?
It would be best not to store a kayak in an upright position. This is because all the weight is placed on the kayak's end. Leaving it upright for a brief time (24 hours) will not do any damage, but over an extended period, it may cause it to become warped or bent.
Can I Leave Kayaks Outside in the Winter?
It is always best to store your kayak indoors, where it's dry and above freezing. If you keep your kayak outdoors, clear off snowfall and debris regularly, as the weight and cold may cause the kayak to bend or even crack. Plastic kayaks may also become brittle due to cold temperatures over the winter season. If water seeps into cracks, it will freeze and expand within the openings, possibly causing cracks to become more prominent.
Can I Build My Own Kayak Storage Rack?
You can build your DIY kayak storage rack if you enjoy DIY projects and are up to a bigger project. A freestanding or wall-mounted build would generally be safer and more accessible than an overhead one.
Do I Need to Secure My Kayaks?
If your storage rack has straps attached, it would be advisable to use them as an extra security measure to ensure that your kayaks are correctly fitted and secured, especially when your kayak is stored overhead or wall-mounted. Outdoor kayak storage would also have some strap or kayak lock, which is helpful to prevent it from falling during adverse weather conditions or being stolen.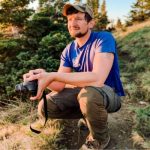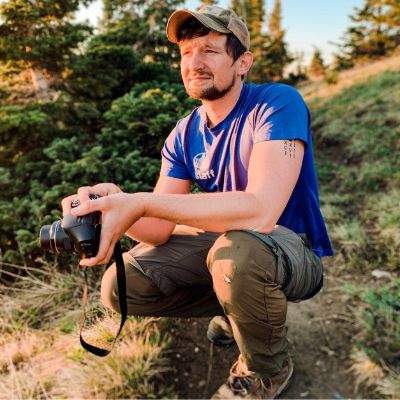 Timo is an outdoor enthusiast and gear specialist who is constantly exploring. As an avid hiker, he has completed the ADK 46ers, South Beyond 6000, GA4000, and the Colorado 14ers. He's ice climbed Mt. Hood, hiked up half a dozen mountains in the Alps, and spent three consecutive summers constructing a sustainable trail through the Colorado high country.