Editor's Note – This list of the best kayak trailer was updated on January 9, 2023, to improve content relevance and usefulness. A paragraph on safety tips when using kayak trailers was added.
Whether going down rip-roaring rapids or gliding through quiet lakes, kayaking can be a sublime experience. Unfortunately, kayaks are pretty big and don't fit inside the majority of vehicles. If this is a predicament you want to avoid, it may be time to check out some kayak trailers.
When hauling kayaks, you can opt for a kayak roof rack or a kayak trailer. Trailers are practical, easy to manage, and carry hundreds of pounds of gear to various outdoor destinations. If you often kayak and know that you'll do so in the future, buying a reliable kayak trailer will save you time, effort, and money over the long term. Investing in a kayak storage rack is another great consideration for safe and protected storage.
Our Pick!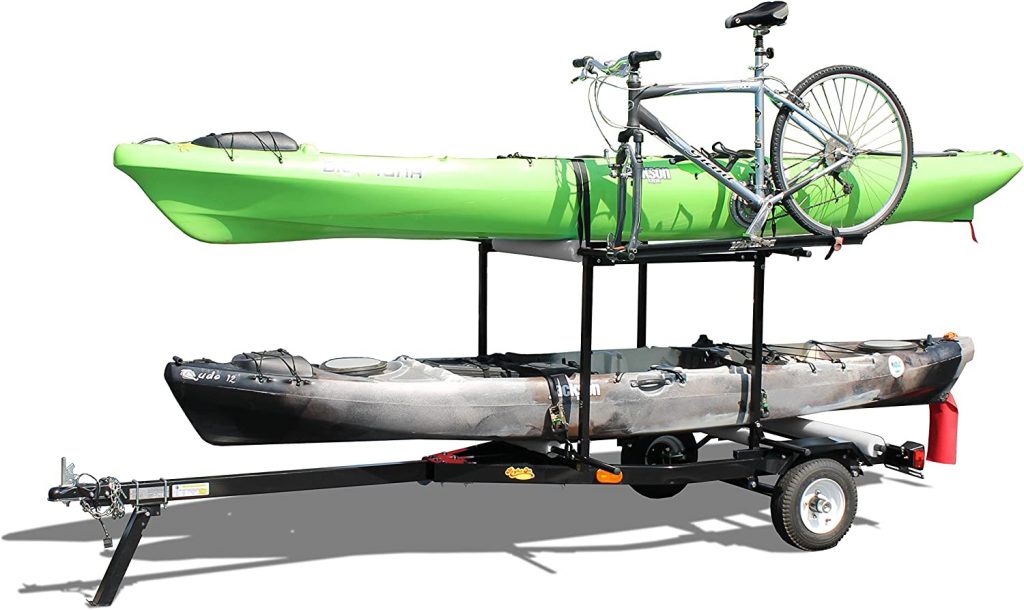 Right-On Multi-Sport Kayak Trailer
The Right-On Multi-Sport Kayak Trailer is a unique and versatile due to its feature-laden designs and versatility.
Our Winners
Rackmaven may earn a small commission should you purchase a product through one of our affiliate links.
Right-on's Multi-Sport Rack Kayak Trailer Is the Best
Look no further if you're looking for the best overall kayak carrier. The Right-On Multi-Sport Kayak Trailer is a unique and versatile offering worth considering. Due to its feature-laden designs and versatility, the Right-On Multi-Sport Kayak Trailer wins our award for the best overall kayak trailer.
1. Right-On Multi-Sport Kayak Trailer
Dimensions:
144 x 64 x 19 inches
Maximum Cargo Weight:
300 lbs
Versatility is where the multi-sport shines brightest. You can bring multiple kayaks and tie them comfortably with the vertical trailer arrangement. The versatility doesn't stop when the kayaks are fastened; there are extra places to attach bikes! You can fit this trailer with enough gear for an extended biking and water sports trip, a huge time saver and adventure enabler.
The crossbars on the trailer are compatible with most bike racks manufacturers like Thule and Yakima. You can stack as many as six bikes on the trailer or combine bikes and kayaks. Despite its robust design and multi-sport versatility, the trailer has a suggested maximum weight limit of only 300 lbs. In most scenarios, this will not be an issue, but it does lack the weight limits of several of its competitors.
While relatively expensive, the price is below average for this durability and performance trailer. Most trailers offer less versatility and ultimately cost more. Therefore, for the money, you get a lot of options to work with.
Building a kayak trailer from parts is not a quick and straightforward task. However, with coherent instructions and great diagrams to accompany them, setting up this trailer shouldn't take more than a few hours. Always follow all steps and double-check your work before moving on to a new step. A handy friend or family member helping out will speed the process along.
Best for the Budget Conscious
Trailers are expensive, no matter what you're hauling. You can expect to pay a lot for kayak trailers to get a good deal, which is why the Malone Ecolight 2-Boat V-Rack Kayak Trailer is a nice find. Coming in at hundreds of dollars cheaper than other models, the Malone Ecolight 2-Boat V-Rack Kayak Trailer wins our award for the best budget buy.
This kayak trailer costs several hundred dollars less than the asking price for many other models. With kayak trailers costing thousands of dollars, saving on the overall price becomes a very attractive option.
Despite its budget appeal, this trailer doesn't sacrifice how much it can carry. With a maximum load weight of 400 lbs., the Malone Ecolight 2-Boat V-Rack Kayak Trailer can haul a ton of stuff.
Fully assembled, this trailer weighs 145 lbs. This is generally much lighter than other models. It's easy to maneuver by hand and has a lower ground clearance for easy loading and unloading. This is a perfect setup for 1-2 kayaks; however, if you want to transport more material, the trailer comes up short. You can also only transport Kayaks less than 14 feet long. If you can operate within those criteria, it's a great buy. For all others, there are burlier trailers to choose from.
Like other models, the wheel size is only 8 inches. This isn't a concern on smaller roads but may be an issue driving on highways and rougher access roads. An adventure could turn sour if you have to fix a busted tire or a bent trailer tongue after it slams into a bumpy dirt road.
Perfect for Large Kayak Groups
This is an excellent option if you're looking for a kayak trailer with a 4-kayak capacity and intuitive design. For its numerous benefits, the Malone Auto Racks Microsport Trailer wins the award for the best four-kayak carrier.
Like the Malone 2-Kayak Megawing trailer, the Malone Auto Racks Microsport Trailer Kayak can haul as much as 800 lbs. of cargo. You can carry multiple kayaks without worrying about overloading the trailer, which is fantastic! You can fit kayaks up to 17 or 18 feet in length. Anything longer than that, and you'll need to purchase an extendable tongue for the trailer. This should accommodate the majority of kayaks outside of specialty designs.
Again, like all trailers that arrive in component pieces, the assembly will likely take some time to complete (several hours). There are just a lot of parts to put together. Thankfully, the instruction manual is well-written, and the directions are clear.
The cost could be detrimental as the most expensive package on this list. However, you get what you pay for, and the durability of the trailer is excellent. You won't be disappointed if you can spend the money needed to obtain this trailer. The lighting kit included in the package doesn't last long and may have to be replaced within the first year. This appears to be a uniform problem across most Malone models.
The Malone MicroSport Is Another Great Choice
This functional kayak trailer can haul twice as much as our best budget option and is built with durability in mind.
4. Malone MicroSport 2-Boat MegaWing Kayak Trailer
Dimensions:
96.4 x 45 x 18.5 inches
Maximum Cargo Weight:
800 lbs
With an impressive 800-pound cargo capacity, this trailer blows most of the competition out of the water. It's an impressively sturdy trailer and would rank higher if not for a few downsides.
Like other trailers, it does take a while to set up the Malone MicroSport Megawing Kayak Trailer, but the instructions are straightforward, and you can do it solo if you have a few hours and a toolbox.
Once assembled, the mega wing components make hauling kayaks a breeze. The kayaks fit easily and stay in place. Always check to make sure the kayaks are secure before driving anywhere. It generally takes anywhere from 3-6 hours to assemble the trailer. Like other kayak trailers, the instructions are good, but the time commitment is slightly longer than our best overall.
However, the price is probably the biggest detractor; you can get our best overall or budget options for hundreds less and still accomplish the same tasks.
The trailer can carry 1-2 kayaks comfortably and other associated gear without issue, but you can't add more than that, unlike our best overall.
What Are the Different Types of Kayak Trailers?
The basic kayak trailer has a metal frame and small brackets to handle most kayaks. Straps are used to secure the kayaks in place while they're in transit. The trailers are relatively low to the ground, making it easy to slide your kayak on and off.
But this is not the only option when considering the best kayak trailer for your needs. Here are some approaches and options to load a kayak onto a trailer.
Low Bed Kayak Trailer
Dedicated flat-bed kayak trailers carry one or two kayaks. These low-profile trailers can be towed behind most vehicles with a hitch with little impact on fuel consumption.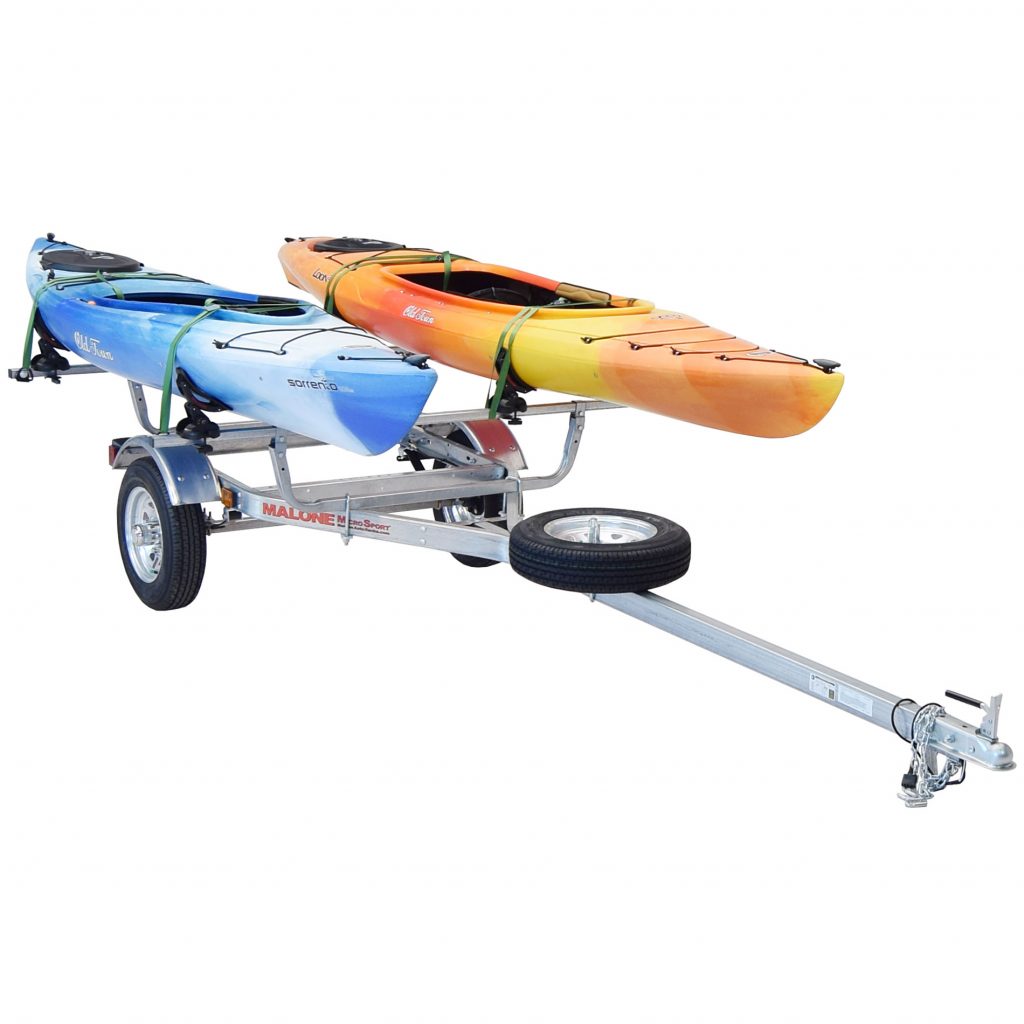 Multi-Sport Kayak Trailer
Multi-sport trailers give you flexible options to load kayaks, attach bike racks, storage boxes, and whatever else you need.
Stacked Trailer
This type of trailer stacks the kayaks on top of each other, sometimes stacking them 3 or 4 high.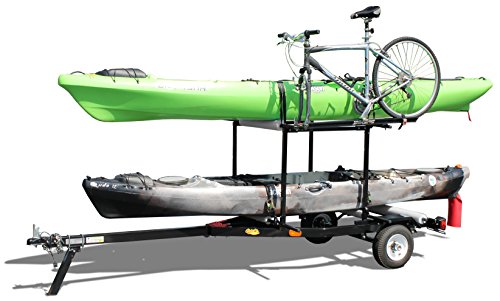 Extra Wide Kayak Trailer
This trailer allows you to place 2 or 3 kayaks side by side. The weight is kept lower, reducing drag and helping you to keep your speed up.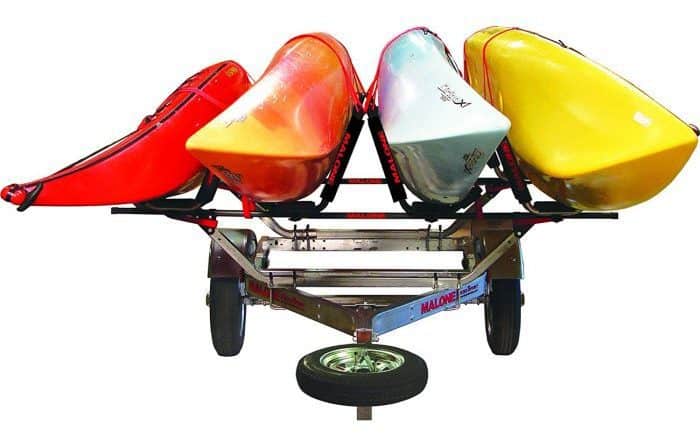 Multi-Kayak Trailer
A trailer that can carry 2 or 3 kayaks next to each other and go as high as 3 or 4. These are generally used for commercial purposes.
Trailer Top Carrier
This mounts on top of your existing trailer, allowing you to carry items in the trailer and your kayaks on top.
How Does a Kayak Trailer Compare to a Kayak Roof Rack?
Kayak Trailers and kayak roof racks have a lot of potential benefits. Similarly, they have a couple of negatives. Before you decide on one, check out some brief pros and cons associated with each.
Roof Racks are generally less expensive than kayak trailers and utilize the length and width of your roof, so no added storage is necessary. While driving, you also eliminate the need to handle a trailer, which makes driving a little easier. However, you will not be able to fit into any parking garage, uneven loading on the roof can damage your car, and if your car doesn't come with a roof rack, good luck securing kayaks to it. Another downside is capacity; you can only safely carry two kayaks.
Kayak Trailers alleviate a lot of the kayak roof rack issues. The significant downsides are price, storage, and more challenging driving. Though if you've ever driven with a trailer attached to your car, the principles are the same.
With a Kayak Trailer, you can load kayaks quickly, increase your carrying capacity, and load up a trailer with hundreds of pounds of gear. If you can fence the cost, find a place to store the trailer, and master the more challenging driving, the benefits outweigh the cons.
A Kayak Trailer Buyer's Guide
Buying a kayak trailer is a significant investment, and there are a few points you should keep in mind when shopping around.
Kayak Carrying Capacity
The number of kayaks you need can differentiate between a kayak rack and a trailer. Kayak Trailers are best for carrying two or more kayaks. If you only need to haul one kayak around, the price of the trailer may seem relatively high. However, a trailer is a way to go if you're moving around kayaks for you, your friends, and your family.
Assembly
Ordering a kayak trailer is easy, but the pieces come in boxes. Dedicate a few hours to assembling the full trailer and follow the instructions religiously. While snafus occur during assembly, the process is straightforward as long as you have a tool chest, time, and instructions. Depending on local laws, you may also need to register your trailer and get insurance. Like most larger projects, it helps slow down and ensure all the steps are done correctly. Building off of an incomplete step or process will inevitably slow down the rest of the build and could create weak points within the trailer's structure.
Your Vehicle's Tire Size
Trailers come in a few varieties. Kayak trailers generally have wheels between 8-12 inches. A trailer on the smaller end of that range will roll lower to the ground and be slightly easier to load. However, a lower ground clearance becomes a concern on rougher roads, many of which are needed to access rivers, lakes, and bodies of water. Larger wheels give you more ground clearance, handle a little more weight, and generally last longer.
Tongue Length
This is part of the trailer that connects the main body of the trailer to the hitch or coupler on your vehicle. Without the added length of the tongue, the trailer won't be long enough to carry any kayak. The longer the tongue, the longer the kayak can be carried. Conversely, the longer the tongue, the harder it will be to control the trailer while making turns or backing up. For longer trailers, it helps to have a spotter direct you to a boat ramp or put-in area.
Cargo Versatility
Most trailers fit to carry kayaks can also take additional cargo. Make sure to shop accordingly. If you're stuffing a trailer full of items, check the weight limits to guarantee the trailer can handle everything. A trailer carrying kayaks could also be used for small boats. Some trailers have compartments for added gear like life jackets, oars, and more. The more the trailer can carry, the easier the process of getting to the water will be. However, added maximum weight usually means a more expensive trailer.
Material
What your kayak trailer is made of impacts its towing capacity. For example, lightweight material like aluminum is sturdy but won't be able to handle more than a few hundred pounds of weight. Galvanized steel is much sturdier and can take multiple heavy kayaks at once. Galvanized steel will inevitably ratchet the overall price compared to aluminum or an alloy.
Budget
Kayak Trailers are not cheap. If you're throwing down a lot of money for a purchase, ensure you're getting your money's worth. Generally, top-of-the-line trailers are all within a few hundred dollars of each other. When the overall price is likely over 1000 dollars, it helps to evaluate whether an extra hundred or so dollars can give you an added benefit that other models don't have.
Any Safety Tips When Using Kayak Trailers?
Inspect your trailer and kayak before each use to ensure safety and proper operation.
Secure all straps and adjust them to the proper tension to ensure the kayak is safely secured to the trailer.
Please make sure all trailer lights are operational and that they are visible from a distance.
Take extra precautions when driving on winding roads or hills. Slow down and use caution.
Keep the trailer away from sharp objects that could potentially puncture the tires.
Ensure the trailer is properly balanced and that the load is distributed evenly.
Check that the trailer hitch is securely attached to the vehicle towing it.
Always use a wheel chock when parking your trailer to prevent it from rolling away.
Be aware of your surroundings and always obey traffic laws.
Frequently Asked Questions
How Do I Tie Down a Kayak on a Trailer?
The best way to tie down a kayak is by using ratchet straps—position straps across the kayak's width and around one of the load bars on the kayak trailer. When you ratchet it down, ensure the buckle is over the middle of the kayak so that when tightened, the buckle will easily loosen when the time comes.
How Far Can I Travel With a Kayak Trailer?
Kayak Trailers, when correctly assembled, can accompany you for thousands of miles. The most significant issues with trailers over time are the wheels popping (which would require the use of a spare) or bouncing issues on the highway. Make sure to see if the trailer you're buying is rated for highway use. Additionally, any wheel less than 8 inches tall means the trailer is low to the ground. If you need to drive on dirt roads to access some lakes, this could be an issue with bouncing and bottoming out.
What Are the Laws Regarding Kayaks?
The answer to this question varies depending on location. You'll need to license and register your trailer in many places before you can legally drive. That isn't true everywhere, however. The best action is determining what your local government mandates for kayak trailers.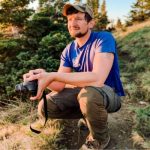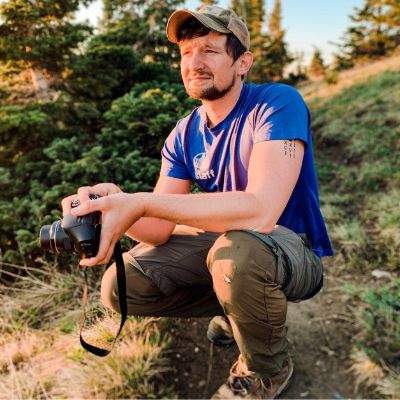 Timo is an outdoor enthusiast and gear specialist who is constantly exploring. As an avid hiker, he has completed the ADK 46ers, South Beyond 6000, GA4000, and the Colorado 14ers. He's ice climbed Mt. Hood, hiked up half a dozen mountains in the Alps, and spent three consecutive summers constructing a sustainable trail through the Colorado high country.