Have you ever wanted to go out with a kayak, surfboard, or ladder but couldn't due to logistics? I get it. Despite having a truck, certain items cannot fit and stay secure on the truck bed, especially when we have to carry coolers, a tent, and other things. Ladder racks take that issue out of the way.
If you are going to haul long and big items, like ladders, lumbers, or pipes, the TMS 800 Truck Pickup Rack might be right for you.
Best Overall
If you are going to haul long and big items, like ladders, lumbers, or pipes, the TMS 800 Truck Pickup Rack might be right for you. An overall achiever and all-rounder.
They are an essential accessory that you can bolt to your vehicle. Also, their use transcends outdoor activities; you can use them on a daily, especially if you deal with heavy-duty stuff. A ladder rack frees up your bed space for the smaller equipment while securing bigger items.
Ladder racks minimize the number of trips you would have to make when transporting heavy cargo and increases your truck or van capacity.
They are great. Therefore, it is not surprising that choosing the best ladder rack for our vehicles can take hours, if not weeks. There are hundreds of manufacturers with thousands of models to choose from. Then you'd have to consider which is a fit for you.
I have broken it all down and reviewed the best ladder rack on the market right now. You can also scroll down to see the factors you should consider before choosing any of them.
I am breaking down everything in this review. From their best parts to the areas that leave something to be desired. When you are done reading, you will know what each of them is best suited for your need and truck, how to install them and other factors to keep in mind.
If you are going to haul long and big items, like ladders, lumbers, or pipes, the TMS 800 Truck Pickup Rack might be right for you.
The TMS 800 is two robust and adjustable steel racks that are lightweight but very sturdy. To fit your truck bed, you can slide the bars to a width of between 5 feet and 7 feet. This is a lot of space, so compact trucks may not be compatible.
Also, the frames are quite strong; they can carry 800 pounds of heavy-weight. Its design allows for moving long items as well.
Both the bars and the base are made of durable steel that is painted to prevent rust. Although the steel is a very sturdy heavy-duty, I wouldn't rely so much on the paint. It is of poor quality and comes off quickly. You will need extra protection against rust if you decide to buy this ladder rack for your truck. You can paint the frames with good grade paint prior to installing it on your vehicle. Repainting is necessary at intervals
That said, the TMS 800 Truck Pickup Rack is one of the most straightforward ladder racks to install. Although the overall weight of 50 pounds may not be easy for every person to lift, anyone with a drill and basic hand tools can fit it in a short time.
It is installed by drilling two holes in your truck and using two of the eight screws that come with the package to secure it in place on each side. If you don't want to drill holes, some users use clamps instead; however, neither the manufacturer nor I recommend that. Just purchase another one of the truck ladder racks on this list instead.
On the downside, a good number of users reported that some threaded frame parts on the adjustable crossbar weren't appropriately chained. This shouldn't pose much of a problem though as it can easily be taken care of with another screw through the crossbar.
The TMS 800 Truck Pickup Rack stands up to a maximum height of 30 inches (including the height of the truck bed). It measures a dimension of 51 x 26.2 x 1.5 inches.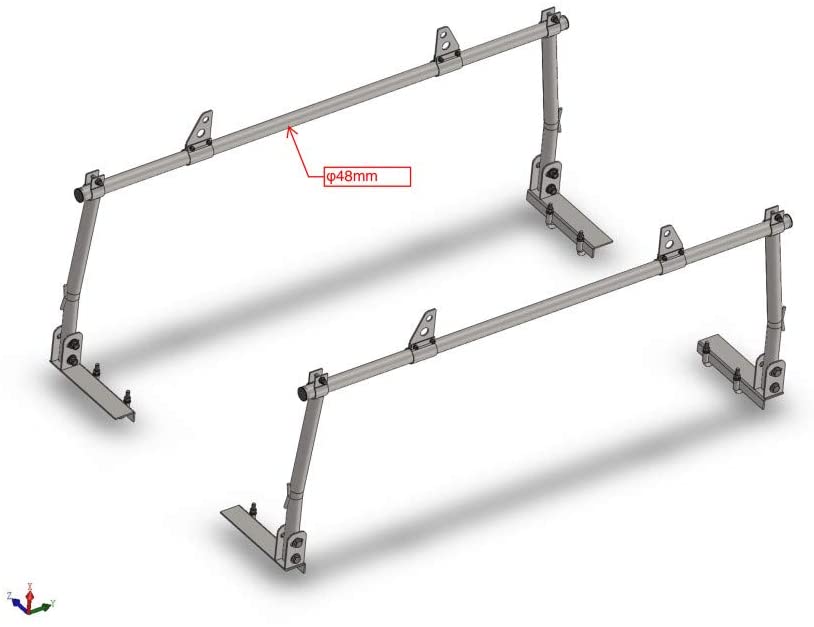 If you don't want to carry very heavy cargo and/or you prefer to stick with a straightforward design, the Erickson 07706 Steel Truck Rack might be perfect for you. It can hold up to 800 pounds easily with its heavy-duty steel frames and base. Whether you want to carry outdoor or construction equipment, the Erickson 07706 is an excellent ladder rack for trucks.
This is one rack that balances durability, performance, and price value; it is one of the most affordable on the market but still offers a sweet spot in performance. You can install it in 45 minutes or less even if you are a novice. All you need do is drill holes on your bed rails and bolt it down. It might need two to install due to its weight of about 88 pounds.
This system comes as one of the most secure as drilling and bolting down remains the best way to secure the rack for a long ride with heavy cargo.
If you are bolting it down, you should note that the nuts and bolts are not rust-resistant. The bolts seem to have missed out on proper treatment. You can either coat them yourself or get rust-resistant bolts to replace the ones that come in the package.
If you don't use your canoe, kayak, or other equipment frequently, a ladder rack that's on your truck permanently or semi-permanently won't do well for you. No one wants to deal with painful screwing and unscrewing, and the chipping off of the rack's paint while at it. The AA-Racks Universal Pickup Truck Ladder Rack (X35-8Clamp) wouldn't give you those issues.
Although there are bolts and nuts in the package which you can use if you prefer to leave the rack on for a long time; It also comes with eight (8) non-drilling c-clamps. The C-clamps provide flexibility and short-term assured stability, making installation faster and very easy.
All you have to do is use two C-clamps on each side of each ladder rack. Tighten it, and you are good to go. You can do all that in less than 20 minutes. If you want something more secure, you can drill holes into your truck and bolt it in a short time too.
It's slightly heavy at 50 pounds, but that size is expected for a heavy-duty truck rack such as this. This construction can hold up to 800 pounds, and there are rope hooks on all four uprights for securing cargo of up to that weight.
Like most good steel ladder rack for trucks, the X35-8Clamp is powder-coated with weather resistant paint. Although it is terrific compared to some other models, you will have to repaint it every two months or so if you use it often.
The X35 is quite versatile; it can be adjusted at the top to fit your load. Not only is it adjustable, but there are also three sizes for different trucks, including one for Toyota Tacoma.
MaxxHaul is known for durable and sturdy outdoor and vehicle accessories. They have given us some sweet goodies for years, and the MaxxHaul 70386 does not fall short. This ladder rack is a combination of stable and strong.
It is made of heavy-duty steel construction that is powder-coated with durable black powder to resist rust and corrosion. This truck ladder rack connects to trucks using the bolt and nut system. The bolts and nuts you will need come with the package.
It is easy to assemble by just glancing at the picture. All you have to do is drill holes into your truck's rail system, and use the bolts and nuts to secure the racks to your vehicle.
MaxxHaul used Gusset reinforcements at each joint end of the steel bars to ensure stability as you drive. Still working with its solid design, the bolts follow the 3-bolt mount bracket. It also has a sturdy tubular construction that provides plenty of tie-down points for your equipment.
All ladder racks do not fit every truck despite some of them having adjustable bars. Nevertheless, MaxxHaul tried in this regard by offering a wide adjustable width. Although it still doesn't fit every truck, the 70386 provides a decent fit for most due to its adjustable bars that can go from 52 inches to 71 inches wide.
You would have to replace the black powder-coat from time to time, but the good thing is you wouldn't have to bother yourself about the supports. Plastic end caps cover the ends to prevent water and debris from coming in.
All of that weighs 53 pounds which you can use to carry a load of up to 500 pounds. Like most racks, it's 30 inches tall.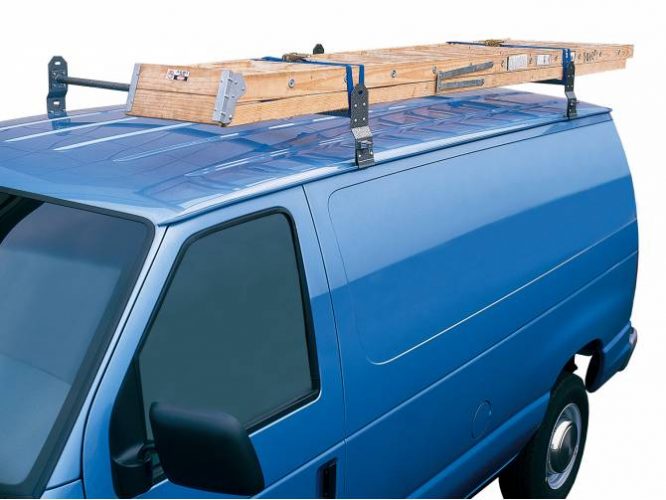 If you need to turn the roof of your van into a storage/cargo solution, the Highland 2006200 Bar Carrier is one of the best ladder racks for Vans on the market. This ladder rack is made of high quality, heavy-duty gauge steel that fits most vans with rain gutters.
All the equipment you'll need to mount this carrier comes with the package. About that, this model contains more sets of bolts than what you'll usually find in van racks. That is good and it follows Highland's mission of ensuring a safe way to carry cargo.
The Highland 2006200 is very straightforward to install, even for a simple DIY person. If you choose to go for this model, one thing you should have in mind when installing is that you may need to tighten the telescopic bars with an extra bolt or stuff the gap with insulation of sorts. Otherwise, you might deal with rattling; it seems to be a prevalent problem.
Nevertheless, the ladder rack is great for its price. This is one of the least expensive items on this list, yet it's functionality and extra value for money blows me away. It is light too, at only 22.1 pounds.
This rack can carry a load of up to 400 pounds, be it your ladder, kayak, or cargo bag. Before you set your cargo, you can adjust the bars from 37 inches to 62 inches wide to fit your vehicle appropriately. This should fit most rain-gutter roof vans.
Concerning weather resistance, the bars are coated to resist rust and corrosion. They are also scratch-resistant. I wouldn't bank so much on its scratch-resistance for a long time though because the clamps were left out of the protection. Some reviewers recommended placing a rubber gasket material between the clamps and roof gutters or using the strips of old inner tube of a bike between the clamps and roof rails. That shouldn't cost much at all. With the rack's affordable price, this is quite a steal.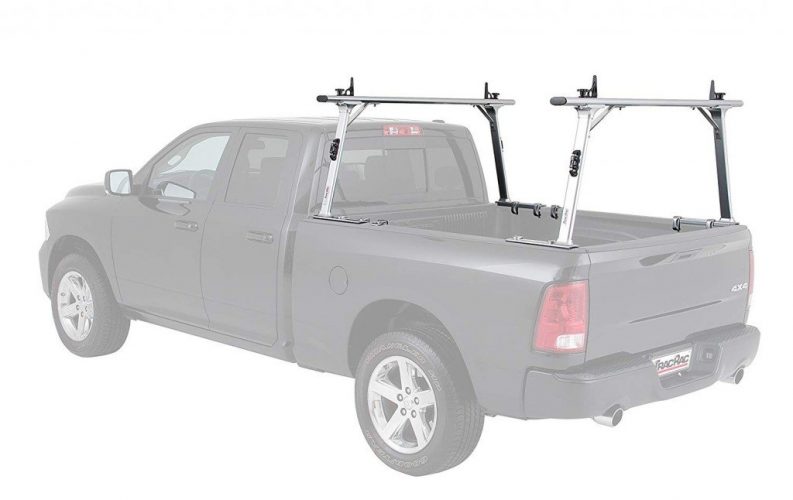 If you are ready to invest in a ladder rack that lasts on the long haul, then the TracRac 37002 T-Rac Pro2 might meet your needs. It is not the least priced ladder rack on the market; quite far from that. However, it gives the best bang for your buck, especially if you are loading substantial weight.
This ladder rack can easily lift up to 1000 pounds. Before you excitedly load all of that, check your vehicle owner's manual. Some trucks can hold 1000 lbs; others might not. Nevertheless, this weight capacity goes to show how sturdy the rack is.
It is made of aluminum, so you can relax knowing it is more resistant to rust and corrosion compared to steel racks. There's also a durable powder-coat finish for better resilience. To add to that, the corner brace design helps it keep maximum stability and performance irrespective of wind and load.
There are also two load stop bars on each side of both racks and loops for tie-down hooks. They can slide to the end or close to the middle of the top bar to fit the size of your load. With this, you wouldn't have any issues with the width of your kayaks, canoes, paddle oars, or ladders.
Another tie-down point is at the side of both racks, with aluminum cleats. You can also tie down your items to the routed entry holes on the top and bottom of the crossbars.
One feature that makes this ladder rack standout are the wind deflectors. This aerodynamic design reduces noise as you go faster. You shouldn't drive so fast if you are carrying 1000 pounds anyway.
Installation is not so easy. To start with, each rack weighs between 25 pounds or a little above that (depending on the size you choose). That may or may not be too hard to lift by yourself.
After you have gotten past lifting it, you get to the good part – no holes are needed. Instead, you use single axis universal mounting clamps. This is great, but TracRac failed to give us a manual that is very simple to understand.
There are some errors in the manual that TracRac didn't see fit to correct. Fortunately, there are a few recommendations from reviewers to get you through the installation process. After that, subsequent installations and use are easy.
Unlike most ladder rack, the bars of the T-Rac Pro2 can't not adjustable. Nevertheless, there are many sizes to choose from before you make a purchase. Each size has different width and height, including compact, Tacoma, and super tall. You can also select based on your truck. If no size on the list fits your vehicle, consider the other great ladder racks on this list.
The X3501 and the X3502 are about the same product, even AA-racks groups them together. The main difference is the position of their crossbars. While the crossbar on the X3501 gives a little space for the sidebars to protect load on the side, the crossbar on the X3502 is directly on top of the sidebars, leaving no sidebar out/on top. This is further kept stable with a corner brace design.
The X3501/3502 might be right for you if you wish to carry heavy weight and not spend so much cash to do so. It's relatively affordable, and the load capacity is 800 pounds. The racks are compatible with different truck-beds due to their width length; you can either fix it at anywhere between 51 to 71 inches width by stretching out the crossbars.
The extendable functionality in the crossbars makes this truck rack more durable and strong. That's because they are double-barred. As a result, they wouldn't bend or dent easily. The racks' resilience is assured with heavy-duty steel construction that's coated with matte black powder finish. You should be able to drive this under the rain for a while without rust or corrosion.
Installing the racks is easy. You can have everything set up in about 30 minutes. To start with, it is quite lightweight. Also, the package comes with everything you will need to mount it, including eight bolts, nuts, and washers.
You would have to drill at least two holes on each side the rack will stay on your bed rails. Then secure it in place with the bolts, nuts, and washers. Since there are five drilling holes on the upright plate, you wouldn't have to worry about the drilling holes being blocked by sheet metal. This ensures it fits different sizes of bed margins.
When your load is on top, you can secure them with the rope hooks on the side of all four uprights that provide security for tying cargo in place.
Aluminum ladder racks that can carry lots of weight are good ones in my book. If you are looking for something more resistant, fully adjustable, lightweight, and can be fixed without bolts, the Apex ATR-RACK Heavy Duty Universal Rack might fit your needs.
This truck ladder rack is made of heavy-duty aluminum that can support up to 800 pounds of weight capacity. Despite this large capacity, it is lightweight, at just 38 pounds. This makes installation much easier because one person can easily lift each part.
If you purchase this ladder rack, your truck can stay the same without holes. That's because the rack comes with quick and easy no-drill clamps that you can set in just minutes. However, if you are going to carry anything above 600 pounds, you may need to look towards drilling holes. The clamps may not hold a higher weight, especially if you would be driving fast.
The crossbars are adjustable; they shouldn't give problems regardless of the size of your truck – compact, mid or full-size. They can stretch out to 66.5 inches wide. If your truck is above that – heading towards the 70s – consider other options. The TracRac 37002 or the AA-Racks X3502 are great alternatives.
There are four ladder stops in total, two on each rack. They are also adjustable, and keep you, your cargo, and your truck safe while on the move, especially when you use them as tie-down points.
The only gripe is the finishing. It is raw aluminum with lots of sharp edges. If finishing isn't your top priority, this shouldn't be an issue because it excels in functionality.
A lot of attention is paid on how much weight ladder racks, cargo carriers (and any other thing that is used to carry a load) can handle; the bigger, the better. However, not everyone needs a ladder rack that can carry 1000 pounds or above. So, I have also checked out a lesser capacity carrier and it qualifies to be on the best ladder carrier list.
The MaxxHaul 70423 can only carry up to 400 pounds of cargo weight. However, do not be deceived by its lighter weight capacity. It may be the lightest in weight capacity on this list, but it tops a lot of the other carriers here in terms of durability. Before I get into that, let's look at the installation process.
It is easy to mount. You can also choose how you want to install it. If you wish to drill holes, you can. It can also be fixed without drilling holes in your truck bed rails, because of adjustable mounting brackets.
You need access to pickup bed sides to install it, so cleats, railings, and liners cannot be on the pickup bed if you want to use this truck ladder rack. Either you take them out, or you cut slots in your bed cover. All this information is also provided on the user manual; good thing it is very easy to read.
When have the racks fixed on your truck, you can use them for years without rust or corrosion. That is because they are made of aluminum that is powder-coated with a durable finish to resist rust and years of heavy use and wear.
Although it is aluminum, the inner chamber of the crossbars is reinforced for increased structural strength. As a result, it doesn't bend or change shape when a load within its capacity is evenly placed on it. Also, the base brackets are made from heavy-duty steel with powder coat finish. This sturdy design is the reason for its higher weight than most aluminum ladder racks; it weighs 55 pounds.
On both sides of each rack, there are adjustable cargo bumpers. You can adjust these anywhere along the length of the crossbars to fit the width of what you are carrying. They prevent cargo from sliding off the side of the racks during transit. Like every other ladder rack, you will still need to tie down your load with bungee cords or any other strong material.
The MaxxHaul 70423 is 26 inches tall for upright support. Its crossbars are adjustable. They are on a sliding rack that extends up to 71 inches. This should fit most trucks.
If you don't deal with construction equipment, or you don't need the ladder rack to carry cumbersome items like lumber, then purchase the AA-Racks APX25. Although it is made to carry up to 800 pounds of weight, its installation/mounting process decreases that capacity. This is because it doesn't use bolts or need drilling at all.
The lack of bolts in this design is an advantage in the sense that there are no holes to your truck and you don't have to leave the ladder rack mounted on your truck permanently. However, clamps are not as secure as bolts and nuts. If you want it tighter than the average clamp, ensure you have direct access to your truck bed.
This design is excellent for us – outdoor enthusiast. Your surfboards, canoe, and most outdoor equipment can stay on top of your truck bed during the trip. These items can be held secure with the four stops on the rack. You can use the stops as tie them points. That said, the rack is made of durable reinforced heavy-duty aluminum construction that is powder-coated with weather resistant paint. Both materials will help you enjoy this product for a long time.
One boost of this model is the upgraded accessory option. There is a headache rack provided in that option for both standard-sized trucks and Toyota Tacoma. With that, your rear window is protected from damage when transporting cargo. This is an investment you shouldn't let go of.
Many racks use the slide-in method to adjust the crossbars for increased width; this is not the case here. The width is fixed and the inches you get depends on the size you choose during purchase. However, you can lessen it through the post slides. The post rails can be slid backward or forward to adjust for bed width.
Ladder racks, like every other product, are not designed equally. Some are more suitable for certain needs and trucks than others. Looking at the numerous models on the market may leave you overwhelmed and unsure of which to go for. It's more than knowing a dimension fits your car. I have put together a guide with factors that you need to consider before you decide to purchase any.
Your Cargo/Load
If you will transport cargoes weighing about 800 pounds at once, it makes no sense to buy a ladder rack that can only take 600 pounds. Consider the weight of the items you plan on transporting as well as their width. Also, the frequency of load movement is very important. Some racks can carry a heavy load but are not built for frequent long-term use.
Your Truck/Van Type
Truck ladder racks and van ladder racks are designed differently. Also, not all racks in both categories fit vehicles in the category they fall in. Some trucks need smaller racks; other trucks need something bigger.
For some trucks/vans, manufacturers have made specialized racks. Amazon has also helped with that. On your rack product pages, you can choose your truck/van from the car list to find out if it is compatible with the ladder rack.
Ease of Installation
No one loves to install equipment for hours. That is frustrating. Go for a ladder rack that is easy to install. You can know that from the review above, reviews from verified purchases on Amazon, as well as comments on the user manual or the manual itself if you can access it.
Secondly, you need to consider if you want to drill holes in your truck bed rails or not. If you don't, go for racks that come with clamps or are verified by manufacturers to be used with clamps.
Also, some racks require additional accessories and equipment to set up, if you don't have them or don't want to buy them, please purchase a model that comes with every necessary accessory. Bypassing accessories is dangerous. That leads us to the next point.
Safety
Even if the rack can handle above 1000 lbs, and it looks good on a truck, stay away if it's not safe. It would be best if you looked out for stops or anything similar. Secondly, check online reviews to ensure that the rack doesn't lead to injuries from sharp edges or unsteady parts that bend or come off.
Other essential features to look out for include attachment style, how well it secures to trucks (without rattling or shaking), locking mechanism, and sturdiness.
Material
Steel and aluminum are the common choices for ladder rack materials. If you want something very light, easy to lift, and rustproof, go for aluminum racks. They are lightweight, except for a few that are strengthened with steel. A mix of aluminum and steel is also great; these are strong to carry a heavy load and still keep their rust and corrosion proof capacity, for most.
If your priority is strength, steel racks may suit you. Few steel racks are not strong, the majority of them are. Good ones are coated with black powder to protect against rust. Nevertheless, they will rust over time. If you prefer them, get paint in hand to re-coat frequently.
Durability
Every ladder rack is exposed to the elements when in use. You get rain, snow, wind, dirt, and all sort of things coming in contact with them. Therefore, durability is important. The most efficient racks are weather resistant, sturdy, and durable.
Aluminum racks are better for water/rain; steel is better for strength. A mix of both is great. Also, check out bar strength. Any rack that bends under well-distributed and manufacturer-recommended weight is a no-no.
Product Price and Warranty
Always buy a ladder rack that you can afford. Although a higher price may indicate better materials and construction, there's no use salivating if you can't afford it. A cheaper model may not last longer than two to three years due to rusting and heavy corrosion, but you should get some good time out of them before that.
There are exceptions though; some cheaper models end up lasting longer than more expensive ones. Regardless, I believe this factor comes first in things to consider before choosing a ladder rack.
Product warranty is another feature. Most people ignore it, but you know this now, so don't. Rola offers up to five years warranty on most of their products. You may not get this from other manufacturers, but a warranty of one year and above is good to have. That way, if you face an issue with the rack during the warranty period, you are covered.
Now that you know the important factors that should guide your purchase decision, you need to know the types of ladder racks in the market.
Types of Ladder Racks
Over-Bed Racks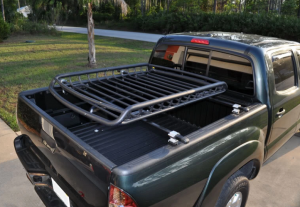 Over-bed racks are the common types you would see for trucks. They provide an easy solution to lift weight right above your truck with some of them exceeding 1000 lbs in weight capacity. You can either mount them using bolts in drilled holes or clamps.
Over-Cab Racks
Over-cab racks provide ample space and protection for your truck. With them, you can carry multiple long items without contact with your vehicle. However, they bring certain issues in terms of flexibility.
Although a few of them come as extensions that can be removed, most of them come fixed. That also affects adjusting the rack bars in most models. Assembling them also takes more time than the average over-bed rack
Side-Mount Racks
Side-mount ladder racks are great for carrying long items. Your items perch on one end or both ends if you prefer. However, you can't use them to carry much due to their build. Some items cannot be fixed on them as well. The things you can carry with them are carpet rolls, ladders, and pipes. Few accept lumber. They can shoulder up to 500 pounds of that weight.
Van Racks
Van racks are for vans. If the inner space of your van isn't sufficient, you can fit them on your rain-gutter and be on your way. Your wagon supports the weight of your load with roof strength. Like truck racks, you can tie-down your luggage. Most models are adjustable to fit the width of your van.
Conclusion
Your van and truck tick good boxes for cargo carrying already, but we both know that they are not sufficient in every case. Fitting them with the right ladder rack makes our trips easier. I have explained the factors you should look out for and why. You also know the best racks on the market as well as the types.
As you get and install them, pay attention to laws in your country; for example, in Australia, you can't have them on your vehicle when you're not using them. Check out what your government says about that.
If you have any questions, let me know.