Traveling in an RV is the epitome of Ralph Waldo Emerson's "Life is a journey, not a destination." For those who cannot but heed the call of the road, RVs and motorhomes are a great way to spend the time, whether it's just over the weekend, a couple of weeks, a month, or the whole summer, and, yet, despite being practically on the move the entire time, people still want to enjoy the activity, freedom, and peace of a bike ride, to enjoy the scenery in a way no motor vehicle can ever hope to match (yes, this includes motorcycles). And this is precisely where an RV bike rack comes into play.
Our Pick!
Swagman Traveler XC2-RV2
The Swagman Traveler is a quality bike rack that is easy to use with multiple mounting options.
What Are The Different Types of Motorhome and RV Bike Racks
Life is a game of options, and with RV bike racks, it's no different. This list has two main factors to consider: bumper or ladder. The difference can seriously impact how you transport your bikes and how you might prevent damage to your RV and bikes.
As mentioned, there are a few options to consider when transporting bikes on your RV. And while this list focuses on the motorhome bike racks, we want you to know that there are alternatives, such as if your RV has roof rails or a hitch. Options aside, this list will guide you through choosing the best RV bike rack, so let us jump straight into it!
Warning!
Bumper and Ladder Racks have a chance to obscure your vehicle license and may land you a ticket.
The Best RV Ladder Racks
A ladder-mounted rack is more versatile than a bumper rack, being able to fit most variants of RV (that have ladders). These racks may also let you attach a trailer, depending on the length of the trailer tongue and whether your hitch is free of obstructions.
1. Thetford Universal Ladder Rack
Capacity:
1 Bike – 50 lbs Total
Dimensions:
23.5 x16.5 x3.5 Inches
Nothing is more satisfying than lying in bed after a hard day's work and knowing you've got the maximum bang for your buck. That satisfaction will be satiated with the multi-use functionality of the Thetford Universal Ladder Rack.
This ladder rack can carry bikes, chairs, and even portable waste toes, making it an excellent solution for those who need to utilize every bit they can. The rack is made of lightweight aluminum and, as such, is corrosion-resistant and has a carrying capacity of 50 lbs.
This rack has a straightforward installation process using metal brackets and screws and comes with an 85″ Nylon strap to further secure your cargo. The rack weighs only 5 pounds, and for a ladder rack, that's pretty standard but a bonus when traveling in an RV.
Overall this rack is highly rated for its versatility, but as with all 'Jack of all trades,' it may not have the same strengths as racks designed specifically for bike transportation. It's up to you to balance your needs, but in the end, this sturdy rack holds up with some of the best.
2. Camco RV Ladder Mount Bike Rack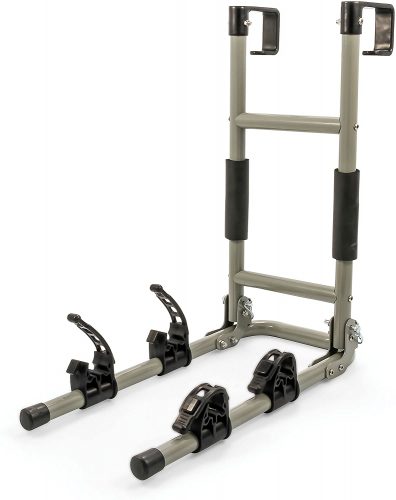 Capacity:
2 Bikes – 60 lbs Total
Dimensions:
23 x11 x3.7 Inches
The Camco RV Ladder Mount Bike Rack is a stalwart of RVs with a ladder and a dire need for convenience. Its form-to-function construction perfectly fits almost any ladder rack currently on the market and is attached to an RV. This rack currently has excellent reviews, and one thing that stands out is its ease of storage when not in use due to its folding nature.
The cradles of the rack hold your bikes firmly, so they neither damage your vehicle nor wobble when traveling at high speeds, a feature made possible by its solid construction and foam handles. This rack holds two bikes up to a weight of 60 lbs.
Another great feature of this rack is its soft-grip handles, ensuring you don't chip the paints of your bikes while transporting them. One point to look out for is that a few rack users have not followed the instructions and have installed the rack below the bumper rather than above it, as indicated.
Incorrect installation will cause damage to your bikes if you tow a trailer and make any sharp turns. So ensure you read and install the rack correctly, or you may witness some unnecessary bicycle carnage.
The Best RV Bumper Racks
A bumper-mounted rack does exactly what it says on the box – it attaches directly to the bumper of your RV. Some bumper racks require a specific shape bumper (usually square but sometimes round), so be sure to double-check the required bumper specs before purchase! These racks also have the potential to prevent the attachment of a trailer and obscure your license.
3. Swagman Traveler XC2-RV 2
Capacity:
2 Bikes – 35 lbs Each
Dimensions:
5 x35 x11 Inches
Regarding bike racks and carriers, there's one name you'll keep coming across repeatedly – Swagman, and with good reason. They are one of the major players in this niche market, and they're giving their best to justify and maintain that reputation. Their aptly named Traveler CX2-RV 2 Bike Carrier does a great job in this regard. Of course, as we've grown accustomed to seeing from Swagman, the rack comes with a limited lifetime warranty.
As you might've guessed, the rack mounts on 4–4.5-inch continuously welded bumpers (using the bumper adaptor) or any 2-inch class 3 hitch receiver (without the bumper adaptor). This gives you excellent versatility in mounting choices, which, although it may not seem as much, does count when you're looking to use every available inch of space, as is the case with RV trips.
You can mount up to two bikes on the Traveler if they weigh no more than 35 pounds each. They mount horizontally, of course, without detaching the front wheel. For this purpose, the rack features sliding wheel hoops that can accommodate any wheel between 20 and 29 inches and push-button ratchet arms that adjust so that they clamp onto the bike, securing it in place. Don't worry; the arms have padded hooks that don't mar the finish on your bike's frame.
4. Swagman 2-Bike RV Bumper Rack
Capacity:
2 Bikes – 30 lbs Each
Dimensions:
26.5 x21 x2.5 Inches
The Swagman 2-Bike RV Bumper Rack does what the name promises and much more. It's a bumper-mounted model, able to fit any square bumper with 4 to 4.5 inches to a side. It installs around the bumper using 6.5 and 8-inch long bolts. If you're worried the rack won't survive the stress, don't be. The frame is made out of heavy-duty steel, painted in black, and powder-coated to resist corrosion. The bolts used to secure it in place are also heavy-duty steel.
As the astute readers may have already guessed, the rack packs up to two bikes, provided they weigh no more than 30 pounds each. It should fit most any bike, from the road to mountain and hybrid, as well as all frame and wheel sizes. There's even an upright bar in the center of the rack designed to give your bikes additional support and keep them stable while towing.
Of course, you can always use a cable lock, just to be sure the bikes won't wobble, as well as to dissuade the five-finger-discount folks. Although, honestly, when you compare the price the rack is going for and the quality you're getting, buying it is practically a steal, so we shouldn't be pointing fingers just yet.
5. Quick Products RV Bumper 2-Bike Rack
Capacity:
2 Bikes – 30 lbs Each
Dimensions:
22 x3 x26 Inches
Let's continue with our list on a more serious note – with the Quick Products RV Bumper 2-Bike Rack. This thing is everything it promises, though finding a bit more never hurts anyone. It is made of heavy-duty steel, with a powder coating for corrosion resistance and tire wells to hold your bikes securely without bumping against your vehicle.
It attaches to a 4 to 4.5″ square bumper and packs the convenience of an adjustable strap system that allows any bike length to fit on it. Besides its sturdy design, the Quick Products RV Bumper 2 has a weight capacity of 30 lb. per bicycle.
One downside is the rack will not fit fat-tire bicycles and bikes with over 29″. Another benefit to the tire wells is that it contains a stabilizer post that allows for less shaking and the potential to damage both your vehicle and your bike.
The Best RV Spare Tire Racks
This rack conveniently fits over your Motorhome's spare tire but secures onto the bumper. This, more often than not, prevents you from attaching a trailer. These racks generally carry two to four bicycles and, of course, require a spare tire.
6. Swagman RV Spare Tire Deluxe Bike Rack
Capacity:
2 Bikes – 35 lbs Each
Dimensions:
34 x12 x26 Inches
Along this list, you might begin to notice a trend, and that trend is Swagman. There's a reason their products feature so numerous, precisely because they are rated excellently and are highly sought after.
The Swagman RV Deluxe is the older brother of the Swagman Mighty Rack, also found on this list. Unlike its little brother, the Deluxe went to the army straight out of school, beefed up, and learned a few new tricks. Jokes aside, the Deluxe is a fantastic continuation of the Mighty rack with better, new, improved, anti-sway cradles that prevent damage to your bikes or the vehicle.
This rack wraps around your spare tire but attaches to a 4 to 4.5″ bumper. All hardware needed for installation is included, which is pretty great regarding racks, especially when you find yourself ready to go and lacking the tools to attach the device.
Finally, the greatest compliment this rack receives is its lack of shakiness, reducing the chances of scratching your bike and vehicle. Overall, the Swagman Deluxe is a must-have for the convenience of carrying bikes.
Buyer's Guide – What To Know When Buying A Bike Rack for Your Motorhome or RV
Transporting bikes with an RV brings its own unique set of opportunities and challenges. In this buyer's guide, we'll explore some important considerations when buying a bike rack for your motorhome or RV.
Durability
Ensure you purchase an RV rack made of a material strong enough to withstand long trips and heavy loads. You're more than likely to be carrying between two to four bikes on your RV rack, and because of the long journeys and constant weight, it will be imperative that you invest in a rack that is made of a material that you can trust not to break while traveling. The most common location for rack durability issues lies in their straps, hinges, and clips – choose a rack with reliable parts.
Stability
Another factor to consider is whether or not the RV rack you're interested in has an anti-rattle (sometimes anti-wobble) feature. It is general advice that your bike rack should not wobble, as this increases the chance that its attachment to your vehicle will become loose. Still, with an RV bike rack, this risk is increased as the journeys are likely much longer and, therefore, at greater risk of a constant wobble detaching your rack. If the rack you're interested in does not feature such a device, be aware of these implications.
Compatibility
Consider if you'll need to tow from your hitch or bumper, and then keep that in mind when looking for a motorhome rack. While some motorhome racks allow access to the rear bumper and hitch, not all do. Get your vehicle's specifics before you rush into any purchase, and then cross-reference with the compatibility of the rack you're interested in buying. Compatibility issues are common with rushed rack purchases.
Load Requirements
What you need in a bike rack may differ from what your neighbor needs. Load requirements are one of these areas. You may need only a single bicycle or something for the whole family. Ensure you get a rack that caters to the load you require; sometimes, it's even worth grabbing something with some additional space if you or your children are prone to having friends along.
Similarly, take note of the weight capacity of the rack you're interested in and ensure that it can withstand the weight your bikes would add. Some racks are better suited for lighter bicycles, while others are built more rugged and offer more weight capacity.
Ease Of Use
Some bike racks require heavy lifting to pack and aren't suitable for everyone. You should carefully consider your physical limitations and how that will impact the rack you're looking to buy. Racks higher up on the vehicle can be challenging to pack or unpack. One must also consider the installation practice, as no one enjoys struggling with an installation.
The following video will show you what to expect when installing a bike rack on an RV/Motorhome.
Think Of Storage
It may not be our immediate concern when shopping online, but bike racks can take up a lot of storage space, and it's a consideration one needs to take care of. Some racks will fold up and offer easy storage options, while others can be more tricky. Ensure you get a rack that can be easily stored in your garage.
Frequently Asked Questions
Will I be Unable to Access My RV parts if I'm Using a Bike Rack?
That depends on the type of rack you're using. If you're using a ladder rack, you'll not have access to the roof, but depending on where the ladder is situated, you may not have access to your rear hitch. A bumper rack obstructs your ability to tow as well (usually), but in that case, it may be worth considering a front bumper rack (make sure it doesn't obscure your vehicle license!)
Are There Any Security Concerns with an RV Bike Rack?
Like most generic bike racks, RV bike racks differ in whether they include a locking mechanism. Sometimes racks can be made for utility without security, but always have your lock to secure the bikes to the rack or vehicle, if possible. In some cases, it has been reported that when a rack attachment has failed during travel, usually due to incorrect installation, the bikes have been saved only by the extra locking mechanism of the owner.
Do RV Bike Racks Present Unique Challenges When It Comes to Vehicle/Bike Damage?
Most vehicle-mounted bike racks tend to present the same challenges. There is always the threat of your bikes scratching each other if they are packed too tightly together on a rack. Cutting a pool noodle to fit over your bike's frame often solves this but may prove difficult to apply if the rack attaches to the bike's frame. In that case, using strips of cloth around the exposed frame may do the trick. Many racks, such as the RV ladder rack, feature padded clamps that hold firm while reducing the risk of scratching. This is something to look for when looking to purchase a rack.
It generally comes down to common sense; if you can see that the rack wobbles or doesn't feature an anti-rattle device, there's a good chance the shaking could make the bikes scratch your vehicle and each other or even detach from the rack while traveling. In this case, there is either a problem with the rack, a poor installation, or you've bought a rack unsuitable for your vehicle. You must purchase a rack that fits well and doesn't shake. If you already have a rack that shakes, you can do your best to maintain it but stop every 100 miles to retighten and secure it.
Is it Possible to Tow From an RV Bumper Rack?
That depends on if you have a bumper-mounted hitch and if that hitch does not interfere with the operation of the bumper bike rack. It is advised only to attach a trailer in the way that your trailer is meant to be connected, which will be clearly outlined in its manual. If you've lost the manual, Google the trailer's product code for the online version.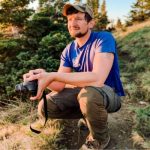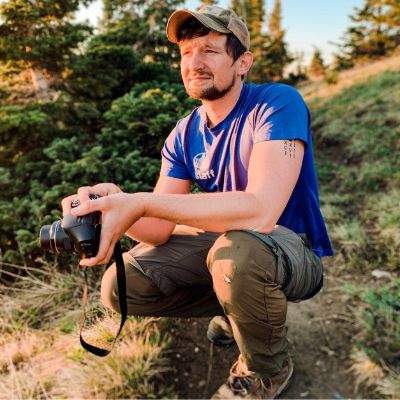 Timo is an outdoor enthusiast and gear specialist who is constantly exploring. As an avid hiker, he has completed the ADK 46ers, South Beyond 6000, GA4000, and the Colorado 14ers. He's ice climbed Mt. Hood, hiked up half a dozen mountains in the Alps, and spent three consecutive summers constructing a sustainable trail through the Colorado high country.