Transporting bikes to distant trailheads can be stressful, especially if it's a group outing. Using hitch mount bike racks will significantly reduce the hassle of shoving multiple bikes into your car or dealing with the limited carrying capacity of roof racks. 
If you plan to transport many bikes regularly, consider investing in a useful and economical 5-bike hitch rack.
Our Pick!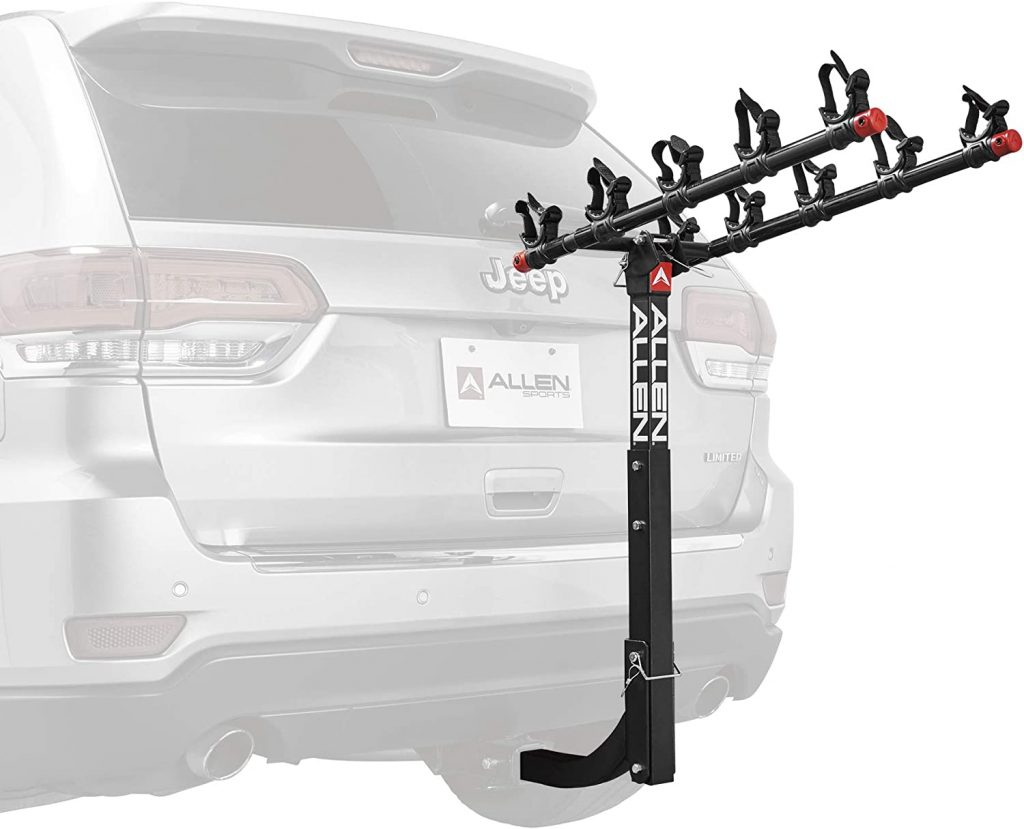 Allen Sports 5 Bike Hitch Rack
Allen Sports 5 bike hitch rack offers great value for those who want to safely and securely transport up to 5 bikes. Sturdy enough to support a maximum weight of up to 175 lbs, it can fold flat to be compact enough for convenient storage. This is the perfect 5-bike rack for a family of cycling enthusiasts.
Our Winners
Best Overall
Winning our best overall award is the Allen Sports 5 Bike Hitch Rack. It's a versatile bike rack made from strong materials and available for a great price. This is the best choice if you want a top-quality option without breaking the bank.
1. Allen Sports 5 Bike Hitch Rack
Hitch Receiver Size:
1.25″ and 2"
Dimensions:
30″ x 17″ x 5″
Some racks are made from aluminum, which is a weaker metal. Alloy steel is stronger and more durable, which adds considerable value over time. With a product weight of only 20 pounds, the Allen Sports 5 bike hitch rack is the lightest rack on our list. The reduced weight makes installation and removal even easier.
Notable Features
Versatile hitch size: The hitch component of the Allen Sports 5 bike hitch rack is versatile and can accept hitch receivers of both 1.25 and 2 inches. This allows the rack to mount to a wider selection of cars and trucks.
Convenient tilting feature: The best bike racks have a tilt or lever function that allows the rack to fold away from the trunk. With the extra space of a tilt-away feature, you can easily access your trunk while bikes are still loaded onto the rack.
Great Pricing and Value for Money: While there are many sturdy bike rack options, few offer the durability and capacity of the Allen Sports 5 bike hitch rack at less than $200. This is a fantastic price for a sturdy, high-capacity bike rack.
Notable Concerns
Some loading maneuverability required: It is possible to fit five bikes onto this rack. However, it is a bit of a tight fit. The bikes are positioned quite close to the trunk, and in my opinion, not all bike varieties will fit perfectly.
Why Should You Buy It?
Allen Sports have a steadfast reputation for manufacturing high-quality, durable, and practical transportation solutions. It can safely and securely carry a load of 5 bikes over short or long distances. If you're looking for an affordable 5-bike carrying option that still delivers quality functionality, the Allen Sports 5 bike hitch rack is a great place to start.
The Best Runner Up
My choice for the best runner-up is the Yakima RidgeBack Tilt-Away bike rack. This 5-bike hitch rack is dependable, fully assembled, and easily installed. Like the Allen Sports hitch bike rack mentioned above, Yakima is known for delivering high-quality, functional products, albeit at a steeper price tag.
2. Yakima RidgeBack Tilt-Away Hitch-Mounted Bike Rack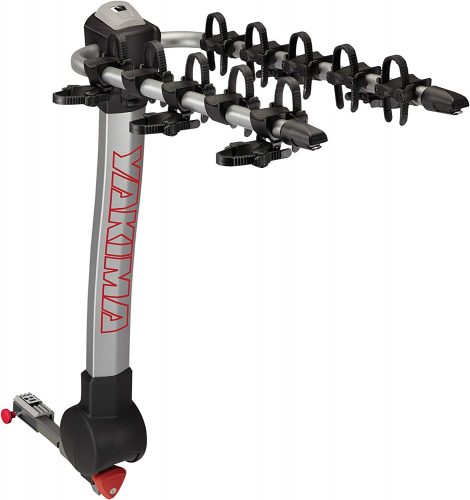 Hitch Receiver Size:
1.25″ & 2"
Dimensions:
12.2″ x 16.14″ x 45″
The Ridgeback is notable for its useful and convenient tilt-away design, providing easy access to my vehicle's trunk, even when the bike rack is loaded at full, 5-bike capacity. It is specifically designed to fit traditional geometry bikes, so my bikes that have slanted top tubes didn't fit properly. I recommend getting a tube-top adapter if you are in the same situation. Another small but useful design is that the Ridgeback has a lever that enables you to fold it flat when it's not in use. Low-profile storage is a very underrated feature.
Notable Features
Versatile hitch size: The Yakima Ridgeback 5 bike hitch rack can be attached to a hitch receiver size of 1.25″ or 2 inches. This versatility expands its compatibility with different types of vehicles, which is great since I can attach this to my hatchback and my crossover SUV.
Convenient tilting feature: Like the Allen Sports and many other hitch bike racks, the Ridgeback can tilt away from the trunk of the car, making it possible to access it even with all five bikes loaded.
Speed knob for extra security: A useful feature is the speed knob that locks the bikes securely into the rack. When tightening all five bikes, I was pleasantly surprised at how secure the bikes were. There was very little wobbling over higher speeds and uneven driving terrain. This is the kind of experience and standard I expect from Yakima, and the Ridgeback does deliver.
Anti-sway cradle and removable ZipStrips: These straps are thick and lock into place solidly, securing the bikes to the rack, while the anti-sway cradles prevent the bikes from coming into contact with each other. Even on more uneven terrain, the bikes stayed firmly in place, with no frame contact.
Notable Concerns
May need an adapter for larger-sized bikes: Loading five standard road bikes onto the Yakima Ridgeback was doable with a bit of maneuvering. However, I had a more challenging time trying to load mountain bikes. I didn't have five mountain bikes to load, but getting five bikes attached to this bike rack might only be possible with an adaptor or some creative configuration.
Expensive: Yakima and its close competitor, Thule, are known for being in the more expensive price range. I appreciate Yakima's products, and I trust their craftsmanship and quality. However, their price tags might deter many people.
Why Should You Buy It?
The Yakima Ridgeback ticks all the boxes regarding looks, design, quality, and functionality. It is made to have quick and efficient handling. Loading and securing the bike are effortless thanks to the quick, secure straps and dual compound cradles. And for a 5-bike rack, the carry arms fold away quickly, making the rack very discreet when unused. If you're happy to fork out around $450 for a bike rack that can transport five bikes, then you can't go wrong with the Ridgeback.
Best Hanging 5 Bike Rack
Thule has a longstanding and trusted reputation for outdoor and transportation-related products. Their workmanship is associated with high-quality standards, durability, and effective functionality. The Thule Apex XT hitch rack is one testament to the brand's exemplary reputation. The Apex XT is among the best hanging bike racks due to its superior anti-sway cradles, stability, and durable integrated cable locks.
3. Thule Apex XT 5 Bike Hitch Rack
Dimensions:
42″ x 11″ x 37″
Unlike tray-style hitch bike racks, hanging bike racks cannot support the same weight, especially for a four or 5-bike hanging rack. However, I had high expectations regarding the Apex XT, and I am happy to say that it handled the weight of 5 different-sized road bikes quite well. I wouldn't recommend exceeding the 150-pound weight limit, as even Thule's products aren't invincible. The Apex XT is also perfect for vehicles with a 1.25″ or 2″ hitch receiver.
Notable Features
Convenient tilting feature: I think this is a standard expectation of hitch bike racks to be able to tilt or sway away to provide access to the vehicle's trunk. Even more so when the bike rack is fully loaded, as with the XT. I could still open the trunk on my hatchback and SUV crossover with five bikes locked and loaded to the bike rack. The rack's arms also fold down, just like the above-mentioned Yakima and Allen Sports, making the rack more discreet, which I find very appealing.
Superior anti-sway cradles and ratcheting straps: There is about a 5.5-inch space between the bike cradles, which makes it possible to fit a relatively wide variety of bike frames and sizes onto the rack. The cradles are relatively thick and do a great job preventing bike-to-bike contact, especially on the road and while driving at higher speeds.
SnugTite Stinger tool-free installation: The Thule Apex XT requires no additional tools for the installation process. The SnugTite Stinger perfectly stabilizes the bike rack and locks it securely to the vehicle.
Notable Concerns
Instructions aren't user-friendly: The assembly and installation were a bit of a hassle. Thule's "pictures-only" instructions with the Apex aren't as easy to decipher as some competitors. This makes me frustratingly Google a few things to set everything up correctly.
Expensive: Yakima and its close competitor, Thule, are known for being in the more expensive price range. I appreciate Yakima's products, and I trust their craftsmanship and quality. However, their price tags might be a deterrent to many people.
Hold-down ratchet straps can be tough to release: I had to try to pivot them away to create enough space to release the straps. I would also recommend buying additional wheel straps to use during transportation. The single tie-down strap isn't enough to keep all the wheels steady when driving, especially at higher speeds.
Why Should You Buy It?
Apart from the price tag, this is a typical Thule product that delivers what is expected; full access to the trunk while all bikes are mounted and a very secure fit due to the high-quality twist knob. The rack is quite burly and heavy, giving the impression that it is built to last, so with that in mind, I can almost justify its $480 price tag. Longevity and durability.
Best Tilting 5 Bike Rack
The dependable Yakima FullTilt 5 bike hitch rack is another exceptional product from the ever-popular Yakima brand. An easy-to-use tilting feature and discreet fold-down ability tick two of the most important hitch bike rack boxes. It is this superior tilting design that sets it apart from its competitors.
4. Yakima FullTilt Tilting Hitch Mount Bike Rack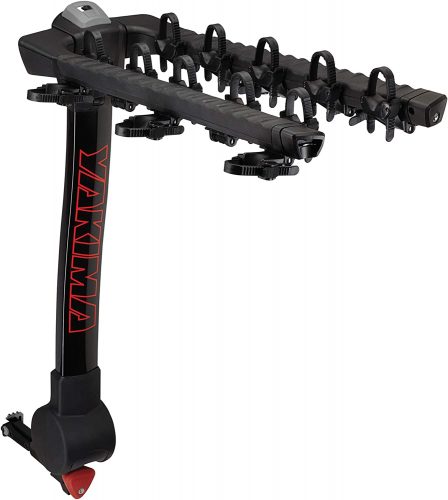 Carrying Capacity:
150 lbs
Dimensions:
12.2″ x 16.2″ x 44″
Like the Yakima Ridgeback, the FullTilt is fully compatible with bikes with a traditional geometry frame. This is attributed to Yakima's overall bike rack design, and should you own a bike with slanted top tubes, I would strongly suggest investing in a TubeTop adapter. The Yakima FullTilt is also perfectly compatible with 1.25″ and 2″ hitch receivers.
Notable Features
Made from high-quality material: Yakima's reputation is built on the expectation of high-quality materials and production standards. The FullTilt is made from high-quality alloy steel. When handling the bike rack, it feels strong and sturdy. Especially the tilting mechanism. No flimsy pivoting such as can be found with other lesser-quality products. Bonus points for no assembly required, as I received it fully assembled straight out of its box.
Smart tilt design: The UpperHand lever easily tilts the rack downwards to make the trunk accessible. With some other competitors, the tilting motion sometimes feels unstable, like it might snap after a couple of months of regular use. However, the Yakima FullTilt's motion is smooth and solid. Attaching the rack to the hitch receiver is also effortless, as the built-in AutoPin positions and secures the rack to the receiver automatically, so it took little to no effort on my part at all. Like any great hitch bike rack, the FullTilt folds flat for low-profile storage.
Tool-free locking SpeedKnob: This feature makes installation even more efficient. I was very happy that the SKS cable lock system was included, which is a fantastic benefit regarding anti-theft measures.
Rubber-padded arms for protection: The padding on the bike rack arms is quite thick. The arms are wrapped in this rubber material, protecting the bikes from scratches and damage during loading, unloading, and transportation.
Notable Concerns
Adapter needed for certain bikes: The rack does an excellent job securing frame geometry bikes. If you have a bike with a slanted top tube (kids' or mountain bikes), you must buy an extra adaptor to make it work.
Expensive: Like Thule, Yakima products are some of the industry's best, and the price reflects this. At $500, this is not for everyone.
Why Should You Buy It?
Compared to the above-mentioned Thule Apex and Yakima Ridgeback, the FullTilt is equipped with some features that neither of the other two has. The FullTilt comes equipped with locks and fully adjustable cradles. The ZipStrips that secure the bikes in place are also new and revolutionized, much more efficient than the straps that come with the Thule Apex. The outrageous price tag can be better digested when considering that this bike rack offers you many years of use.
Additionally, for those who travel with their bikes often, the 3-point mounting system is extremely secure, and the bikes will not move an inch during transportation, I promise you! Overall this is a fantastically designed 5-bike hitch rack; it carries a variety of bikes without much effort, and its build is high-quality and durable.
CURT 18065 Premium Trailer Hitch Bike Rack Mount
Like Yakima and Thule, Curt has been making great towing and storage solutions for years. Their products are usually a little less expensive as well. The Curt 18065 Premium hitch bike rack is a solid honorable mention for its affordability, superb loading capacity, and practical design.
5. Curt 18065 Premium Hitch Bike Rack
Carrying Capacity:
225 lbs
Dimensions:
40″ x 9″ x 18″
With an impressive 225-pound carrying capacity, the Curt 18065 can handle significantly more weight than comparable options such as the Thule Apex or Yakima Ridgeback. Its two tapered arms make fitting multiple bikes of varying sizes much more efficient. I loaded a full-size mountain bike, two teen mountain bikes, and two BMX-style kids' bikes, with some maneuverability.
Notable Features
Versatile hitch size: The Curt 18065 is compatible with a 1.25″ and 2″ hitch, making it a good fit for most general vehicles. I had no trouble fixing it to my hatchback or crossover SUV. If you have a vehicle with a 1.5″ receiver or larger, I recommend buying an adaptor.
Impressive loading capacity: The CURT 18065 can handle significantly more weight than comparable options such as its Thule, Yakima, or Allen Sport competitors. With a 225-pound maximum weight capacity, the 18065 has a considerable heavy-duty edge over its competition.
Affordable: While top-of-the-line bike racks certainly have their benefits, they should grab your attention when you find comparable material and durability in a rack that's half the price. The Curt 18065 hitch bike rack is much more forgiving on your wallet and more on par with the Allen Sports hitch bike rack. I believe this is a much better buy in terms of value for money than its Thule and Yakima competitors.
Notable Concerns
Extension pieces: I found that a vehicle with a spare tire on the rear may not be a fully compatible fit with the Curt 18065, and therefore I would suggest that if this is the case, you should buy an additional extension piece. Without one, there is a possibility that the loaded bikes might come into contact with each other during transportation which can lead to frame damage.
Not the best for larger bikes: This bike rack suits small and medium bikes better. Even with the 225-pound weight capacity, trying to fit larger bikes, such as mountain bikes, alongside kids or standard road bikes is quite challenging.
Why Should You Buy It?
I wanted to include the Curt 18065 as it's a solid contender if you're looking for a 5-bike hitch rack. Although it's not as solid in construction as the Yakima FullTilt or the Thule Apex, the Curt is still capable of getting the job done with a much higher weight capacity than most hitch bike racks. What I appreciate about the Curt 18065 is that it has integrated reflectors for improved visibility.
My bike rack was rear-ended a couple of years back, and this small touch of reflectors is a fantastic benefit. Also, a small design detail is that the bike rack has a durable black powder-coated finish to protect it from corrosive external elements such as rain and dirt. The Curt 18065 hitch bike rack might not be the top tier of 5 bike hitch racks, but it comes pretty close to ticking all the boxes in terms of design, quality, and functionality. Not to mention its very affordable price tag of $209.
Buyer's Guide for a 5-Bike Hitch Rack
Before settling on a bike rack, a few pieces of information are worth considering.
Hitch Bike Rack Style
There are two main types of hitch bike racks, and both utilize a hitch attachment to mount onto the back of your vehicle. The first is a platform-style rack. Bikes are anchored on trays, with the wheels fitting into grooves and multiple attachment points holding them down. This kind of rack can significantly increase the length of your vehicle, so pay attention when backing up or making abrupt turns.
The second style is a hanging bike rack, sometimes called a mast bike rack. These racks have arms that attach to the bike by the frame instead of the wheel. Generally, they're more compact and less expensive than platform racks. These racks can fit up to 5 bikes but won't accommodate all bike shapes, which limits their overall application.
Hitch Size
The hitch size is important because that's what attaches these racks to your car. Usually, a bike rack comes in a few sizes, like 1.25 or 2 inches. The hitch receiver (on your car) must have a square or rectangular shape to accept the bike rack. You then tighten everything down to prevent excess wobbling. Pay special attention to which hitch sizes a certain bike rack takes; not all are compatible with all vehicles.
Wheel and Tire Size
Each 5-bike hitch rack comes with a set of instructions and specifications. One of those specifications is the wheel and tire size range for bikes. Above or below this range, the rack won't hold onto the bike as securely. Make sure to check your tire size and compare it to the range that a rack can hold. If the two align, all is well. If they don't, it may be beneficial to shop around a little more.
Vehicle's Ground Clearance
Because Hitch Racks connect to the hitch receiver and hang behind the vehicle, they need a good amount of ground clearance. Mast-style racks already have a bit of sway, so when loaded down with the weight of multiple bikes, the rack may sink lower to the ground.
A vehicle with 9 inches or more of ground clearance should be able to handle most racks. Even still, drive slowly on dirt roads, and be aware that kicked-up rocks, debris, and occasional bottom-outs can occur. Always check your bike rack after a trip out. If there is cosmetic damage, go over it with a new coat of paint to prevent rust issues.
Installation and Removal
A 5-bike hitch rack can be anywhere from 20-50 lbs. fully assembled, so an easy installation process is something to look for. While most brands will never claim that installation takes longer, some models certainly demand more time than others. The options presented in this list should be assembled and installed within an hour.
Because the racks can be heavy, there is a risk of injury. To stay safe, make sure you can lift the rack correctly or use a friend's help. It's also a good idea to take a test run without any bikes loaded to see how the rack sits.
Trunk Access
Tilt-away features are popular for a reason. Humans are a forgetful bunch, and sometimes we need access to the trunk without the annoyance of taking the entire rack off the car. All the selections in the list have some tilt capacity, enough to access your trunk.
Folding Capability
While bike racks are helpful, they are rarely installed and left on a car for long periods. At some point, you'll want to store it for the winter or off-season. A rack that can tilt and fold to half its original size is perfect for storing. The foldable capability makes storing the rack easy without needing much space.
Security Features
Some five bike hitch racks have added security features like an integrated locking cable. This cable locks the bikes to the rack. However, you want an extra lock for the hitch receiver to secure the entire apparatus. If the rack you choose doesn't come with security additions, it doesn't mean it's a bad product. Think about where you live and whether or not bike theft is an issue. If it is, get a set of extra cables or locks to give you peace of mind.
Frequently Asked Questions
Will a 5-Bike Hitch Rack Hold Five Bikes?
Yes, but with caveats. You cannot make the arms of the rack longer, so the last bike on will also not be secured. If you have a family with different size bikes, you'll have more success setting the bikes onto the rack. However, if you have five full-size bikes, getting them all to fit on a five-bike hitch rack will be difficult.
What Type of Hitch Do You Need for a Bike Rack?
To use a hitch rack, you need a hitch. Roof and trunk racks do not need hitches. Generally, you want a square hitch receiver shape that can accept 1, 1.25, or 2-inch square hitch shanks. Ball mount hitches are mostly used for towing trailers. Bike racks can slip into square hitch receivers much easier than ball mount hitches.
Should I Cover My Bike When Traveling?
Yes. Weather is unpredictable. If it's going to rain or snow, it helps to cover bikes. Additionally, it's a good move for very hot temperatures and an extra layer of protection from rocks that passing traffic could kick up.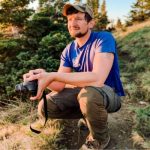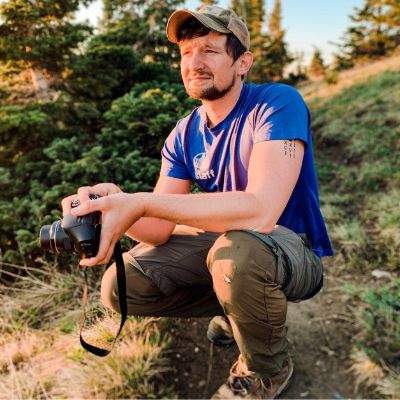 Timo is an outdoor enthusiast and gear specialist who is constantly exploring. As an avid hiker, he has completed the ADK 46ers, South Beyond 6000, GA4000, and the Colorado 14ers. He's ice climbed Mt. Hood, hiked up half a dozen mountains in the Alps, and spent three consecutive summers constructing a sustainable trail through the Colorado high country.