Bikes can take up a lot of space. Getting a bike rack for your car is a great option that solves the issue of the trailhead, but where do you store bikes when you're not using them? Indoor bike racks or garage racks are the perfect solutions.
Indoor bike storage, like a discreet and practical bike wall hanger, is generally simple to set up, takes advantage of unutilized space on your walls, and keeps your bikes safe for the off-season.
Our Pick!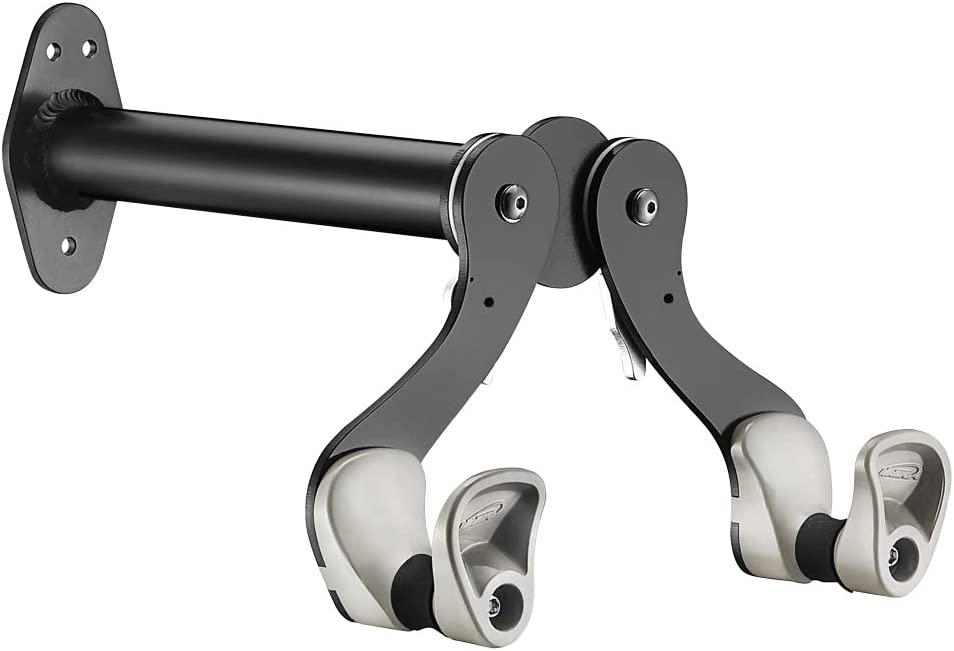 Ibera Horizontal Bike Wall Hanger
The Ibera wall hanger's arms can be adjusted to a convenient 45-degree range of motion, so I could easily raise or lower both ends of the bikes according to their sizes. The little holders that connect to the bike's frame are also adjustable, making it possible to create a wider or narrower fit, depending on the bike's frame.
Our Winners
Best Overall
This sleek-looking, adjustable-frame bike hanger gets my best overall vote, not only because Ibera is a fantastic brand, but because their products are well-designed and high quality, and it shows. The Ibera Horizontal bike hanger is a breeze to install; it's lightweight, has padded arms, and is a fantastic space saver, especially in apartments and smaller spaces. 
The Overall Design
The wall hanger is made from aluminum, making the hanger lightweight. It weighs only around 2 pounds. However, this means that the weight limit of the bikes that can be loaded onto it cannot exceed 39 pounds.
When hanging the bike, it is secured by its frame and supported by two ABS-padded arms holders. Ensuring that these contact points are padded will help to prevent wear and tear to the bike's frame as you load and unload the bike from the hanger. This is something that I have noticed happen over time with other bike storage racks.
Adjustability
The Ibera wall hanger's arms can be adjusted to a convenient 45-degree range of motion, so I could easily raise or lower both ends of the bikes according to their sizes. The little holders that connect to the bike's frame are also adjustable, making it possible to create a wider or narrower fit, depending on the bike's frame.
The hanger's beam is also adjustable up to 12 inches. This provides a wall-to-frame distance of around 14.8 inches.
This gives the storage rack some versatility as it can fit road and mountain bikes or bikes with a non-standard frame design.
Is It Easy to Install?
Installation is quite easy. Nothing much more to say about it.
If you're mounting this bike hanger onto a masonry or concrete wall, I recommend using anchors. This will secure the hanger better.
I highly recommend not mounting this hanger to drywall without a wooden stud placed behind it. Without it, the drywall will not be strong enough to support the hanger and a bike.
The Price Tag
Regarding the pricing for a bike hanger, this one isn't the cheapest. There are more affordable, budget-friendly options. However, I feel content with spending $36 on this hanger due to its versatility, quality construction, and trust in the Ibera brand. This isn't a fly-by-night product; you'll get your money's worth.
Any Extras?
The wheel anchor strap is a nice addition to the Ibera bike wall hanger. This is just a velcro strap wrapped around the front wheel and the bike's frame to secure the wheel and prevent it from possibly swinging to the side.
This isn't something I would use since I feel it takes away from the overall aesthetic of hanging the bike on the wall as a display piece. However, it is a nice-to-have nonetheless, especially for traveling purposes.
The Best Runner Up
The Vibrelli bike hook is the best runner-up after the above-mentioned Ibera bike hanger due to its consistent performance across a few metrics. Vibrelli has steadily built a reputation over the last few years, competing against established brands and holding its own quite well. Besides this wall hanger's durable and adjustable design, Vibrelli provides a fantastic warranty and a maximum carrying capacity of 55 pounds.
2. Vibrelli Bike Wall Hook
Dimensions:
9″ x 15.7″ x 6″
Overall Design
Compared to the Ibera bike wall hanger, the Vibrelli isn't as sleek and well-designed aesthetically. It looks a bit clunky; however, it has a very solid steel construction and is finished with a black powder coating. This is a nice touch if you will be mounting it to an exterior wall that is exposed to damp or other weather elements and will help prevent rusting.
The bike hook is larger than I thought, but since it can support a weight of up to 55 pounds, that is to be expected. The cradles on which the bike's frame rests seem made from a strong yet semi-flexible plastic. They are compatible with both thin and fat bike frames. One thing that I did notice which isn't common on many wall-mount bike hangers, is that the bike cradles are designed with gussets that protect the bike's cables from being crushed underneath the bike's weight as it rests on the hanger.
The one design drawback is that this wall hanger is unsuitable for ladies or step-through bikes, as it cannot accommodate these bike frame designs unless you have a frame adaptor. Other bikes with a curved frame design, such as fat tire beach cruisers, are also a no-go. Regarding MBTs, long wheelbases or steep frames for downhill MBTs won't fit either. I found this disappointing and exclusive to many of the cycling community.
This bike hanger is great for standard road and mountain bikes, but if you have specialized bikes, the Vibrelli wall hook won't give you the versatility you need. The Ibera wall hanger would be a better consideration in this case.
Adjustability
The Vibrelli's adjustable design enables it to extend up to 15.7 inches from the wall it's mounted to. This works perfectly if you have wide handlebars of up to 31.5 inches. The arms are also height adjustable, but unlike the Ibera, the cradles cannot adjust, hence its incompatibility with curved bike frames.
What I did like about the Vibrelli's adjustable arms is that they can be locked into place with the brand's patented push button locking system. This is a nice modernized touch to the bike hanger's design instead of the general locking screws or push-down pins.
Is It Easy to Install?
Installation is relatively easy. However, if you're not DIY-inclined, the included written and video instructions are quite detailed.
Like the Ibera bike wall hanger, I would not recommend installing it directly onto drywall without a wooden stud or beam behind it for additional support. Your safest option would be concrete, brick, or masonry walls.
The Price Tag
Compared to the Ibera, which is my top choice, the Vibrelli is a bit more expensive. For its $45 price tag, I wouldn't expect it to have so many restrictions on bike frame compatibility. Vibrelli has made a fantastic bike hook with a heavy-duty design. I would say that this price seems fair if you have a heavier bike and are looking for a hook to support it. You can also get more value for your money somewhere else.
Any Extras?
As I've mentioned, Vibrelli has been successfully holding its ground with other competitors for a while now, with its products being known for reliability, high-quality performance, and durability. The Vibrelli wall mount comes with a 10-year manufacturer's warranty. The brand values its products greatly and ensures customers receive the best gear.
I also received a stabilizing wheel strap that keeps the bike's front wheel steady and prevents swinging to the side.
Best Budget Option
For its price and convenience, the Stalwart bike hook should be on anyone's radar who needs a quick, affordable solution to a one-bike storage problem. The mounting is easy, the bike hooks are sturdy, and the price is less than half what most other bike hooks go for. If you're on a tight budget, this is a solid solution.
3. Stalwart Bike Hook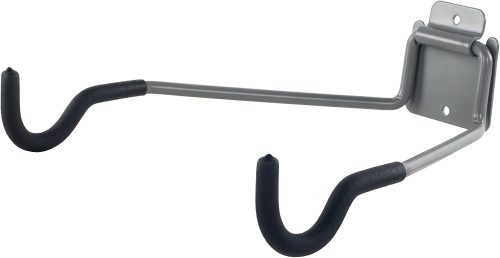 Material:
Stainless Steel
Dimensions:
12" x 11.5" x 13.2″
Overall Design
First off, don't judge a book by its cover. The Stalwart wall hook doesn't look like much, but it gets the job done surprisingly well. This bike hanger is made to be practical and functional, so if you're looking for something emphasizing looks and aesthetics, this isn't the wall hook for you.
The hanger is made from stainless steel, lightweight at around 2 pounds. The two hooks are covered with a soft EVA foam that protects the bike's frame from scratches and prevents the bike from sliding around on the hooks. The foam covering isn't too thick, so that it might wear out after regular use.
This little wall hanger might surprise you when it comes to weight capacity. It has a maximum weight capacity of up to 50 pounds. I was surprised and impressed at how solidly it held up a heavier bike.
The bike hooks extend outward to 13.25 inches. Keep this in mind if you have bikes with wide handlebars.
A truly ingenious design that is so practical and simple yet makes such a difference is the ability to fold this bike book upwards so that it is parallel to the wall. This is brilliant as it prevents the hooks from being bent or damaged. Since the cradle arms are quite thin and stick outward if the bike is taken off the hooks, it is easy to miss them and bump into them. I appreciate this design feature.
Similar to the Vibrelli bike hanger, this wall hanger can't accommodate curved bike frames.
Adjustability
Unfortunately, Stalwart has made this bike wall hanger functional because it is merely a wall-mounted hook to place your bike. No extra frills. The hook offers no adjustability in terms of bike frames. So specialized, curved bike frames won't work well with this wall hook.
Is It Easy to Install?
Installation is a breeze. There isn't much to it. All the necessary mounting screws are included. Again, I would not recommend mounting this to drywall without a proper wall stud for additional anchor and support.
The Price Tag
At $12.60, this is a top-choice budget option. Although it lacks in looks, versatility, and adjustability, it sure makes up for it with its practical functionality, durability, and carrying capacity. The Stalwart bike wall hook offers complete value for money for those on a tighter budget.
Best Heavy-Weight
The Dirza bike rack wall mount is a fantastic consideration for those with heavy bikes. It has a low profile, is not bulky, and can weigh up to 65 pounds. These bike hangers are designed to do some heavy lifting, and I highly recommend these as a trustworthy wall-mounting option to store your larger bikes.
4. Dirza Bike Rack Wall Mount
Dimensions:
13″ x 8″ x 5.8"
Overall Design
I like the industrial presentation of the Dirza bike hanger. It immediately feels sturdy due to its solid metal construction. Unlike the previous bike wall hanger, the Dirza is a vertical storage system secured to your bike's front wheel. At a length of around 1.5 inches, it's quite discreet once installed on the wall, taking up very little space.
The wheel J-hook has a very practical design and weighs around 1.25 pounds. However, the wall hanger has a weight-carrying capacity of 65 pounds. This bike hook is the perfect storage solution for heavier mountain bikes. Although, I would strongly advise against storing e-bikes or fat tire bikes that exceed a 2.5-inch tire width or the 65-pound weight limit on this wall hanger.
When the wall hanger isn't used, the J-hook can be folded flat so as not to protrude outwards and possibly hook onto something in passing. This is a compact and economical function and a general safety feature. Like the above-mentioned Stalwart, Dirza's hook is covered to prevent scratching the bike. However, Dirza has covered their hook in thick rubber, which feels more sturdy and durable than Stalwart's EVA foam covering.
The steel track holds that support the bike's wheels are powder coated, which I find brilliant as I've seen bike racks form unsightly rust due to wet tires. The surface of the holder has slights grooves that provide additional grip to the wheels, as well as a small inclined rail to help hold the front wheel steadily in place.
The Dirza bike hanger's vertical design makes it perfectly suitable for road and mountain bikes with a tire width that doesn't exceed 2.6 inches.
Adjustability
This bike wall hanger's adjustability is limited to only the wheel hook being able to fold up or down to fit around a specific bike's front tire securely. Other than that, there's not much more to it.
Is It Easy to Install?
Again, the installation for this wall-mounted bike hanger is simple and to the point. As the previous wall hangers advised, do not install this bike hook to drywall or plasterboard without a stud behind it to add extra security.
Installing it to a masonry or concrete wall is safe. However, I would add a small stud for additional support.
The Price Tag
For a 4-piece combo, the Dirza bike rack has a price tag of about $27. Comparing this to the Ibera, which has a price tag of $35, I think the Dirza is fairly priced. Considering its overall design, build quality, and functionality, you'll get value for your money.
Best Spacesaver
If saving space and economical storage is what you're after, then the bike wall hanger from Steadyrack is a great consideration. It has a 160-degree pivoting design enables you to swing the bike from left to right and leave it in a position that will save you the most space, especially in garages and sheds.
5. Steadyrack Bike Rack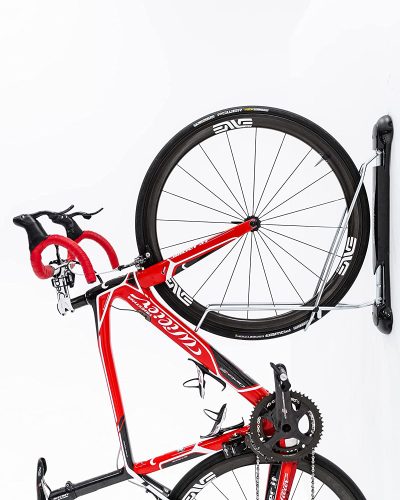 Dimensions:
26″ x 5″ x 5"
Overall Design
Steadyrack does not have a one-size-fits-all approach to their bike wall hangers. They have a specific design for most bike types, such as classic road bikes, mountain bikes, fat bikes, and bikes with fenders. This can be a good or bad feature, depending on how you view it.
Aesthetically this is quite a good-looking bike hanger. It has a similar design to the Dirza bike hanger. However, Steadyrack has elevated its design a bit more with sleek finishes. The rack is made from steel, while the track hold for the wheels is made from a strong plastic that is UV treated. The rack feels quite sturdy and strong. Its quality is undeniable.
The wheel holder can fold completely flat and out of the way when the bike isn't loaded. I like this feature as it saves space.
Vertical bike racks can sometimes be tricky to load since you have to lift the heavy bike vertically against the wall to attach the front wheel to the wheel holder or hook. With the Steadyrack wall hanger, you don't have to lift the bike to attach it to the hanger. Loading the bike is done by simply lifting it onto its back wheel and pushing the front tire into the handle. This was quite easy, and I didn't have to lift the bike at any point.
The front tire sits quite snugly in the handle; however, unlike all the above-mentioned wall hangers, the Steadyrack is covered with a protective foam or rubber layer, which might end up scratching some bike frames.
This design is great if you have a heavier bike since its maximum weight capacity is around 77 pounds.
Adjustability
The one feature that sets the Steadyrack apart from its competitors is the 160-degree pivoting design of the front wheel handle. This enables you to hang your bikes vertically onto a wall and then turn them 160 degrees to either the left or right side so that they are almost flat with the wall.
I like the organizational and space-saving aspect of this feature.
Unfortunately, that's how far this bike wall hanger's adjustability goes. The steel wheel handles cannot be adjusted to accommodate different wheel sizes, so if you want to go bigger, you'll have to buy the appropriate specialized Steadyrack separately.
Is It Easy to Install?
Installation is pretty easy. Again I would advise against mounting this bike wall hanger onto drywall without a proper stud as additional security and support. Loading heavy bikes onto wall hooks should only be done where proper attachment and reinforcements have been made.
The Price Tag
This is my only major gripe with this bike wall hanger. It is quite expensive considering its functionality and comparing it to other bike hangers, such as the Ibera.
Although this wall hanger looks great and can support an impressive weight of 77 pounds, I don't feel it is worth spending short of $100.
Things to Keep In Mind With a Bike Wall Hanger
Bike hangers are fantastic pieces of equipment and are relatively inexpensive. However, they are mostly for one bike per mount unless otherwise specified. You must buy multiple wall mounts or a high-capacity option to support multiple bikes.
Additionally, it helps to have a stud finder for the best mounting support. Drywall won't be able to support some of the heavier bikes and could lead to wall damage. Make sure you set the bike wall hanger in a way that can support all the bike weight you plan to put on it.
Bike Wall Hanger Buyer's Guide
Before deciding on a bike wall hanger, remember the following points; they'll help you narrow down the options to one that fits your needs.
How Many Bikes Do You Have?
Most of the bike hangers and individual hooks hold just one bike. This isn't a deal breaker as you can purchase more, but setting up three separate mounts requires multiple separate points on a wall that can support a rack. If you'd rather get one bike wall hanger to fit multiple bikes, consider the rail design of the Pro Bike Tool bike hanger, which can hold 3 or 6 bikes.
The orientation of the bike hanger matters too. Horizontal bike racks take up more horizontal space on the wall than vertical racks.
The Weight Carrying Capacity
Not all bikes are the same. Consider the weight of your bike and look at bike hangers that can support that weight. The more heavy-weight options can hold anywhere from 60-80 pounds. However, that may be overkill if you're looking for a budget option to support anything up to 40 pounds perfectly.
Do You Want to Hang Your Bike Vertically or Horizontally?
This is a great aspect to think about when you consider spatial issues. Horizontal placement bike hooks can be great for elevating a bike off the floor to utilize a blank wall area. Vertical placement takes up less width, but the bike will stick out farther from the wall. Consider what space you have to work with and select the bike hanger that best fits your needs.
Budget
While the prices for bike hangers don't vary as much as other items, there is still a big difference between the most and least expensive options. Budget bike hangers can cost less than $20 but may not have the maximum weight capacity of sturdier options. Studier bike wall hangers can hold more in terms of overall weight and the number of bikes. However, they are often more expensive. 
Frequently Asked Questions
Is It Safe to Hang a Bike by Its Wheel?
If a bike hanger has hooks that can wrap around the wheel or a grip that presses the tire to hold it in place, it's perfectly safe. Not all hooks and wall mounts work this way. Always check the user manual.
Are Bike Hooks Safe to Use?
If unsure, check to see if the hook arms are rubberized. Rubber or plastic hook arms will cause less friction and wear on the bike and hanger over time.
How High Should a Bike Wall Hanger Be?
Check your user manual. Bike wall hangers can usually be mounted fairly high, given a proper stud or anchor point. The higher it is, the harder it will be to put on and take down.
Can I Hang Bike Hooks on Drywall?
It's not recommended as the safest method, but with drywall anchors and drywall-specific screws, there are ways to make drywall work for you. It's best to keep the overall weight around 25 pounds or less; the drywall-specific hardware you use should have weight limits written on them.
Will Drywall Anchors Hold a Bike?
Yes, but only if you find a solid stud. Without one, you risk ripping the drywall and damaging your walls.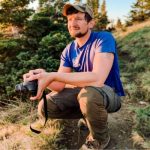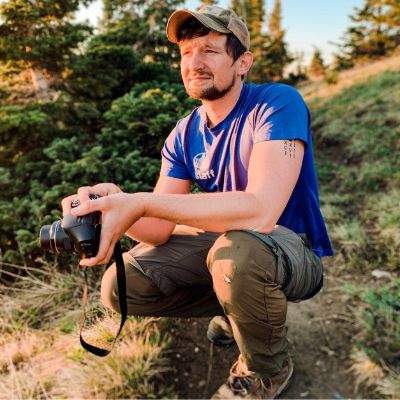 Timo is an outdoor enthusiast and gear specialist who is constantly exploring. As an avid hiker, he has completed the ADK 46ers, South Beyond 6000, GA4000, and the Colorado 14ers. He's ice climbed Mt. Hood, hiked up half a dozen mountains in the Alps, and spent three consecutive summers constructing a sustainable trail through the Colorado high country.