Kayakers often find the journey from the car or campsite to the water's edge more tedious than paddling, making a kayak cart a smart investment. Two-wheeled kayak carts alleviate the tediousness of portaging, and manufacturers offer a selection of carts to meet specific challenges. This article highlights the best options.
Transporting and storing kayaks can be a challenge due to their bulky size. Kayak racks, such as those from Swagman and Thule, securely store kayaks on walls or ceilings, while roof racks are popular for transporting them by car. While kayak trailers offer another option, they can be expensive and require additional storage space.
Kayak transportation has improved, but accessing the water's edge can still be difficult. A kayak cart prevents the need to drag or plow your kayak and is essential for ease of use.
Editor's Note – This list of the best kayak carts was updated on March 14, 2023, to remove old listed products and improve content relevance and usefulness.
Our Top Pick!
RailBlaza C-Tug Kayak Trolley Cart
The Railblaza is easy to set up and take down, requiring no tools. It is lightweight at only 10 lbs but can carry up to 300 lbs of load. In our opinion, this is hands down the best kayak cart currently available on the market.
Our Other Recommendations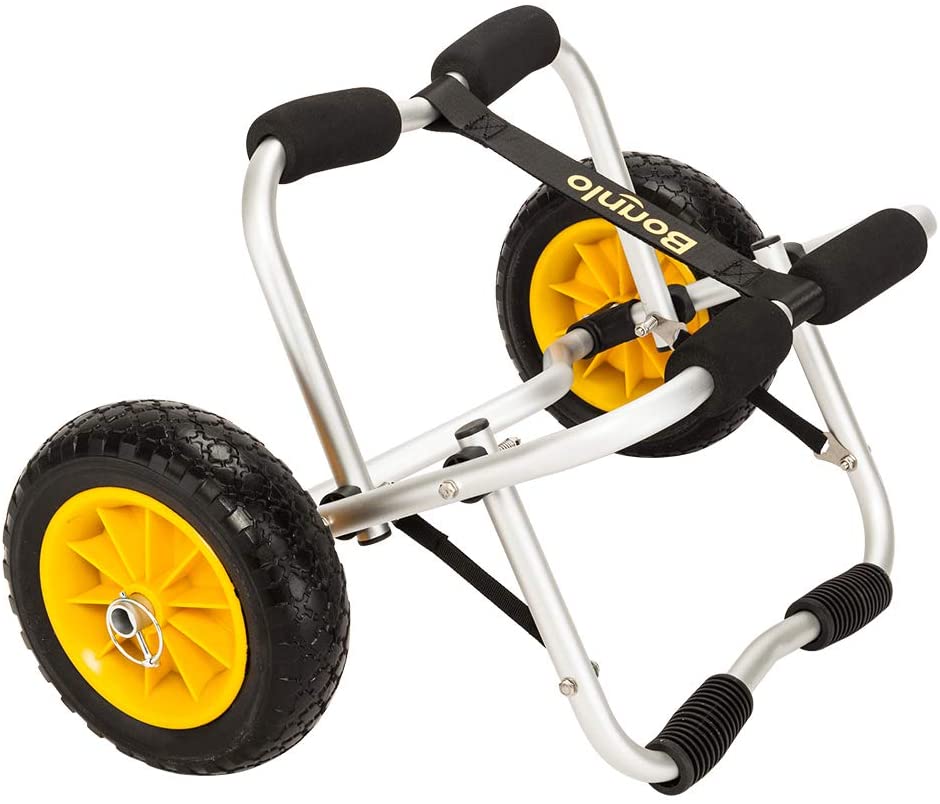 Most Versatile Cart
If you're looking for a high-quality kayak transporter, the Bonnlo kayak cart should be at the top. This versatile cart can easily carry up to 165 lbs, making it suitable for a wide range of kayaks, boats, and canoes.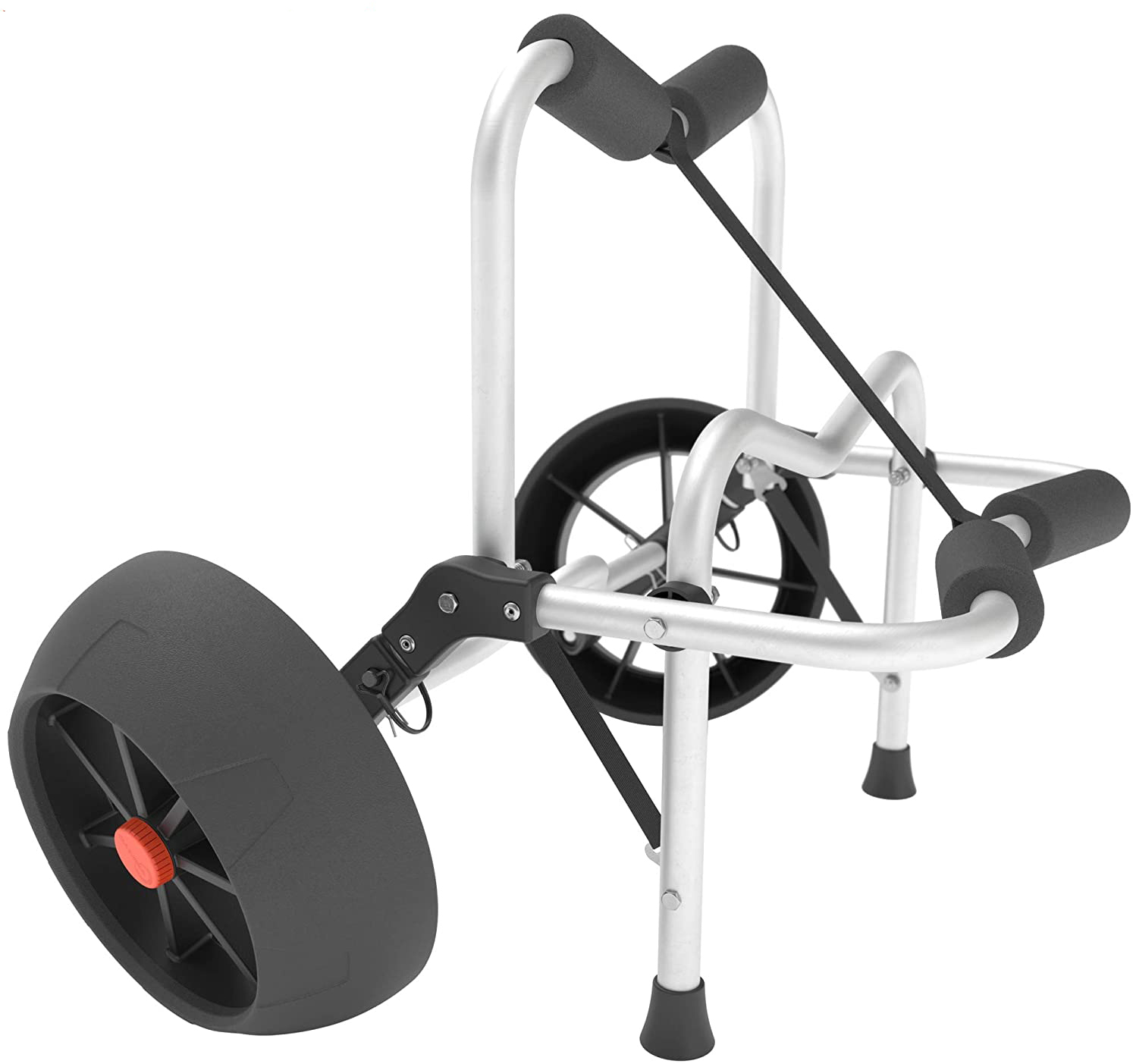 Best All-Terrain Cart
The CAMBA is the best all-terrain kayak carrier thanks to its innovative wheel design and floating axle suspension. This cart prioritizes portage comfort, making it an excellent choice for kayakers who frequently carry their gear long distances.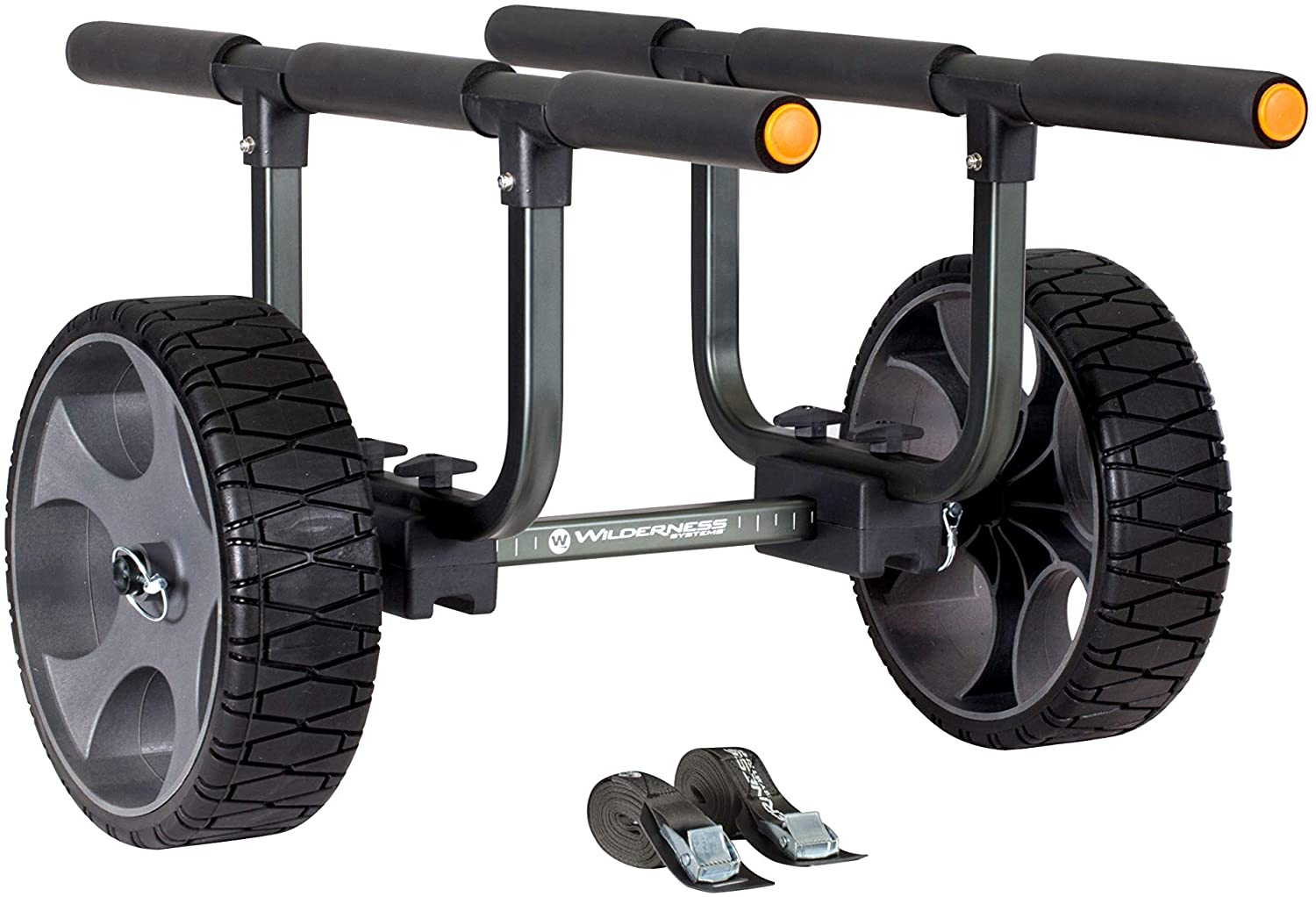 Best Heavy-Duty Cart
For those needing a kayak cart that can handle a significant weight, the Wilderness Systems kayak cart is a top choice. With an impressive loading capacity of up to 450 lbs, it's suitable for transporting even the biggest kayaks with ease.
Rackmaven may earn a small commission should you purchase a product through one of our affiliate links.
Our Choice for the Best Overall Option Goes to the RailBlaza C-Tug Kayak Trolley Cart
The C-Tug Kayak and Canoe Cart by Railblaza is one of the best-looking kayak carts, but it's also a top-quality, durable, and rugged kayak dolly that can handle up to 300 lbs of weight. Despite its sleek appearance, this cart is made from non-corroding engineering polymers built to last.
1. RailBlaza C-Tug Kayak Trolley Cart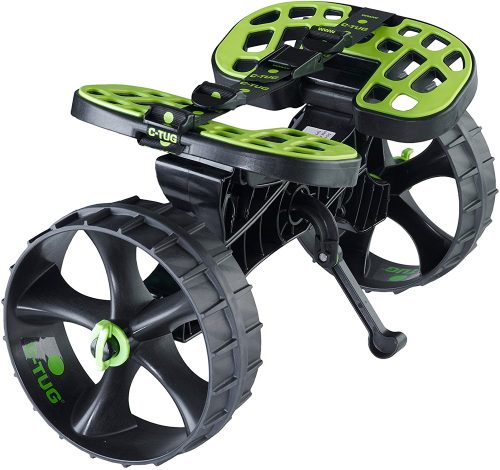 Frame:
Reinforced Composite Polymers
One of the best features of the C-Tug cart is its puncture-free solid wheels, which have a high-grip rubber thread design that makes it the perfect all-terrain kayak trolley. Say goodbye to flat tires and hello to worry-free transport with this impressive cart. Whether heading to the beach, the lake, or the river, the C-Tug Kayak and Canoe Cart will make your life easier and more enjoyable.
The C-Tug Kayak and Canoe Cart has a sleek and modern contemporary look that we love. It also comes with a fantastic selection of accessories, making it even more convenient. One of these accessories is the kickstand with an instant lock, ensuring the cart stays in place when you slide your kayak off. The adjustable hull pads can also be tilted to fit almost any kayak or canoe hull profile.
They are designed with holes that allow the accompanying straps to pass through, making securing your kayak to the cart easy. With its great looks and practical features, the C-Tug Kayak and Canoe Cart is a top contender for the best kayak cart on the market.
The Railblaza kayak trolley is incredibly easy to set up and take down, requiring no tools. You can disassemble it in seconds and store it in your kayak hull while on the water. It's so lightweight at only 10 lbs that you won't even notice it's there. In our opinion, this is hands down the best kayak cart currently available on the market.
Bonnlo Universal Kayak Cart is the. Most Versatile Kayak Cart
The Bonnlo Kayak Cart is a top-quality kayak transporter with impressive versatility and performance. Unsurprisingly, this cart is a best-selling item in the kayak cart category on Amazon.com. The cart's lightweight 2mm pipe aluminum frame and solid 10″ x 3″ wide PU tires make it easy to maneuver, even with heavy loads of up to 165 lbs.
2. Bonnlo Universal Kayak Cart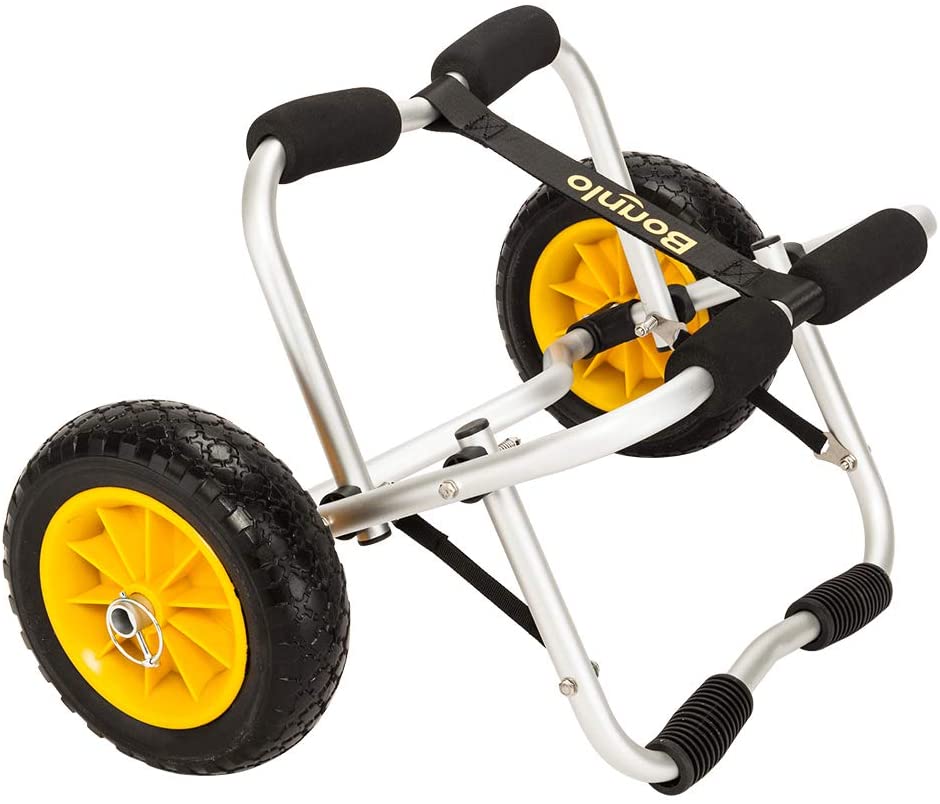 The Bonnlo Kayak Cart is a practical and reliable option for kayakers who need a high-quality transporter. Its sturdy and durable design ensures safe transport for your kayak, whether traveling on rough terrain or smooth pavement. The cart is versatile enough to accommodate various kayak sizes and styles, making it a practical investment for any kayaker. With its exceptional performance and user-friendly design, the Bonnlo Kayak Cart is an excellent choice for transporting your kayak to and from the water.
I prefer the solid tires on this cart because they require very little maintenance and are quite hassle-free. Although, it's important to remember that they might not be the most suitable option if you're planning to transport your kayak over soft sand. This is because the tires may cut into the sand, particularly if you're carrying a heavier kayak.
The 3″ width on the Bonnlo tires is excellent for standard kayaks. They give enough surface area to stabilize and secure my kayak during transport. So, if I'm searching for a reliable and versatile kayak cart that can handle various terrains, I'd consider the Bonnlo Kayak Cart.
One of the things I love about the Bonnlo Kayak Cart is its convenient storage and transport features. Whenever I need to transport my kayak, I can quickly fold the cart and remove the tires with a single lynchpin on each side. This compact design allows me to easily store the cart in the hull of my canoe or the back of my car or kayak trailer. Being always on the go, the Bonnlo Kayak Cart is perfect for me as it provides a hassle-free way to transport my kayak. With its user-friendly design and excellent portability, the Bonnlo Kayak Cart is my top pick for a reliable and easy-to-use kayak dolly.
Bonnlo offers a great option for those seeking a lightweight and collapsible kayak cart. With the ability to support up to 165 pounds and the assurance of no flat tires, this cart is a reliable choice. Additionally, setting up and conveniently folding up for storage is effortless. It's versatile enough to work with kayaks and canoes, making it a highly-rated cart.
For the Best All-Terrain Options, Camba Has You Covered
The Camba Universal Kayak Carrier has gained popularity among kayakers due to its exceptional all-terrain capabilities. This cart has oversized, air-filled tires that traverse various surfaces, including sand, pebbles, and grit. The tires are puncture-proof, ensuring users won't get stranded with a flat tire. The flat hull pads are adjustable to fit the contours of multiple types of boat hulls, ensuring that the kayak stays securely in place while being transported. The assembly process is straightforward, and the cart folds up for convenient storage. Additionally, the strap used to secure the cart to the boat is adjustable, ensuring a snug fit.
3. Camba Universal Kayak Carrier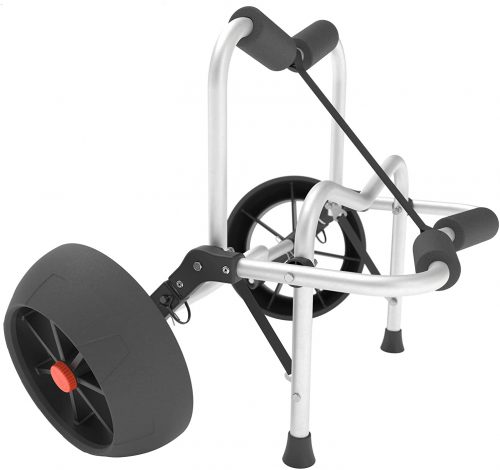 The Camba Universal Kayak Cart is a unique kayak carrier that sets itself apart from other models due to its innovative wheel design. Unlike other carriers, the Camba features patented all-terrain wheels that are hemispherical and mounted on floating axles.
This British-engineered design allows the wheels to function as a suspension system that distributes the kayak's weight to whichever wheel has the most, ensuring stable load-bearing and traction. As a result, the Camba kayak cart can easily navigate the most uneven and challenging terrain while hauling your kayak.
Once more, it is worth noting that while the weight capacity of the Camba Universal Kayak Cart is 110 lbs, this is adequate for most kayaks. The primary emphasis of this product is not to transport the heaviest canoe but to provide the best kayak cart solution for navigating rough and uneven terrain effortlessly and comfortably.
The 10" wheels cannot be punctured, and sealed stainless steel bearings in Polypropylene hubs makes it obvious that this is a high-quality product engineered from quality materials. The entire cart can be easily disassembled and stored in your kayak hull or vehicle.
With its exceptional features, such as the distributed weight system, innovative wheel design, floating axle suspension, and high clearance, this kayak cart stands out as the ultimate choice for navigating rough terrain.
Bonnlo Kayak Cart With Beach Balloon Tires Is Perfect for Sandy Beaches
The Bonnlo Kayak Cart with Beach Balloon Tires is widely regarded as the best beach kayak cart for several reasons. Its balloon tires are designed to easily navigate soft sand, making transporting your kayak to the water's edge effortless.
4. Bonnlo Kayak Cart with Beach Balloon Tires
The Bonnlo Kayak Cart with Beach Balloon Tires is nearly identical to the previously mentioned model with solid tires in terms of the frame. The only difference is that this cart is fitted with balloon tires. It boasts a capacity of 165 lbs and is constructed from 2mm aluminum piping, similar to the former model. However, the beach balloon tire version weighs approximately 5 lbs more, coming in at 13.87 lbs, due to the larger and heavier wheels.
The Bonnlo Balloon Wheel Kayak Dolly can be conveniently disassembled for storage, eliminating the need for bulky equipment. However, the large size of the tires means they may not fit inside your kayak hull. To avoid complications, ensure you can safely leave them at your launch point or take the trolley back to your car for storage while on the water.
This kayak trolley includes two 7.75 ft ratchet straps, which can securely fasten your kayak to the cart bed. The manufacturer has thoughtfully provided a tire pump, a welcome addition.
The key benefit of balloon wheels is their extensive surface contact area, which prevents them from sinking into the loose, soft sand. This feature makes the cart ideal for transporting your kayak over a swift beach or dunes. If this attribute is essential to you, we believe this is the top-performing kayak cart available.
5. Attwood Kayak and Canoe Cart
With over 150 years of experience crafting superior marine products, Attwood Marine is a reliable brand to consider when searching for the best kayak cart. The Attwood Kayak and Canoe Cart is a well-designed, durable piece of equipment worth considering.
Although it may have a lower carrying capacity than some of the more modern kayak carts, this particular kayak dolly can still hold up to 100 lbs, which is more than adequate for most sport and recreational kayaks. Additionally, the solid, non-deflatable wheels make it a dependable choice for all-terrain transportation.
The Attwood kayak cart is simple to disassemble. It can fit into most standard kayak hitches, allowing you to take it on the water without the added concern of returning it to your vehicle after launching your kayak.
What sets this kayak cart apart is its straightforward design and marketing. Without any unnecessary frills, it performs its intended function excellently. Ultimately, what more could you ask for from any product?
For Larger Kayaks, the Wilderness Systems Heavy-Duty Kayak Cart Is a Great Option
The Wilderness Systems Heavy-Duty Kayak Cart is considered the best heavy-duty kayak cart for several reasons. It is designed with a durable aluminum frame and solid wheels that can handle up to 450 pounds, making it suitable for larger kayaks and canoes. The cart's oversized, flat-free tires are puncture-resistant and offer excellent traction on various terrains.
6. Wilderness Systems Heavy-Duty Kayak Cart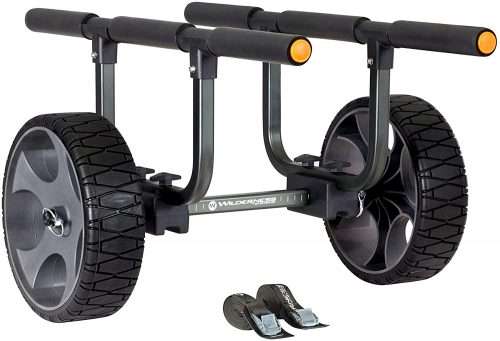 Frame:
Heat-Treated Aluminum Alloy
Wilderness Systems designed its kayak cart to create a means to haul the heaviest kayaks to the water. With a capacity of 450 lbs,m we have not been able to find another kayak cart that comes close, especially if the entire cart weighs in at only 13 lbs! It's not hard to understand why it was Paddling magazine's 2018 winner in the "best transport/storage/launching' category.
To provide a sturdy and dependable base for transporting heavy loads, Wilderness Systems developed a heat-treated aluminum bunker bar frame supported by two non-puncture airless 12″ wheels. The width of the frame is adjustable. The height can be shifted between 16″ and 18″ to alter the center of gravity for various boat designs, reducing the risk of tipping over. This design creates a stable and durable platform for safe transportation.
For those who face difficulty transporting heavy loads over sand or on the beach, Wilderness Systems allows switching out the solid wheels with balloon beach wheels, which are available for purchase separately. This feature is greatly appreciated since heavy-duty kayak carts can often be challenging to maneuver over such terrain. With its impressive load capacity and lightweight design, the Wilderness Systems Heavy Duty Kayak cart stands out as the ideal option for transporting large kayaks, boats, or any watercraft where weight and load capacity are crucial.
7. TMS Cart Kayak Trolley
Constructed with aluminum tubing, the TMS Kayak Dolly offers an affordable and dependable solution for kayak transportation. While its maximum weight capacity is 150 lbs, most users recommend it for kayaks weighing around 100 lbs. Thanks to its robust frame, this cart is durable and designed to protect your kayak or canoe from scratches and impacts during transport. Additionally, the sport foam bumpers provide added security when moving or sliding your watercraft on or off the trolley.
TMS markets the tires on their kayak cart as "flat-free" 9 ½ " tires. However, it's important to note that these tires are not entirely solid and require air and a recommended pressure of 30 psi. Nevertheless, the design of these tires makes them difficult to puncture. At 3 ½ " wide, the tires offer sufficient support for a kayak when moving over a beach without causing excessive traction.
Like many high-quality kayak dollies, this one can be conveniently disassembled and folded for storage and transportation in an SUV or other vehicle. However, some users have reported a recurring issue with the wheels emitting a strong, unpleasant odor. This is a common concern, and some brands like Bonnlo advertise their solid tire carts as odor-free. If this concerns you, you might consider the Bonnlo Kayak Cart with NO-Flat Airless Tires, which is mentioned above.
8. Seattle Sports All-Terrain Kayak Cart
Frame:
Powder Coated Steel Frame
Tires:
Solid Urethane Tires
The Seattle Sports Paddleboy All-Terrain Kayak Cart is a robust kayak trolley designed to transport heavier loads easily. With a weight capacity of 300 lbs, this cart is suitable for transporting kayaks, canoes, Lasers, john boats, and other large watercraft.
Although the solid urethane tires on the Seattle Sports Paddleboy All-Terrain Kayak Cart are designed to minimize vibrations during transport, they are relatively narrow. Coupled with the weight of the cart and the likelihood of transporting heavier watercraft, this makes it less suitable for portage across loose sand or the beach.
The Seattle Sports Paddleboy features a spring-loaded kickstand that provides stability and keeps the cart upright while loading or unloading. Additionally, a cinch strap is included to secure your watercraft during transport.
Although the Seattle Sports Paddleboy can be conveniently folded to fit in the back of your car, it may not fit in your kayak hitch and is not designed for portability on the water. Weighing 15 lbs, it is a heavy-duty solution for hauling heavy kayaks and other watercraft. This well-designed kayak cart is worth considering if you have these specific needs.
Taking a Look at the Different Types of Kayaks Carts
Several kayak carts are designed for different terrains and kayak types. Here are some of the most common types of kayak carts:
Sit-on-top Kayak Cart
This cart type is specifically designed for sit-on-top kayaks with a flat bottom and wider hull than other kayaks. They often have a V-shaped cradle on top of the kayak, allowing easy transportation.
Scupper Cart
This cart type is designed for kayaks with scupper holes, which are small holes on the kayak's underside. The cart is inserted into the scupper holes, and the kayak is strapped on top for secure transportation.
Beach Cart
This type of cart has wider wheels that are designed for use on sandy or loose terrain. They often have a larger carrying capacity and can handle heavier kayaks.
Balloon Wheel Cart
This type of cart has large, inflatable wheels that provide buoyancy and are designed for use on soft or uneven terrain. They often transport kayaks over sand, mud, or gravel.
Folding Cart
This type of cart is designed for easy storage and transportation. They often have collapsible frames that can be folded up for compact storage in a kayak or vehicle.
Heavy-Duty Cart
This cart type is designed for heavier kayaks or uses on rough terrain. They often have a stronger frame and larger wheels to handle the extra weight and rougher terrain.
When choosing a kayak cart, consider the type of terrain you will be transporting your kayak over, the weight and size of your kayak, and the type of kayaking you will be doing. This will help you choose the right type of cart for your needs.
What Are the Benefits of Using a Kayak Cart?
A kayak cart is a wheeled device designed to help transport a kayak over land. There are several benefits of having a kayak cart:
Easier transportation: A kayak cart lets you easily transport your kayak from your vehicle to the water's edge. This can save you time and energy, especially if you carry your kayak long distances.
Reduced strain on your body: Carrying a kayak can be difficult and strain your back, shoulders, and arms. A kayak cart can help to reduce this strain, making it easier for you to transport your kayak.
Increased mobility: With a kayak cart, you can easily move your kayak over different types of terrain, such as sand, gravel, or grass. This makes launching your kayak from a wider range of locations possible.
Protection for your kayak: A kayak cart can help protect it from damage, such as scratches or damage while dragging it across rough surfaces.
Convenience: A kayak cart can be easily stored in your vehicle. It's lightweight and easy to assemble. This makes it a convenient accessory when you're out on the water.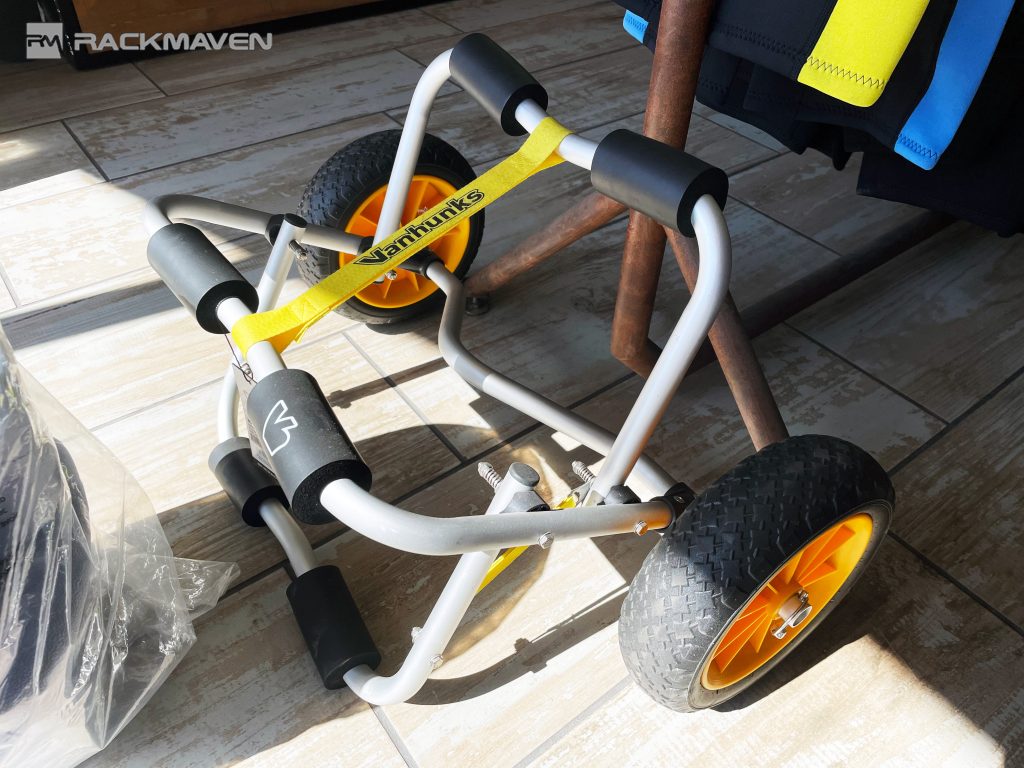 A Buyer's Guide to Kayak Carts
Kayak carts or trolleys are not complicated pieces of gear. They are intended to help overcome a handful of specific challenges and, therefore, only need to do a few things very well.
To that end, here are what we think are the four main things to look for or consider when you set out to pick a kayak cart for you.
Weight Capacity
A kayak cart is intended to carry weight, and it needs to be able to do so securely. You know the weight of your kayak (bearing in mind any possible future upgrades). Make sure the cart you pick can carry your kayak and leave some redundancy in your calculations so you're not constantly concerned about operating at the edge of the operational design of your kayak cart.
Terrain
The terrain you'll be navigating will play a crucial role in determining the type of cart you need. For example, a cart with wide, inflatable, or beach balloon tires would be best if traveling over soft sand or rough terrain. On the other hand, if you are traveling over smooth pavement or concrete, a cart with hard plastic or rubber tires may suffice.
The Wheels
Considering the wheels of your kayak cart is important for several reasons, but one stands out. Are the wheels made from a solid composite (or air-free design) as opposed to a wheel that needs to be inflated? Solid wheels are lower maintenance and great for all-terrain, especially rough-terrain carting. At the same time, the larger contact surface of a balloon-inflated tire will make it easier to portage over dunes, loose sand, or on the beach.
The Frame Structure
Most kayak carts are made from aluminum nowadays, but some strong composite materials on the market with design benefits are increasingly used to create trolleys. Some heavy-duty kayak carts are still made from powder-coated steel, but that's becoming rarer.
Being able to disassemble the cart without tools at the water's edge and fit it into your hatches means you don't have to run back to your car or campsite or leave your cart unattended on the beach while you're out on the water.
Compatibility
Not all kayak carts are compatible with all kayaks, so choosing a cart suitable for your kayak's size and shape is important. Some carts come with adjustable straps or supports, making them suitable for various kayak sizes and styles.
Portability
If you're planning on traveling with your kayak cart, it's essential to choose a model that is portable and easy to store. Some models can be easily disassembled or folded for easy transportation and storage.
Material
The material used to construct the kayak cart can impact its durability and weight. Carts made from lightweight materials like aluminum or plastic are ideal for portability, while those made from heavier materials like steel are better suited for heavy-duty use.
Budget
The cost of a kayak cart can vary significantly, with basic models starting at around $50 and high-end models costing several hundred dollars. Consider your budget and needs before making a purchase.
The Accessories
Most kayak carts come with a convenient spring-loaded stand that will keep your dolly upright while loading or unloading. Getting at least a couple of ratchet straps to help secure your kayak to the cart is also pretty common. Sometimes, your kayak carrier will come with its proprietary storage bag, and some manufacturers will even include a complementary pump if your kayak cart has inflatable wheels.
Frequently Asked Questions
What is a kayak cart?
A kayak cart, also known as a kayak dolly, is a tool to transport kayaks from one place to another. It typically consists of a frame with wheels or tires and straps to hold the kayak in place.
What types of terrain can kayak carts handle?
The type of terrain a kayak cart can handle depends on the cart's design and tire type. Some carts are specifically designed for beach or sand terrain, while others can handle rough or rocky terrain.
How much weight can a kayak cart carry?
The weight capacity of a kayak cart varies depending on the specific model. Most kayak carts can carry between 100-200 pounds.
Can kayak carts be used for other types of boats?
Yes, some kayak carts are designed to be versatile and can be used for other types of boats, such as canoes or paddleboards.
What is the difference between inflatable and solid tires on a kayak cart?
Inflatable tires provide a smoother ride over rough terrain, while solid tires are low maintenance and puncture-proof. The type of tire you choose depends on the terrain you will be transporting your kayak on and your preference.
Update History
14/03/23 – Updated product list, removed unavailable products, added supplementary content.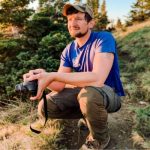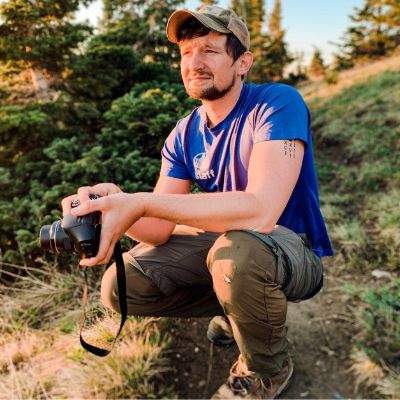 Timo is an outdoor enthusiast and gear specialist who is constantly exploring. As an avid hiker, he has completed the ADK 46ers, South Beyond 6000, GA4000, and the Colorado 14ers. He's ice climbed Mt. Hood, hiked up half a dozen mountains in the Alps, and spent three consecutive summers constructing a sustainable trail through the Colorado high country.