You've probably been hearing ad nauseam how riding a bike is good for you, and with good reason. Not only does it help you get in shape and/or stay fit, it allows you catch a breath in this modernized, urban landscape. This rings especially true if you get away from the cities and seek for "trails less traveled". Of course, to reach these trails, oftentimes you'll have to drive to be able to ride, so it's not like the modern world is without its merits, at least when cars are involved.
This is where bike racks come into play, as an efficient storage solution for transporting your bike to the desired location. Now, the problem arises when your car is too tall for you to be able to lift the bike onto the roof, or if your car doesn't have crossbars, or you don't want to install them.Alternatively, it's too tall and doesn't have a hitch, or you just don't use a rack all that often. Solution? A trunk mounted bike rack.
Rackmaven's top picks:
To save you the trouble of searching for one, we prepared a brief list of the five best trunk bike racks for 2017.
The Allen Sports 2-Bike Trunk Mount Rack is pretty much what it promises on the can – a rack that can carry up to two bikes provided their combined weight doesn't exceed 70 pounds, and that mounts on your car's trunk. It should fit most sedans, hatchbacks, minivans, as well as SUVs, though you should contact the manufacturer to ask around for the precise fit. There's padding on the lower frame which
The rack comes in three distinct flavors – just as a trunk mount, with bungee cords, or with a crossbar adapter, each bundle being more expensive from the previous. Still, it's more than affordable, and if you cut off your kids' allowance, you'd save money in no time. On a more serious note, though,   the trunk mount alone works great, and it doesn't even require any assembly. All you have to do is install it on your trunk (takes mere seconds), and you're and your two bikes are good to go.
Mounting the bikes (they mount horizontally) is just as easy –load them onto the carry arms so that the horizontal bar on the bike frame carries the weight, cinch the straps, and then tighten and cinch the side straps so that they're more stable and don't slide around on the rack. A good thing to do after you cinch them as tight as possible is to tie them in a knot to make sure they don't slip. Otherwise, you might do well to get a pair of bungee cords (if you don't have some lying around).
Buy at: Amazon.com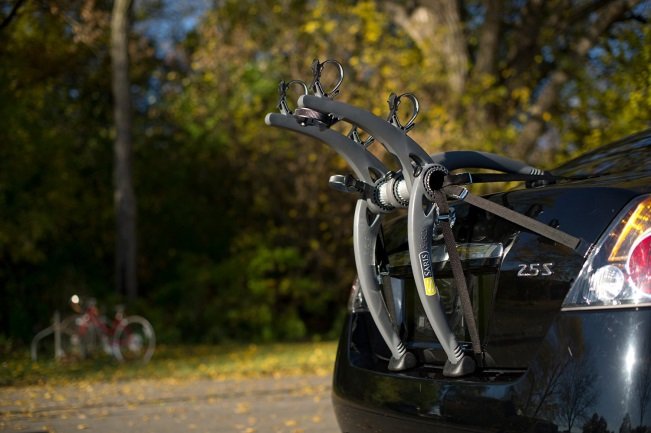 The Saris 805 Bones 2-Bike Trunk Rack looks and feels pretty much like the name says – like bones. It's strong as bones, as well. At its core, the rack sports aluminum, with injection molded arms and legs unconventionally made with arches (you know what they say, real racks have curves).Now, if we can get past that terrible meme usage, we'll be able to see that the 805 Bones is made of non-rusting materials, core to coating, and it's completely recyclable, so it's also eco-friendly (in more ways than one). The arched design should also fit anything from a sedan, through hatchbacks, to minivans, or whatever else floats your boat.
As the name might suggest, the rack can carry up to two bikes, provided the combined weight does not exceed 70 pounds. Speaking of pounds, the rack is quite lightweight, surprisingly so given its durability (about 10 pounds). There are three strapping points, two on the top tube, and one on the seat tube, so that you may be sure that the combined max weight of 80 pounds is not going anywhere.
However, the rack does suffer from the same drawback that almost all trunk bike racks do – metal parts that are prone to scratching your paint job. The bikes are safe in this regard, but the car… One solution would be using the extra strap that comes with your purchase to wrap around the metal clamps and secure it with rubber bands.
Buy at: Amazon.com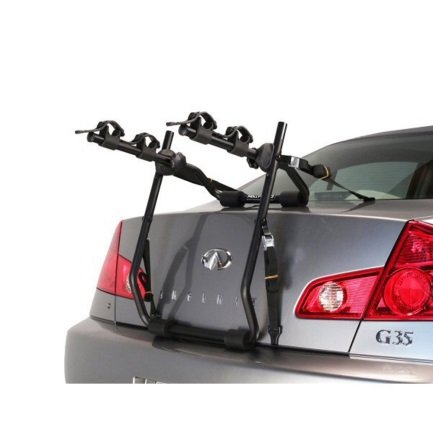 Just as the name would suggest, the Hollywood Racks Express Trunk Mounted Bike Rack installs in no time, and it's simple enough that anyone could do it. Plus, it comes in two distinct flavors – 2-bike and 3-bike carry, with the usual weight limits applying (70 and ). Another piece of good news is that the rack comes fully assembled, and all you have to do is install it, making sure the straps are nice and tight.Of course, you'll have to re-tighten the straps after you mount the bikes, just so you're sure nothing's falling off. While we're on the topic, you might feel that the straps will loosen on a long drive (think 50+ miles), but won't be the case, provided you followed the instructions and fastened them using the A type tie (as per instructions).
The rack itself is well padded and should do a great job keeping your paint job from acquiring scratches, but there's always the risk of having the pedal nullify all that. Still, the solution is quite simple –make sure you get a good angle so that the pedal is beneath the license plate and/or cover it with a piece of cloth (or even an old sock); it might not look pretty, but it'll do the job.
As far as compatibility goes, the rack will fit most sedans, hatchbacks, minivans, and SUVs, but you will have to visit the manufacturer's site to check for a specific model.One final thing – the rack folds flat for easy storage and will take barely any space in the trunk.
Buy at: Amazon.com
The Allen Sports Aluminum Folding 2-Bike Rack is pretty much what it reads on the tin –a fold-away bike rack, built from aluminum and able to carry up to two bikes.It's very compact when folded, and takes less space than a shoe box. It even comes with a carry bag, so you can carry it with you or just leave it in the trunk or back seat without fear it'll move around and scratch anything.The core of the rack is 6061 aluminum alloy, coming with an almost perfect balance between being lightweight and sturdy (it's only about 3.5 pounds). Speaking of pounds, the maximum load is the standard 70 pounds, which is more than enough for two adult road bikes.
Another piece of good news is that there's a fitting chart on Amazon to see if it'll sit well on your car so that you don't have to spend the extra time checking with the manufacturer (however short a time that may be). Of course, the safest course would still be to check with the manufacturer, although it should be noted that the rack will fit most sedans, minivans, hatchbacks, and SUVs.
The manufacturer did take some time to deal with the problem persistently plaguing all trunk bike racks – scratching. Thanks to the padded lower frame (the design is patent-pending), the bike frame and, in particular, the pedal will keep away from your car.
Buy at: Amazon.com
The Tyger Deluxe 1-Bike Trunk Mount Bicycle Carrier Rack pretty much lives up to its name–it's definitely a quality product, with a price to match. Still, no one would go as far as calling it expensive. As the astute reader may have already guessed, the rack carries a single bike, and it does so without hassle. The whole structure is sturdy enough to pack more bikes (in fact, there's a model from the same line designed to do just that), and it's e-coated throughout so that it doesn't scratch your paint job.
The rack should fit most sedans, hatchbacks, minivans, and SUVs, but only as long as the vehicle does not come equipped with rear spoilers. It comes fully assembled, and all you have to do is install it, which is a matter of minutes. Just make sure you cinch the straps tight, and tuck away the excess so that they don't come loose and/or get in the way. When you're done using it for the day, just de-install it, fold away the carrying arms and put it away for efficient storage.
Perhaps the most important piece of news is that the rack comes with Tyger no-hassle limited lifetime warranty, which should put many minds at ease.
Buy at: Amazon.com