Bike racks have been around for some time now; chances are high that you have seen one on top of an SUV or at the back of a car while traveling. And when it comes to bike racks, Saris is without a doubt one of the most trusted and reputable names. Ask anyone who has used a Saris bike rack before and chances are, you will hear very good and encouraging reviews about the brand.
The Bottom Line (TL;DR)
If you have two bikes which you want to transport at the same time, then get the Saris Bones 2-Bike rack. The Saris 801 3-Bike rack is your best option for simultaneously transporting three bicycles. The Saris Solo Mount Bike rack is the most practical choice if you only have one bike to transport and you don't see yourself buying another in the near future.
Saris bike racks can open a world of possibilities for you. With it, you can transport your two-wheeled possession to new locations and not be restricted to biking around your neighborhood. With a bike carrier, you don't have to disassemble your bike to bring it along for a road trip. You simply load the bike into the rack, ensure that it is secure, start your car, and head off to your destination.
Bike racks can also add space to your car allowing you to bring your two-wheeled mode of transport anywhere you want. It can cut down on your transport costs and more importantly, enable you to take along your bicycle in your next family vacation.
Saris is a brand that's been around for more than four decades. This long and remarkable history is a testament to how well it manufactures bike racks.
It started as the Graber Manufacturing in 1974. It released the Adjust-A-Porter, the first strap-on trunk rack designed to carry two bikes.
In the 1990s, the company introduced the Folding Adjust-A-Porter which was noted for being compact. It folds flat and can easily fit in the trunk of a car.
But the major breakthrough came to Saris when it partnered with Italian designer Fabio Pedrini. It was this partnership which bore the Bones rack, which as you would learn, later on, has set the standard for the bike carrier industry.
As you can see, Saris has established itself as the premier and most trusted maker of bike carriers in the market. Its racks are sturdy, easy to assemble, compact, yet reasonably priced.
Let's face it— you will be hard pressed to try different Saris racks and determine which is the best for your car. It would be time-consuming, if not too expensive. You may ask around to learn more about the rack you are interested in but you don't really know how truthful the answers you will get.
But we got you covered. In the next part of this post, we will list down the top ten Saris bike racks today. Aside from learning about the specs and details of each rack, you will also know more about its pros and cons. This should give you a better appreciation of the Saris bike carriers and hopefully, give you the knowledge to make the best buying decision.
After all, bike carriers are not cheap at all so you want to buy the right unit for you, right?
The Saris Bones 2-Bike Trunk Rack is considered to be the model that started it all for Saris. For more than two decades, it has served as sort of a measuring stick by which all bike racks are measured against. It is one of the best looking trunk-mounted bike racks with a design that has stood the test of time. No wonder that it is the best selling trunk rack on the entire planet.
The Saris Bones has an arc-based design which fits most SUVs, sedans, and minivans. Despite weighing less than 9 pounds, it is sturdy enough to carry two bikes not exceeding the weight of 35 pounds each for a total carrying capacity of 70 pounds.
It has two horizontal arms where the bikes are held and secured. Support arms are adjustable and can fit numerous vehicles. There are three plastic straps available to fasten the bike at the seat and top tubes. Such a design is best for carrying bikes with the typical front triangular shapes and horizontal tubes. We're talking here of road bikes as well as mountain bikes. On the other hand, it may not be the best choice for carrying bikes with uncommon frame shapes.
Saris warns that the rack is not designed for vehicles speeding over 65 miles an hour. Despite that, it does a great job of keeping steady over rough road surfaces, corners, and speed bumps. The Saris Bones 2-Bike Trunk Rack is easy to install. It is ready for attachment the moment you get it out of the box with no tools and assembly required.
You need not be a handyman to mount this rack. Start by loosening the knob on the center arm in order for it to slide into one side. Rotate the knob again to secure the center arm into position.
Place the feet on the vehicle's bumper and the center arm into the middle of the trunk. Hook two clips each into the top, sides, and bottom of the trunk. Tighten all the clips by pulling and tying off all the straps.
Loosen the knobs on the bike-carrying arms then move these towards the center lock for angle adjustment. Adjust the angle so that the arms will be slightly above horizontal. Load the bike into the arms and secure the straps.
One potential concern that you may encounter with this rack is that it may not be secured when mounted on a hatchback. The good news is that Saris offers Hatch Huggers that can replace the straps of this rack.
The Hutch Huggers are easy to put into the straps of the Saris Bones. Simply take off the original straps and replace them with the Hutch Huggers. Once installed, these replacement straps will keep the Bones rack secure even if the other straps fall off.
If there's one chink in the armor of the Bones rack, then it would have to be durability. Made entirely of plastic, there's the tendency for some of its parts to fall off. And just like most trunk-mounted racks, the Bones will prevent you from accessing your trunk compartment when it is mounted on your vehicle.
But overall, the Saris Bones rack is one of the best in the market today. There's a reason why many bike enthusiasts consider it as the measuring stick by which all other bike racks are pitted against.
Now if you want a bike rack capable of carrying three bikes at the same time, consider getting the Saris Bones 801. Like its older cousin, it is a trunk-mounted rack with an arc-based design that fits over most spoilers while separating the bikes on various levels.
And while color isn't the first thing you would likely be looking for in a bike rack, it is still worth mentioning that the Bones 801 is available in different colors such as red, orange, and gray. It's a bonus characteristic that could still affect your buying decision.
The Bones 801 is equipped with straps and carry arms designed to hold bikes securely. The design is very versatile as the rack can install and fit easily on a wide range of vehicles. Whether you have a sedan or a SUV, you should have no problem fitting the 801 on your ride.
If your car has a spoiler, don't worry as the 801 will still go over it. The carry arms can be adjusted at different levels, enabling the rack to go over most spoilers. This rack can carry bikes that weigh up to 35 pounds for a combined weight limit of 105 pounds. It's very impressive considering that the 801 rack weighs only 11 pounds.
Like the original Bones rack, the 801 is ready for use the moment you get it out of the box. It does not require any assembly. It is attached to the rear of the vehicle with its array of straps, legs, and arms. The arms are placed on top of the boot while the legs sit on the rear bumper. Straps, meanwhile, are all adjustable allowing you to find the optimal fit.
You don't need to have Hulk-like strength to tighten the straps. The tensioner straps for holding the rack to the trunk lid are easy to adjust, tighten, and release. The same can be said for the three built-in straps for holding the bikes to the rack.
One of the concerns that car owners have about using a bike rack is that it can cause a dent or damage the car's paint. These concerns are adequately addressed by Saris. The feet of the Bones 801 are made of soft rubber or foam to protect the car's paint. The vinyl cover clips are also designed to prevent scratching.
The rack has anti-sway straps to keep your bikes from swaying. It can secure your bikes even if your car is speeding at 75 miles an hour. It can also keep the bikes in place over rough roads and speed bumps. This rack is made from heavy-duty plastic. It has injection-molded arms that won't rust and should last for many years. Once you are done with it, you can fold it up into a small size for easy storage.
Overall, the Bones 801 is a practical solution for transporting three bikes. It has a lightweight and intelligent design for holding bikes securely. It fits most cars and offers good value for money.
As the name suggests, the Saris Solo is a trunk mounted rack that can carry a solitary bike. It is ideal for the avid biker who doesn't want to disassemble a bike, store it inside the car trunk, and then assemble it again upon reaching his destination. It can also be a good choice if you don't want to store a huge multi-bike carrier in your garage. This is likewise a practical choice if you have a limited budget for a bike carrier.
According to Saris, the Solo is the first and only bike rack designed to hold a single bike. It has a bike weight capacity of 35 pounds. You'd love it for its quick and easy installation. It is made of injection molded plastic so you can be assured that it won't fall prey to unsightly rust. It is also compatible with most vehicles.
Fitting the Solo is fast and easy. Place this on the trunk of the vehicle, take the upper set of clips and hook these into the top part of the trunk. Pull up the clips and fasten it to keep the bike rack in place. Once the clips are snuggled down, get the bottom set of clips, snug them in place and secure the excess strap. It's possible to install the Solo on your car in two minutes or less.
One thing you'll appreciate with this bike carrier is that unlike the Saris Bones bike racks, it is relatively short that you don't have to take it off your vehicle before parking. You can also open and close the trunk of your car even with the rack on. It can save you time and energy which you would rather use in biking.
Moreover, it is small and lightweight at 2 pounds so the storage of this carrier should not pose a problem at all. It can fit in nicely in the trunk of most cars. Like the other Saris bike carriers, the Solo has feet made of rubber to protect your car's paint.
Despite those good points, the Solo may present some problems. However, those problems can be easily addressed. One concern that you may encounter is that the pedals of the bike may come in contact with the car. This can lead to damage of the car's finish especially when the vehicle is moving fast. You can fix this by wrapping the pedal with a protective cloth.
There's also the risk that the Solo would rattle when the car is moving at high speeds. This underscores the need for you to ensure that the straps are tightened. You may even have to use additional tie-downs to have the peace of mind that the Solo will remain in place while in transit.
Still, there is no denying that the Saris Solo is your best bet if you have a single bike to transport. It is also highly recommended if you are in the market for a lightweight, affordable, and easy-to-mount bike carrier.
Now if you have an SUV, this Saris hitch bike rack is the more appropriate option for hauling your bikes.  As you may already know, a hitch makes towing secure and easy. Hitches are used to tow anything from small boats, trailers, or campers without damaging the car itself.
This hitch bike rack is capable of carrying up to three bikes thanks to its injection-molded arms reputed to be the sturdiest on the market today. It is surprisingly lightweight at just 16 pounds making it up to 25 percent lighter than its competitors. Despite its weight, you can be assured that this hitch rack can carry your favorite bikes with enough security.
This hitch rack comes pre-assembled thus you can use it straight out of the box. The unit is paired with a well-illustrated manual to guide you through the installation process.
This rack has a universal hitch so it can be easily used in any vehicle equipped with a tow bar. It has an included adaptor enabling it to move through different hitch sizes.
You can also access the rear door of your SUV with this hitch rack because it can be tilted downwards. This can save you time and effort as you no longer have to unload the bikes from the rack just to get your food or things stored at the trunk part of your vehicle.
Saris is known for its excellent craftsmanship and this is in full display with this hitch rack. The ratchet straps are dual molded and well-made to secure the bikes while in transport. The straps are also designed not to damage the finish of your bikes.
The brand offers a lifetime warranty on this product but with the way it is built, the rack may outlast the warranty. The injection-molded arms are paired with a steel frame that provides superior strength to the rack.
You won't also have to worry about the bikes falling off as the Saris Bone 3-bike hitch rack has plenty of tie downs. It also has anti-sway fold-downs that separate the bikes while in transport. And once you have brought down your bikes, you can fold down the arms so that you can still leave the rack on the car without it getting in the way.
The Saris Sentinel 2-bike trunk mount is a good choice if you're in the market for a cheap, easy to mount, and reliable bike rack for your sedan especially if it has a spoiler. It can also be used in hatchbacks and vans.
This mount rack features unique cradles which can be adjusted to accommodate bikes of different widths. You can also tilt these cradles to fit different styles of bike. It has soft foam pads located on the upper and bottom portions to protect the car's finish and prevent the rack from slipping. There is also rubber paint coating in the clips to prevent damage to the car's painting.
The Sentinel has a 70-pound weight capacity and ability to hold two bikes. It weighs less than 8 pounds and folds flat for easy storage. It is compact enough to be stored in your trunk.
The Sentinel is reasonably priced, too, making it a practical option for the occasional rider or weekend warrior.
Installation should not take more than 10 minutes even if you are not a handyman. Mounting this rack on a vehicle starts by pulling apart the two arms then placing the bottom pad on the lower part of the bumper. There are pins located on both sides of the rack that can be removed to adjust the fit of the rack on the trunk. The pins should then be replaced to secure the arms of the rack into position. The upper and lower clips are then put into position and pull to snug so that the bike rack is kept in place.
This rack has wraps that can hold down each bike and prevent the bikes from crashing into another. The wraps also serve another purpose and that is to keep the bike from wobbling while the car is moving.
Similar to the other Saris bike racks, the Sentinel has its share of drawbacks. Arguably the most noticeable is the lack of an anti-sway function which is present in other Saris bike carriers. One could argue that this feature has been sacrificed because of the low price of the Sentinel.
Despite that disadvantage, there is still no denying that the Sentinel is one rack that can give you value for your money. If you're a weekend warrior or you are simply concerned about the spoiler of your vehicle, then you might as well go with this carrier.
Saris Bike Rack Buying Guide
As you may have noticed, shopping for a Saris bike carrier can be overwhelming because of the numerous types available. Each type has its pros and cons which all the more makes choosing a rack confusing to a novice buyer.
Before you shop for a Saris bike rack, you should first determine your budget. This will guide you in determining the rack that fits your needs. Expect to cough up at least $50 for a Saris bike rack with the price going up depending on the capacity and design. In case you are enticed to buy accessories such as wheel stabilizer straps or tire wheel holder, you will have to spend at least $10 more.
Aside from your budget, you should also consider the type and number of bicycles you have at home. Do you have a regular BMX bike? Or do you regularly ride large mountain bikes? As you may know, mountain bikes have bigger and heavier frames compared to BMX bikes. Thus you would need a bike carrier with a higher load capacity if you own mountain bikes.
Your vehicle can also affect your bike rack buying decision. If your vehicle has a hitch then a hitch bike ride is your natural option. But if your car doesn't have one, you will have to consider another style such as a trunk mount track.
As you may have observed, Saris bike racks are available in two styles– trunk and hitch bike racks.
Trunk-mounted Racks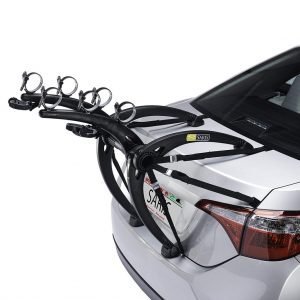 Trunk-mounted racks are your best bet if you drive a sedan. These carriers are versatile and fit most vehicles, even SUVs and trucks. It won't also require a lot of effort mounting these racks because of their design and lightweight nature. These racks are also portable and easy to store when not in use. Mounting and taking off these racks should also not be much of a problem.
These are the most practical choice, price-wise, for carrying bikes. If you consider yourself a recreational artist, then consider getting a trunk-mounted bike rack. However, trunk-mounted racks have limited load capacity. The Saris 801 is one exemption having the biggest capacity of 105 pounds.
Another downside to using a trunk-mounted bike carrier is that you can't access the trunk of your car when a trunk rack is mounted on it. This could be a bummer especially when you have lots of stuff stored in the back of your ride.
Hitch Carriers
The other kind of bike carrier that Saris offers is the hitch bike-type or simply hitch carriers. This is more appropriate if you have an SUV or truck. While you will be paying a lot more for it, you would still get your money's worth as you can transport more than three bikes. Most hitch carriers are designed to haul up to five bikes. This type of bike carrier comes in two styles– platform and hanging cradle which both has its pros and cons.
As the name suggests, the platform style of the carrier has a platform where the bikes are placed. It presents an easy and secure way of loading bikes. It also keeps the bike in place and prevents any damage or abrasion. The platform style has become fashionable over the past couple of years thanks to the evolving design of bike frames.
However, the downsides of this bike rack style include high price and heavy weight which makes carrying and storage awkward and difficult.
The hanging cradle style, on the other hand, has the bikes hanging from the rack. It's a cheaper option compared to the platform style. It is also more lightweight thus carrying and storing it will be a lot easier than when you have the platform type. Moreover, the hanging cradle style hitch carrier provides more ground clearance.
But then again, this style of hitch carrier pales in comparison with the platform style in terms of securing the bikes. There is always the risk that the bikes will sway especially when the car is speeding. There is also the chance that the bikes will make contact with each other, resulting in minor abrasions.
Anyway, to know more about the pros and cons of bike racks for cars, you can learn more here.
Just so you know, there's a third type of bike rack available in the market– the rooftop bike rack. It's the kind of bike carrier wherein the bikes are mounted on the roof of the car.  You have likely seen one on the road. The said kind of bicycle rack is ideal if you prefer that the rear door or trunk of your vehicle to be opened, or when overhead clearance is not an issue.
There are also downsides to using a roof bike carrier. It can be hard to get into a garage and drive-thru windows when a rooftop bike rack is mounted on a vehicle. The bad news is that the Saris does not offer this kind of bike rack.
Factors to Consider in Choosing a Bike Rack
Now that you have an idea on the different types of bike racks available in the market, let's go through the things you need to consider in shopping for a bike carrier. These factors can help you identify the kind of car-bike rack that is best suited to your needs.
Type of Bike to Be Carried
Before you shop for a bike rack, you naturally have to look at your garage and the bike that you have. You must not only consider the style of the bike you would be transporting but more so the weight, frame material, and wheel size of the bike as these characteristics can all impact the type of bike carrier you choose.
For example, if you are looking to transport an e-bike, then you need a stronger rack. The average weight of an e-bike is about 50 pounds which means a Saris Bones carrier may not be enough to transport it. Or if you are transporting women's bikes, you may need to use an accessory such as the Saris Bike Beam so that the bike will fit properly on the rack.
You can refer to the Saris fit guide to find out whether a Saris bike rack you have in mind will be able to carry your bike. You can go online and check the fit guide by clicking this link. This online and expansive database will not only help you figure if your bike fits in the Saris bike rack; it will also let you determine if the year, make, and model of your vehicle is a fit for the bike carrier you are considering to buy.
Stability
Another important factor that you have to consider shopping for a bike rack is stability. Simply put, the bike carrier should be sturdy, durable, and capable of holding up to bad weather. The last thing you want to happen is for your bikes to fall off and cause an accident on the road.
This is where stability straps can come in and affect your buying decision. Look for a bike carrier with stability straps that can minimize jolting and movement of the bikes while these are mounted on your vehicle.
Saris bikes are known for their anti-sway straps. These are designed to stabilize mounted bikes while offering soft-touch protection and preventing the bikes from damaging the car's paint.
Efficiency
Efficiency not only pertains to the ease of removing the bikes from the rack; it can also refer to the impact of the bike rack on your car's fuel consumption.
Aside from what has been said earlier about the cons of roof-mounted bike carriers, another disadvantage of the said type of bike rack is that it can affect a vehicle's overall dynamics. In short, it can make a car less fuel efficient. This may not be a major concern if you are driving short distances but it can make you think twice about getting a roof mounted carrier if you drive to the countryside or travel every weekend.
Since gas prices are increasing these days, it might be more practical if you opt for a hitch carrier as this results to less wind resistance which can affect your vehicle's fuel consumption.
Of course, you also want a bike carrier wherein loading and unloading of bikes won't be much of a hassle. If you're on the short side, you might have problems loading the bikes onto a roof mount. A hitch rack may be the more practical choice.
Safety
Bikes are naturally expensive investments that you want to protect. It is thus advisable to look for a bike rack that you can lock to your vehicle in order to prevent theft. High-end bike carriers come with advanced locking systems to secure the bikes although you obviously have to pay a little more for this type of rack.
Of course, you can always buy locks or cables separately. Saris offers an eight-foot locking cable to secure bikes. The cable is made of braided stainless steel and comes with two keys.
The bike rack should not also hide the license plate of the vehicle or partly cover the rearview of your vehicle.
Storage
While not as important as the other factors discussed above, storage will still have an impact on your buying decision. You won't likely want a rack that is too big and cumbersome to store. This is especially true if you don't have a big garage in your home.
Moreover, a compact bike rack will be easier to store in the trunk of your vehicle when it is not in use. This can spare you of the worry of finding a place for safekeeping the rack particularly when you are out in the woods.
These scenarios highlight the need to look for one that folds flat so that it will be easy to store. Compact bike racks will also not take up a lot of space in your garage.
Bike Rack Maintenance Pointers
As you may have realized, bike racks are not cheap investments at all. It only makes sense if you take good care of this piece of equipment the moment that you have bought one. Bike rack maintenance will help you ensure that your rack will last for a long time. Saris recommends cleaning bike racks regularly. A simple soap and water solution is enough to remove dirt and grime on a bike carrier although you can also use a water-soluble solution.
You don't need to take the rack through an automatic car wash at all as this would potentially damage the carrier. Moreover, keep in mind that Saris does not honor the rack's warranty if it went through an automatic car wash.
When cleaning a bike carrier, wipe it down to remove the so-called road schmush or the accumulation of sand, salt, and pebbles. Give it a thorough rinse afterward. You may also apply car wax to the rack for some finish protection. After cleaning the bike rack, you should also check and ensure that its moving parts are in good condition. This includes the arm mechanism, locks, and lock cables.
You may also apply lube to the locks to set it up for your next road trip. Squirt a little lube in the lock surface. Then insert the key and rotate it a few times to prevent a sticky lock. After use, make it a habit to wipe down the feet of the rack. While you are at it, check the straps for any signs of wear and tire. Check the rack, too, for loose bolts as these could cause the bicycles to fall off especially while in transit.
You should also avoid leaving the rack on the vehicle when it is not in use. If you don't need the carrier for days or weeks, it is better to give it a rest by removing it from the vehicle and storing in your garage. This is one tried-and-tested way to prolong the life of your rack.
For more Saris bike rack maintenance tips, you can click on this link. You can also learn more about Saris history by visiting this site.
Conclusion
Many years have passed since the debut of Bones and Saris remains a force to reckon with in the bike carrier industry. This longevity proves that the brand produces well-designed, sturdy, easy to assemble, and stable bike racks. As you have learned after reading this post, you really won't go wrong with a Saris bike rack.