A car top carrier can increase the storage space in your vehicle. It's a perfect accessory for those who love to go on road trips and camping. There are plenty of car top carrier options in the market. Having a lot of options is usually a good thing, but it can make the decision-making process more challenging.
Editor's Note – This list of the best car top carriers was updated on September 01, 2023, to improve content relevance and usefulness.
Our Pick!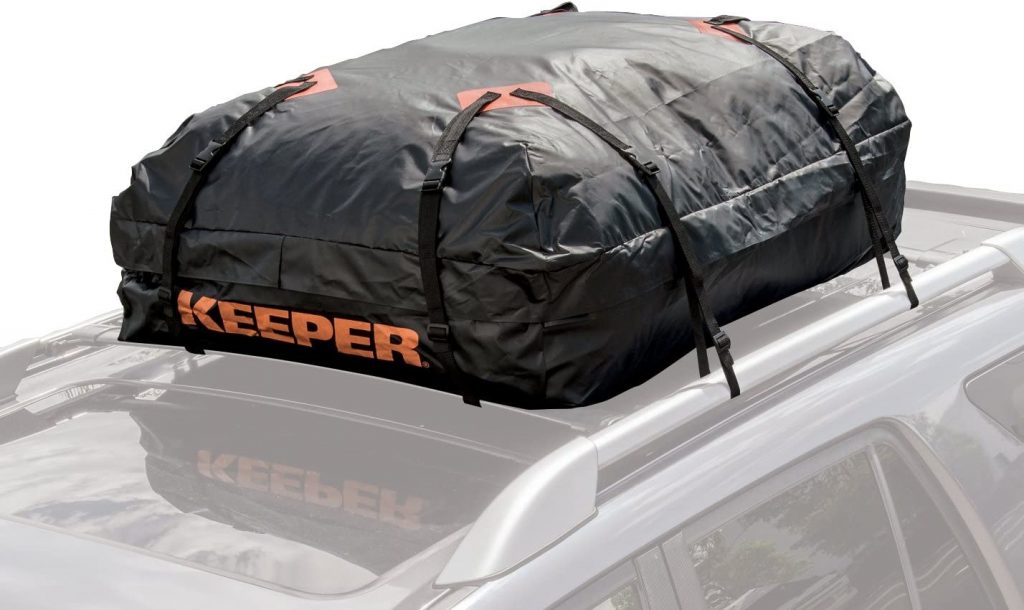 Roofbag's Rooftop Cargo Bag
Fits any bike. Versatile with high-quality components, fully supported by a lifetime warranty. Hard to beat.
Our Other Winners
Rackmaven may earn a small commission should you purchase a product through one of our affiliate links.
Roofbag's Rooftop Cargo Bag Is the Best Overall Choice
This is an excellent product for a very reasonable price. It is one of the best-selling soft-shelled carriers, with good reason! It also comes with a comprehensive warranty that should give you peace of mind when undertaking a long road trip. Altogether, this gets my vote for the best car top carrier due to its durability, practicality, and value for money.
On top of that, this car top carrier also has a secure design. Unlike other car top carriers, the straps on this model are not sewn but pass-through. This enables it to be secured. These straps also do not interfere with the vehicle's side curtain airbags.
1. Roofbag's Rooftop Cargo Bag
Size:
11 cubic feet and 15 cubic feet
Material:
Military-grade fabric
Dimension:
40 x 36 x 13.5 Inches
The Rooftop Cargo bag is made with military-grade fabric, making it heavy-duty. The material used for this car top carrier is also quite durable. This is designed to withstand abrasions; it won't rip, and the material won't peel. Despite being a bag, the design has been optimized to improve the aerodynamics of your vehicle. This reduces wind noise, drag, and fuel consumption.
It's also waterproof, so there is no need to worry about water damage on your cargo while on the road. This car top carrier has no exposed stitching to ensure there's no chance the water will get into the carrier's interior. The fabric has also been treated to ensure it is waterproof and can withstand extreme temperatures; it is just at home in the snow as by the beach. Even continual sun exposure should not affect the performance of the color of this roof bag.
Roofbag also worked hard to make sure this bag appeals to the environmentally conscious. It is certified to have no toxic chemicals, no BPA, and to be fire-resistant.
The straps have been tested to secure loads up to 3,000 pounds; that's much more than you'll put on your roof! The 15 is designed to fit larger vehicles like full-size sedans or SUVs. If you have a smaller car, you must choose the Roofbag 11.
The Roofbag is exceptionally easy to fit into your vehicle. It is designed to fit straight onto your roof, or you can use it with roof bars, crossbars, and even a roof basket. Again, putting a liner under the bag will help prevent it from moving while driving, which can be purchased as an extra.

The Amazon Basics Car Top Carrier Is the Best Budget Option
If you are looking for a car-top carrier that does the job but won't break the bank, then this might be what you are looking for. This bag offers many of the same features as previously mentioned products. However, its main focal point is its affordability.
2. Amazon Basics Rooftop Cargo Carrier Bag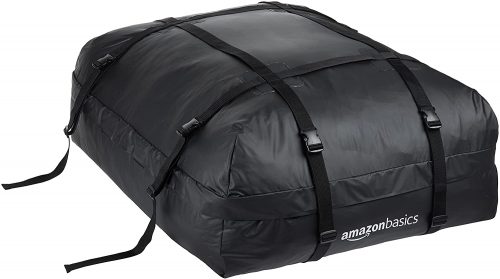 Dimension:
43.5 x 16.8 x 33.5 Inches
This affordable car top carrier option has an average storage capacity of 15 cubic feet. The AmazonBasics car top carrier is made with a nylon fabric material. It is waterproof but not unsuitable for harsh weather conditions because its only water exists to some degree. It is also fade-resistant to help maintain its quality and durability against prolonged exposure to dust, wind, and the sun.
This car top carrier bag is compatible with side rails, crossbars, or a combination. However, it cannot be mounted on a bare roof.
This car top carrier bag is affordable compared to all the other products mentioned in this list. It is hard not to notice the difference in quality, especially in the fabric used. However, considering this is the best budget option, expectations should be set accordingly. This is not the highest quality, but it's also not the worst.
The Rightline Gear Sport 3 Is the Largest Cargo Box Alternative
The Rightline Gear 100S30 is a car-top carrier bag offering 18 cubic feet of space. There are other options from this manufacturer; the smallest is just nine cubic feet, and they also offer 12 cubic feet and 15 cubic feet. To give you an idea of how big this roof bag is, you should be able to put 12 carry-on-size bags inside it!
3. Rightline Gear Sport 3 Car Top Carrier
Material:
PVC semi-coated mesh
Dimension:
40 x 36 x 13.5 Inches
The Rightline Gear 100S30 is a car-top carrier bag offering 18 cubic feet of space. There are other options from this manufacturer; the smallest is just nine cubic feet, and they also offer 12 cubic feet and 15 cubic feet. Being a soft bag, it can flex slightly, allowing you to add unconventional loads.
The bag is built from durable vinyl, which is waterproof and relatively resistant to most debris and dirt. It uses dual-seam technology to help ensure your items stay dry, no matter how bad the weather. Alongside this, it uses a urethane-coated zipper. This is inside a protective flap but is unlikely to break or let any water in to damage your contents.
Four attachment straps and associated clips secure the bag to your roof. Two on each side can be easily adjusted to suit your needs. The straps attach to the clips that hook onto the frame of your car before you close the doors. This will hold the bag safe while you drive. These clips can also attach the bag to your roof bar system. Complete instructions regarding the different fitting methods are included with the bag.
The Best Car Top Carrier Box Is From Sportrack Vista
This is a fantastic option if you're looking for a large cargo box without breaking the bank. The SportRack Vista XL is a quality shell car top carrier that offers much extra storage space. At first glance, it might have a small capacity because of its sleek design, but it's pretty spacious. It provides 18 cubic feet of storage with a load capacity of 100 pounds.
4. SportRack Vista Cargo Box
Dimension:
62.5 x 19 x 39 Inches
The material used for this car top carrier is Acrylonitrile butadiene styrene (ABS). This is durable, lightweight, and UV resistant so you can use it for an extended period. 
Despite being a rigid shell car-top carrier, it's easy to install. It features a quick-release mounting system that lets you put your vehicle on and off. This system has knobs that you can twist to tighten or release. Its roof rack system is also compatible with most racks on the market.
Another well-thought feature of this car-top carrier is its rear-opening access. It's away from traffic, so you can get your cargo safely and efficiently. 
You'll also feel at ease knowing this car top carrier has keys and locks. You don't have to worry much about theft because your cargo can be locked securely.
If You're a Yakima Fan, Then the Yakima Skybox Is the Best
Yakima products are known to be worthwhile investments due to their fantastic quality, durability, and functionality. The Skybox Carbonite lives up to those expectations.
5. YAKIMA SkyBox Carbonite Cargo Box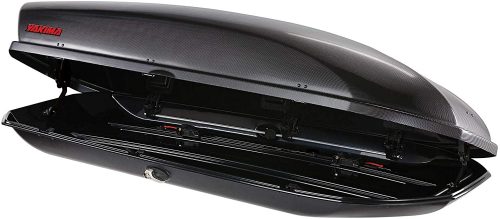 Dimension:
94 x 29 x 18 Inches
Unsurprisingly, this box is made from 80% carbonite, hence the name. This material is known to be extremely strong and waterproof. It is also very light, making it exceptionally good for on top of your vehicle. This box is made from 80% recycled material. The use of carbonite gives the box a slightly dimpled effect. This adds to the style, setting it apart from the competition.
The box offers 100% waterproof protection for everything inside it. The fact that the upper section has a lip to extend the lid wider than the base helps to ensure water cannot get in. You don't need any maintenance to keep this box in excellent condition, except perhaps the odd bit of grease on the opening sliders.
Aside from being spacious, this car top carrier also features an aerodynamic design. With this, you don't have to worry about that annoying whistling sound you'd get from the gap between the carrier and the car roof caused by the rack.
Similar to the Thule Force, it can be opened on either side. Again, this is a great safety feature as you can always access your items no matter where you are parked or what the traffic is doing. It shouldn't interfere with your boot; even your sunroof should still be usable.
A locking system allows you to leave your car with peace of mind. Turn the handle and then lock it. You can also get locks to secure the box to the rack if required.
This carrier is also relatively easy to install, given that you already have a rack installed. You don't have to use any tools to mount it; the comprehensive instruction manual will walk you through the steps to properly put it in your vehicle. 
It is worth noting that although this is an excellent box, there are only 1,3 inches available to load through when the box is open.
For a Thule Car Top Carrier, Get the Thule Pulse Cargo Box
Thule can cement its reputation as the premium manufacturer of cargo boxes and bike racks just by looking at the finish on the 615 Pulse.
6. Thule Pulse Cargo Box
Size:
11 Cubic feet, 14 cubic feet, and 16 cubic feet
Dimension:
88.5 x 25.5 x 12.5 Inches
The box itself is made of acrylonitrile butadiene styrene (ABS).
The carrier has a chic, low-profile design, allowing it to fit in parking structures and garages effortlessly. But, at the same time, this makes it small enough to be fitted to a small sedan and full SUVs and vans.
Unlike the Thule Force, this box only offers a single-sided opening on the passenger side. In most cases, this will suffice; however, you must exercise care if you are parked on the wrong side of the road or traffic is passing you for some other reason.
The Pulse is similar to the Force in that it utilizes the easy-grip mounting knobs. This carrier is also compatible with most of the rack configurations in the market. Thule's patented SecureLock technology secures the lid to the base.
The Pulse 615 will fit almost any vehicle, potentially making it the best choice if you are likely to put it on different cars.
The Main Types of Car Top Carriers
There are different types of car top carriers in the market. Knowing the difference between the options will make determining whether one fits your needs easier. With that in mind, the different car top carriers are here.
Soft-Shell Car Top carrier
In terms of compatibility with vehicles and flexibility, the roof cargo bag is the top option. This is made with soft material, allowing it to accommodate cargo with an awkward shape. Most of these models are also foldable, so you can store them in a shed or garage when it's not in use.
Another benefit of this type of car top carrier is that it does not require you to have a roof rack for installation. Some models allow you to install it in your vehicles by hooking it on the side roof rails. This will help save you money since you don't have to buy a roof rack.
However, this car-top carrier is made of material and can tear easily. This can cause water, dirt, and debris to affect the cargo if the tear is wide open.
Hard Shell Car Top Carrier
Hardshell carriers are best for those looking for maximum protection for their cargo. It is best installed in a car using a roof rack so it does not damage the vehicle's roof and prevents it from moving around when the car is moving.
This car top carrier is usually made with durable, lightweight material that protects cargo against weather, dust, and debris. In addition, most hard shell carriers have locks and keys. This feature deters potential theft if you are away from your vehicle.
Cargo Baskets
This car top carrier is an open-type carrier suitable for cars that have short side rails. It's a versatile car top carrier for bulky sports equipment. It is typically secured with cross bars.
However, since it has a basket design, it does not offer the best protection for your cargo against harsh weather. The rain might damage sports equipment and luggage. They'll also be easily dusty because of their open design.
Choosing a Car Top Carrier – A Buyer's Guide
The car top carrier highly depends on your needs and preferences. To help you determine the right fit, here are the main factors you should consider when choosing a car-top carrier.
Fit
Car top carriers are installed on the vehicle's roof so that it doesn't obstruct the tailgate or trunk lid when opened. But how can you determine whether the carrier fits the vehicle correctly?
A car top carrier must not pass your vehicle's windshield so that it does not affect the driver's vision. It should also not hit the garage ceiling since the carriers add to the height of your vehicle.
If you are unsure what size is the right fit for your car, it's highly recommended that you seek the help of a professional installer. They'll be able to guide you in determining the suitable car top carrier compatible with your car.
Roof Rails and Crossbar Compatibility
Some vehicles already have roof rails from the manufacturers, while others do not. Those with roof rails do not need to install crossbars for their car top carriers.
However, take note that some roof rails are just for aesthetic purposes. This is why it's highly recommended to check your owner's manual is highly recommended to see whether it can bear weight. If it isn't a weight-bearing railing, you'll need a cross bar installed for your car top carrier.
In addition, crossbars have different mounting methods. Ensure that the car top carrier you'll be buying is compatible with the mounting process of your crossbar.
Weight Limit
Another important consideration when buying a car-top carrier is the weight limit. There are instances that the cargo might fit into the carrier but exceed its weight carrier. In this case, it's highly recommended not to go over the limit because the car-top carrier might break while your carrier is in transit, damaging your vehicle or causing injuries to yourself and other motorists.
Cargo Safety
Cargo safety is crucial, especially when leaving your vehicle in an open area. Hard shell car top carriers are the best choice regarding security because they come with keys and locks.
Car Top Carrier Safety Tips
Car top carriers can cause accidents or injuries if misused. There are some common mistakes when using a cargo rack. To prevent these, here are tips to help make your car top carrier safer.
Be Aware of The Limits
Car top carriers have recommended limits from manufacturers, especially regarding weight capacity. Even if your cargo effortlessly fits the carrier, but its weight exceeds its limit, the carrier can't push it because it will be damaged.
It's highly recommended that you pack smart. Avoid bringing unnecessary things with you when you travel because you might exceed the capacity of the car top carrier. At the same time, loading too much cargo can affect the gas efficiency of your car since more weight requires more fuel for the vehicle to function accordingly.
Check Your Tires
When using a car-top carrier, you'll be putting additional weight on the vehicle, so you should always check your car pressure before going on a long drive. By referring to your vehicle's user manual, you'll know whether the tire inflation is lacking or right.
Use Cargo Anchors
Cargo anchors will prevent the content of the carrier from moving around. This will protect the carrier from damage. It can also help deter theft since removing the carrier's contents will be much more complicated with the carrier's anchors attached.
Maintain Full Visibility
The car top carrier must not obstruct your field of vision and should be properly installed and secured so that the straps don't fly around when traveling. This applies not only to the front area of the car but also to the back.
Keep an Eye Out
Always be vigilant, especially when parking and going through bridges with a car top carrier. This is because the carrier adds to the height of your vehicle; carrier means you should consider whether you fit or not to avoid damage to your carriers, cargo, and car.
Frequently Asked Questions
Do I Need a Roof Rack for a Car Top Carrier?
You need a roof rack if the car top carrier you'll buy is a hard shell carrier. These carriers are installed in the vehicle using the roof rack. Since the car top carriers are solid, there's also a high chance they can damage or scratch the roof when you are on the go. Having a roof rack can prevent this from happening. However, some car top carriers are designed not to require a roof rack. An example of this is soft car top carriers that can be secured using the roof railings of the vehicle. However, it can be noisy as the cargo moves around inside the carrier, directly lying on the roof.
Is a Car Top Carrier a Worthwhile Investment?
Car top cargo boxes are worth it, depending on how you use them. It's worth buying if you frequently travel and require more storage space in your vehicle to store sports equipment or other cargo. However, it might not be worth it if you only use it once a year. Car top carriers can be a bit pricey, so investing in something that much that you'll only be using once or twice is not cost-effective.
Does a Roof Cargo Box Affect Gas Mileage?
Adding a roof cargo box affects your car's gas efficiency by 11%. This is mainly because your vehicle will drive with the additional weight, requiring more power and extra gas consumption. The exact figure of how much roof cargo boxes affect your gas mileage depends on the weight of your cargo. The heavier it is, the more gas it will be consuming.
Are Soft Car Top Carriers Waterproof?
Most soft car top carriers are made with weatherproof materials, making them waterproof. When choosing a soft car top carrier, check out its water resistance rating to know its limitations and assess whether it fits your needs.
Are Roof Bags Noisy?
Roof bags can be noisy for several reasons. 
One of the most common reasons is that if you drive at high speed, you'll notice that the roof bags will cause whistling noises. This can be pretty annoying, but the reason it's happening is because of the gaps between the rack base and the bar. There's not much you can do with this except to drive slower. 
Another reason why roof bags could be noisy is that it is not correctly installed or secured. The roof bag can move around, especially when driving on an uneven road or speeding. The noise could also be from the cargo inside that bag you carry around while traveling.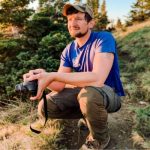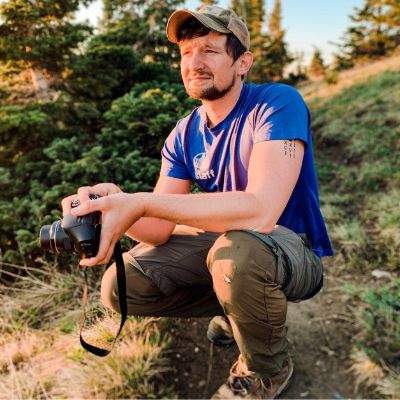 Timo is an outdoor enthusiast and gear specialist who is constantly exploring. As an avid hiker, he has completed the ADK 46ers, South Beyond 6000, GA4000, and the Colorado 14ers. He's ice climbed Mt. Hood, hiked up half a dozen mountains in the Alps, and spent three consecutive summers constructing a sustainable trail through the Colorado high country.